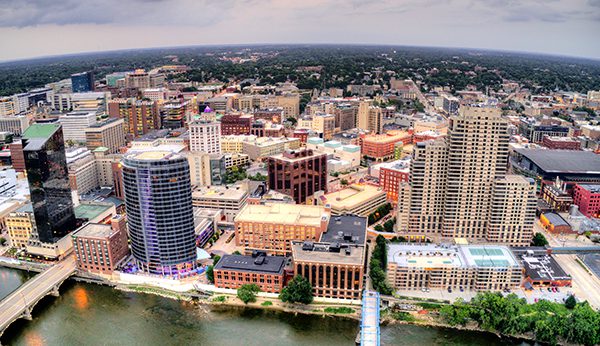 GRAND RAPIDS, Mich. — The Right Place, Inc., in collaboration with the Michigan Economic Development Corporation, announced it will receive $3.6 million in funding from the Revitalization and Placemaking (RAP) Program to help spur the development of 9 placemaking projects totaling over $10 million across the region.
The funds were approved in Lansing at a special Michigan Strategic Fund meeting.
RAP is an incentive program that deployed $100 million in American Rescue Plan funding to address the COVID-19 impacts in Michigan communities.
Tim Mroz, Senior Vice President of Community Development at The Right Place, led the application process on behalf of the West Michigan communities applying for funds. Applications were due in June. The Right Place is working with MEDC to coordinate disbursement of the funds to the grantees.
"We are eager to assist these projects with this RAP funding and excited to see the outcomes from these placemaking initiatives," said Mroz. "This $3 million in funding will spur more than $10 million in placemaking project investments. We must continue to invest in bold place-making initiatives like these that provide an incredible quality of life for Michiganders, while also serving as a magnet to retain and attract new talented people to the region."
Working alongside its regional and municipal partners throughout West Michigan, The Right Place solicited potential projects from a 13-county area. In total, the organization received 28 regional placemaking applications from 7 counties, totaling over $30 million.
An internal team then evaluated all 28 applications, scoring each one in accordance with the priorities set forth by the MEDC. In the end, nine placemaking projects were selected from 4 different counties with new, innovative ideas to reactivate lost, underutilized or vacant spaces.
The RAP program provides access to real estate and place-based infrastructure development gap financing through grants of up to $5 million per project for real estate rehabilitation and development, grants of up to $1 million per project for public space improvements and grants of up to $20 million to local or regional partners who develop a coordinated subgrant program.
A recent study published in the Economic Development Journal, "How COVID-19 Reshaped the Battle for Talent," centered on a national survey of more than 1,000 working-age people who moved during the first year of the pandemic.
The primary trigger causing people to move was Quality of Life. And when the researchers explored the respondent's definition of Quality of Life, Outdoor Recreation was second only to Good Schools as the most important lifestyle factors. This idea was the driving force behind The Right Place's regional subgrant application, ""Reactivating Spaces – Reactivating underutilized and vacant community spaces."
"Every community has underutilized, vacant, or abandoned spaces in need of reactivation," Mroz adds. "The concept behind this grant project is to proactively reengage those spaces in communities the forgotten corridors, the sorely underutilized downtown areas, even community parks that have been overlooked for years. It's time to breathe new post-COVID life into these spaces, creating public outdoor destinations and enhancing a community's sense of place."
The projects receiving funding included:
"Middleville Amphitheater Activation & Art Walk" – (Village of Middleville, Barry County). The Village of Middleville will reactivate a downtown gathering space by adding enhanced seating to an amphitheater and public art.
"17 North Main Street" – (City of Cedar Springs, Kent County). The City of Cedar Springs will activate an unbuildable empty lot on Main Street into an area for outdoor picnicking, art display, outdoor gas firepit, socializing, food truck parking, social district, pop-up retail and relaxation for public use.
"Grand Rapids Public Museum North Lawn Park" – (City of Grand Rapids, Kent County). The Grand Rapids Public Museum will redevelop and reprogram an underutilized area of the museum's outdoor lawn. The organization is planning a new downtown public outdoor space which will function as a multigenerational gathering environment overlooking the Grand River.
"Eastown Public Art & Safety Project" – (City of Grand Rapids, Kent County). Uptown GR will add lighting, public art, and planters to reactivate an underutilized and often vandalized alleyway in the Eastown area of Grand Rapids.
"Heartside Linear Plaza" – (City of Grand Rapids, Kent County). Downtown Grand Rapids, Inc. will convert a severely underutilized alley into a pedestrian linear plaza with outdoor cafe seating, landscaping, trees and enhanced lighting.
"Sparta Town Square: Phase 2" – (Village of Sparta, Kent County). The Village of Sparta's Town Square began during the pandemic in 2020 as a private/public partnership to encourage new retail and food-based businesses to try the market in Sparta.
"Scottville Optimist Park & Sculpture Project" – (City of Scottville, Mason County). The City of Scottville and the Scottville Downtown Development Authority are developing The Scottville Optimist Park & Sculpture project.
"100 South" – (City of Ludington, Mason County). The City of Ludington and the Ludington Downtown Development Authority plans to permanently improve a vacant alleyway that was temporarily converted during the COVID-19 pandemic.
"Getty Park Renovation" – (Village of Shelby, Oceana County). The Village of Shelby plans to completely renovate Getty Park to include a universal designed playground, splash pad, basketball court, pickleball courts, tennis court, bathroom/pavilion with a fire feature, and a gazebo/bandshell.