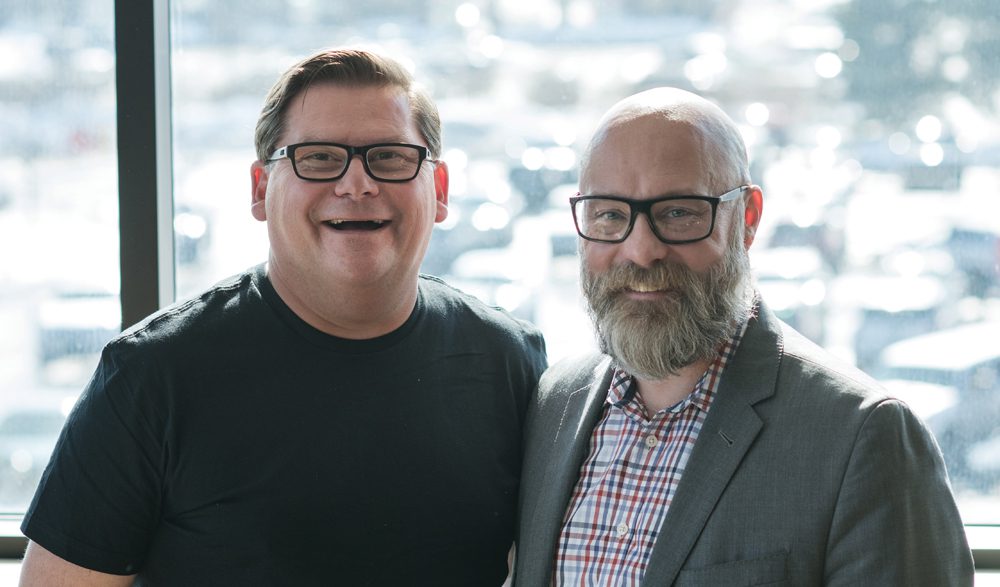 If you think good drama only exists in epic movie productions, natural disasters or award-winning books, you may want to read the article, "How Biggby Coffee Found Its Purpose."
This tale of self-discovery on both a personal and corporate level for the Michigan coffee giant has a narrative that will keep you reading to the end. With a compelling opening that will likely resonate with most business owners, the article was published in Conscious Company Magazine's Q2/Spring 2018 issue on Transformational Leadership.
Corp! spoke with co-CEOs Bob Fish and Mike McFall about the journey toward something "bigger" that began with a Michigan hiking trip in October 2014.
Corp!: You two are known as BAM (acronym for Bob and Mike) around the office. Tell us about that.
Mike: We have a woman who works for us who started referring to us as BAM. That's how it came into being about two to three years ago.
Corp!: The Biggby Coffee purpose is: We exist to support you in building a life you love. Tell us how the company purpose came about.
Bob: It took nearly 12 months to come up with a purpose. When you are tasked with an idea as a company to define your purpose, and you go home and think about it, it's actually pretty overwhelming. Biggby has always been about people in general and what we were really about was supporting people and building a life that they really want and it wasn't formal. The difficulty about that is how do you measure it? We had to come up with the measurables and that's what took a long time.
Was it fun? It was absolutely hilarious and, other times, we were almost at fisticuffs.
Mike: There were seven to nine people in the room working on that with the consultant. We met every Tuesday for a year.
Corp!: How do your existing cultural values of Make Friends, Have Fun, B Yourself, and Share Great Coffee connect to the purpose?
Mike: When we landed on the purpose, it worked and melded perfectly with the cultural values and that's one of the reasons it felt so good. A lot of different pieces of our puzzle came together when that purpose landed. And so much of what we had been working on over the years made sense.
Corp!: Why should companies want to be conscious enterprises?
Mike: Where it landed for us was adding one more zero to our tax returns was not inspirational anymore and, at some point, adding one more zero has to be called greed. With that notion, what is our purpose? I would look at another CEO and say "if your purpose in life is to add one more increment to your tax return, then do it." But for most people, I think they want to accomplish more in life. We wanted to leave something behind that is meaningful.
Bob: From a publicly-traded company perspective, any conscious company has outperformed any good-to-great company by a factor
of…like 10. What is really interesting is that when people engage with the idea of a purpose, they are more motivated to be engaged and do a great job. It's no longer solely about money. It's about people.
Corp!: Have you seen any results from the company purpose
initiative?
Bob: There was a large swing in people's attitudinal approach to work. (Editor's note: the Conscious article contains a chart showing a significant increase in positive attitude.)
Corp!: What was your first job and what did you learn from it?
Bob: As a dishwasher at a restaurant. Frankly, I left that establishment because it was a morally corrupt organization and what I learned is that culture does matter.
Mike: I worked at a golf course. I learned that work can be awesome, fun, and you can love showing up to work every day. I loved that job. That is powerful.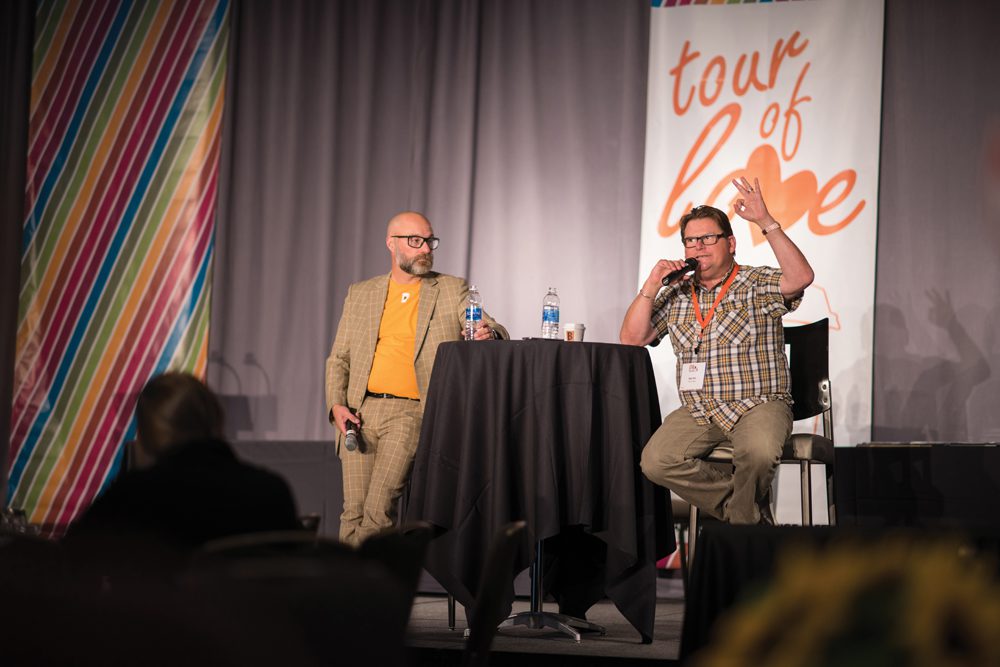 Corp!: What is the one thing that each of you does in the office that drives the other one crazy?
Bob: The one thing that Mike does is occasionally he comes with such a level of intensity that it's discombobulating.
Mike: Bob talks too slowly.
Corp!: What is the biggest management myth in your opinion?
Bob: Focus. I think that working on 80 things at one time produces zero results. Identifying one or two things that really need to be worked on and improved produces great results and it takes focus to do that.
Mike: That people suck. People are awesome. I find that managers of businesses often have a cynical viewpoint of their people. You hear managers complain about their people all the time. It's horrible and corrosive. People don't suck.
Corp!: What word best describes you?
Both: Loyal.
Mike: Bob and I went through a Dale Carnegie class where you are given 50 cards that represent your life priorities and you keep narrowing them down. At the end, our two cards were the same: Loyalty and Legacy.
Corp!: What is the last book you read?
Mike: I just read Ray Dalio's book, "Principles: Life and Work." I am in the middle of Kim Scott's book, "Radical Candor: Be a Kickass Boss Without Losing Your Humanity."
Bob: I just finished Kim Scott's book.
Corp!: Who is the most interesting person you'd like to meet and why?
Bob: Warren Buffett, the most honest man alive.
Mike: Steve Jobs, a revolutionary thinker and innovator.
Corp!: What is your favorite way to spend your free time?
Mike: On the back deck with a fire, marshmallows and my kids Liam, Klava and Oscar, and my wife, Elizaveta.
Bob: Hiking with my wife Michelle.
Editor's note: Read the full Conscious Company Media article at here.