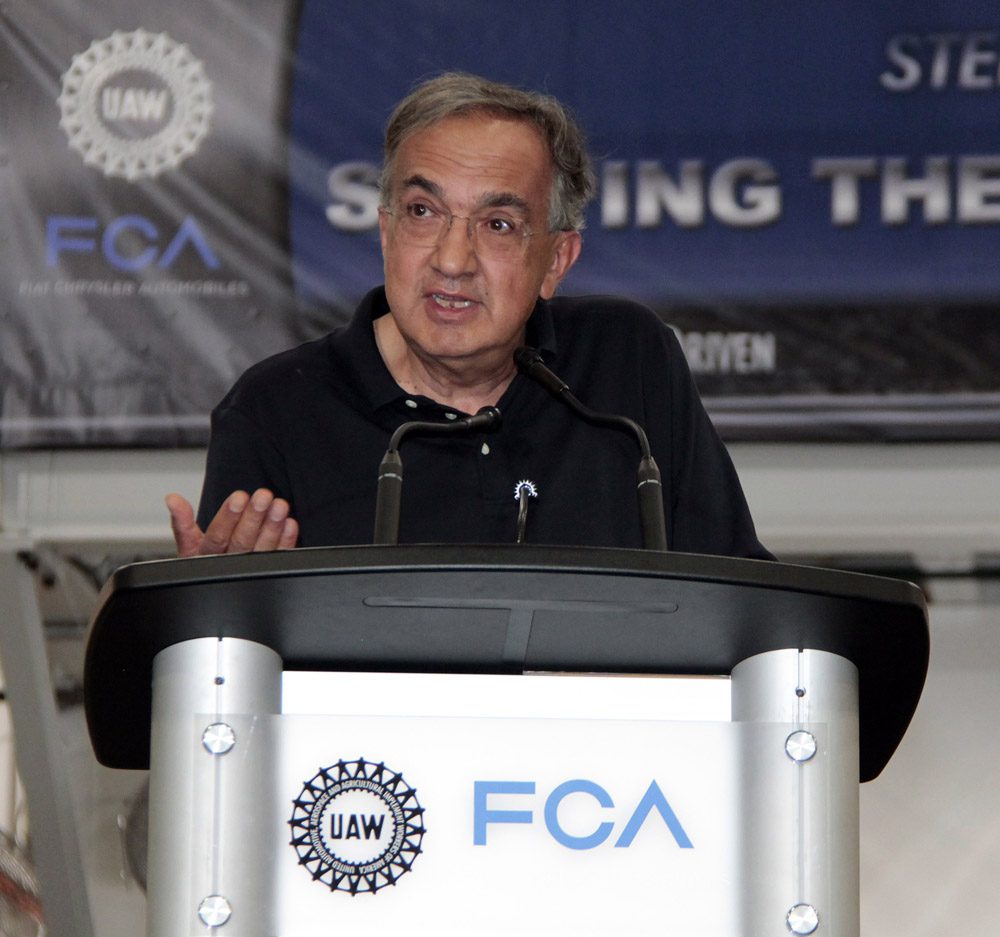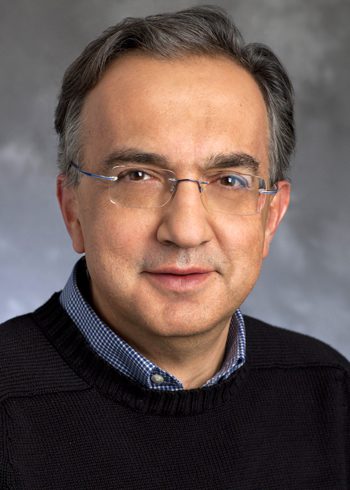 Automotive executive and well-known turnaround expert Sergio Marchionne died unexpectedly Wednesday at the age of 66, leaving behind a significant legacy in the international automotive world as well as among his peers, employees, media and friends.
The former head of Fiat Chrysler died of complications from what the company described as shoulder surgery. His health took a dramatic turn shortly after an operation, and Fiat Chrysler replaced him with a new CEO in recent days.
Marchionne was considered a "larger-than-life" personality both at work and personally. Known by co-workers and media for his relaxed style – he smoked openly, rarely wore a tie and was known for sporting a black sweater everywhere he went – Marchionne was a respected and intense executive who is said to have brought Fiat and Chrysler together in a way that generated wealth for both companies.
People from across the spectrum of Marchionne's world offered their condolences on his death Wednesday.
"We at General Motors offer our condolences to Sergio Marchionne's family and friends. Sergio created a remarkable legacy in the automotive industry. Our thoughts are also with our industry colleagues at Fiat Chrysler as they deal with this sudden loss," GM's CEO and Chairman Mary Barra posted on Twitter.
In a statement, Detroit Regional Chamber President and CEO Sandy Baruah called Marchionne "one of a kind."
"An iconoclast and larger than life, he had an outsized impact on the industry and therefore our region. He didn't just save Chrysler and Fiat, he increased the value of these companies by more than 10-fold. Countless employees, dealers, suppliers and the driving public directly benefited from this one man's incredible accomplishments," Baruah said.
David T. Fischer, Chairman and CEO, The Suburban Collection, Michigan's largest dealer group, also praised Marchionne for his commitment to his industry and work at Fiat Chrysler.
"Sergio Marchionne was a relentless fixer, a great car guy with passion and unbelievable work ethic. I am truly saddened by the news of his passing, he will be sorely missed. Mike Manley and the new FCA team have a great platform that they built together," Fischer said. "They have a wonderful future."
Michelle Krebs, Detroit-based Executive Analyst at Cox Automotive's Autotrader, remembered a complicated yet determined man.
"Sergio Marchionne … had a way with words. You were guaranteed a great quote from his press conferences. He was direct – he'd let you know if he didn't like your question," Krebs said. "He was extremely intellectual – he majored in philosophy as an undergrad. At the last event I attended, a June 1 press conference, he gave what now clearly was his farewell address, he quoted Oscar Wilde and Bobby McFerrin."
His impact on Detroit was significant, Krebs added.
"Sergio Marchionne arrived in Detroit and immediately saw and appreciated the history and potential of Chrysler as well as the city itself. He was blown away by the culture the city had to offer and FCA became a supporter of the arts. Anyone who attended a show at the Fisher Theater couldn't miss a car – Chrysler Pacifica minivan last time I was there – parked in the lobby," Krebs said. "He also recognized the opportunity for Detroit's revitalization and showed it to the world in the now-famous Super Bowl ad featuring Eminem driving the city's gritty streets."
Fiat Chrysler Automobiles (FCA) designs, engineers, manufactures and sells vehicles and related parts and services, components and production systems worldwide through 159 manufacturing facilities, 87 R&D centers, and dealers and distributors in more than 140 countries.
Its stable of brands includes Abarth, Alfa Romeo, Chrysler, Dodge, Fiat, Fiat Professional, Jeep, Lancia, Ram, Maserati and Mopar, the parts and service brand. The Group's businesses also include Comau (production systems), Magneti Marelli (components) and Teksid (iron and castings).
In addition, retail and dealer financing, leasing and rental services related to and in support of the Group's car business are provided either through subsidiaries or financial partners (such as captive companies, affiliates, joint ventures with leading banks and/or financial institutions, and specialized providers).
FCA is listed on the New York Stock Exchange under the symbol "FCAU" and on the Mercato Telematico Azionario under the symbol "FCA".