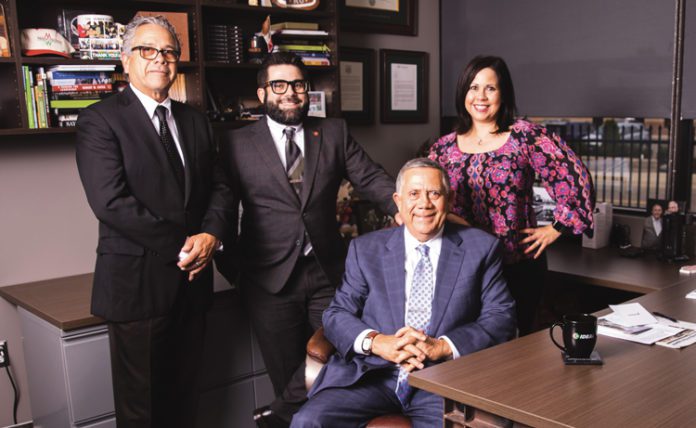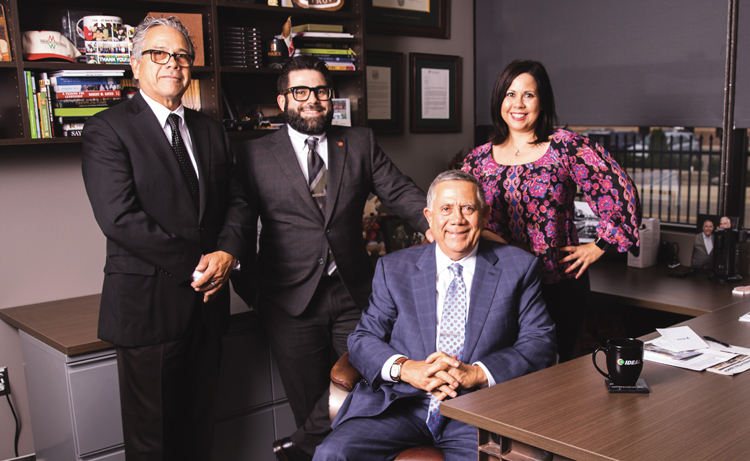 Like many of Michigan's rising Hispanic entrepreneurs and business organizations, the story of Tequila Cabresto tells a tale of family perseverance across generations and the importance of cultural integrity, as well as the deep ribbon of pride that spans from their ancestral roots to their home state and, most importantly, their neighborhoods.
It all started with a tire shop in southwest Detroit, explained Sonia López, vice president of Cabresto Imports Corp. and daughter of its founder, Silverio López. That is where the family's patriarch, Silverio, worked for more than 25 years and dreamed of buying some land back in his homeland of Mexico. He imagined channeling the profits from López Tire into another family enterprise. By 2000, Silverio had made that a reality — he and his children were growing agave, the key component of tequila and the product Silverio's family had grown in the past.
The farm in Jalisco took off, but the agave market flopped. The López family realized the only way the business could financially work was if they started making the spirit themselves. Together, Silverio and his son Antonio used the same muscle and tenacity they needed to build a tire shop into a thriving business to find a distiller and focus on marketing and product awareness. From 2008, when they introduced the Cabresto name to the world, to today, they have moved their business forward, inch by inch, to see it succeed.
The results speak for themselves: their award-winning tequilas are sold in bars and restaurants across Michigan. The Lopez family also co-owns Peso, a small restaurant and bar in the Hubbard-Richard neighborhood near Mexicantown in Detroit. The family is now working on opening a tasting room — a project spurred by a New Economy Initiative grant and a $50,000 Comerica Hatch Detroit win in 2018. The next goal is to sell their tequilas across the Midwest and, eventually, the United States. They're also adding new products, such as an aged Detroit-inspired tequila, to the mix.
"These weren't our primary skills — we knew how to change tires. We knew the auto industry. We had to learn a lot as we went," Sonia López said. "But this is not just any business. This is a part of our culture. When I explain to people where our agave and tequila comes from and what it really means to the people there in Mexico, it is telling my family's story. And it is something I love to do."
Building legacies
The story of a father and his children going into business together and scaling that company into something that benefits future generations reflects how Hispanic- and Latino-owned businesses have gone from small companies to multimillion dollar giants, including examples in Michigan such as the Dearborn-based Diez Group, Pontiac-based Gonzalez Design Group and Detroit's Ideal Group.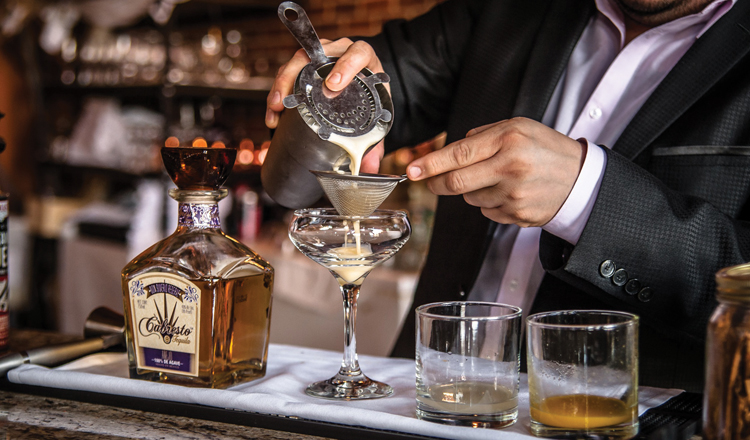 But for every success there also are stories of setbacks, generational disputes and economic challenges. Despite these roadblocks, Hispanic and Latino companies, as well as business associations around Michigan, say they are working collectively to help one another, focus on quality and emphasize integrity across industries. This commitment to supporting one another and the community as a whole is why Michigan has some of the largest Hispanic- and Latino-owned businesses in the United States, they add.
"Our businesses are community assets that are irreplaceable. We want to make sure they're around and sustainable for the long term," said Armando Ojeda, executive director of the Michigan Hispanic Chamber of Commerce (MHCC) in Ferndale.
MHCC, which is celebrating its 30th anniversary this year, was founded in March 1989 by former Detroit Tigers pitcher Henry "Hank" Aguirre. Aguirre, a first generation Mexican American, who settled in Detroit after his baseball career. In 1979, Aguirre opened Mexican Industries Inc. in southwest Detroit, which became a huge automotive supplier. Aguirre inspired many, Ojeda said, and his untimely death from prostate cancer in September 1994 was mourned then, as well as now.
"He is the example and model that many of us seek to emulate," Ojeda said. "He built in the neighborhood. He employed people from the neighborhood. By doing so, he resolved long-standing issues (such as
unemployment and lack of transportation) affecting the neighborhood."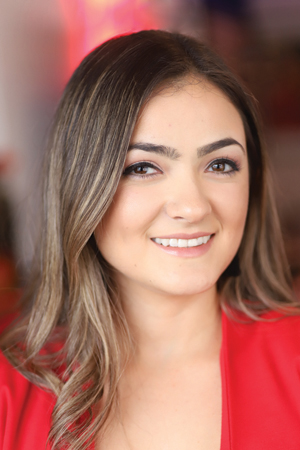 An ideal mentor
Aguirre inspired men such as Frank Venegas Jr. to also go into business and positively impact Michigan's economy, particularly in southwest Detroit. Venegas is the chairman and CEO of the Ideal Group, an automotive supplier with annual revenues of about $350 million and more than 500 employees at its Detroit headquarters. Venegas has a classic rags-to-riches origin story: in 1979, he won a Cadillac in a raffle, sold it for $12,000 and used the money to start his first company.
"Hank was the reason I came into the neighborhood. He pushed for it. He pushed us in two ways. One, we needed to be down here (in southwest Detroit), but he also pushed us in a sense that, when he died, we all had to live his legacy," Venegas said. "A legacy isn't just what someone did and you celebrate it. A legacy is what you do to take his mission and move it forward. That's what we did here (with the Ideal Group)."
Unemployment in southwest Detroit was about 40% when the Ideal Group moved into Detroit — ironically, Venegas opened the Ideal Group headquarters on the same land where General Motors built that 1979 Caddy he later sold.
"We could have gone anywhere in the state," Venegas said, "but we know the best thing we can do is impact our community. When you hire from the neighborhood, people make more money and have more opportunity. There's nothing more powerful for a person and how they feel about themselves than having a job. … I've never needed to put 'Help Wanted' signs up. People came from the community and brought their neighbors, brothers and cousins."
Venegas's family did something of the same. His grandfather immigrated from Mexico to Detroit 100 years ago to take a factory job with Henry Ford, attracted by the automaker's promise of $5 a week on the assembly line. His grandfather and then father spent four decades in Ford's massive Rouge plant, building cars and family legacy.
Seeing people rise from the factory line to owning their own small businesses is what excites Venegas now. He called the rise of Hispanic and Latino companies growing alongside the Ideal Group both rewarding and inspirational.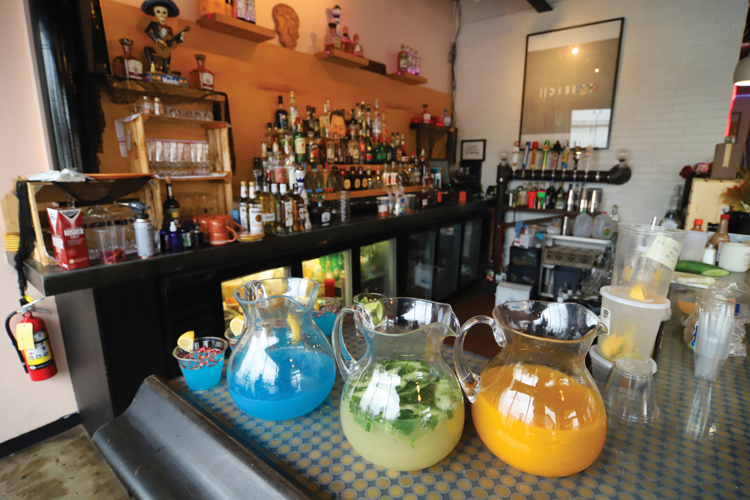 "It's incredible when you see how many construction trucks are going down the road and you see the sign on them and it is for Gonzales & Sons or Rodrigues Plumbing," Venegas said.
Growing bigger
Part of what Venegas has observed is the work of the Michigan Hispanic Chamber of Commerce, which is doing many foundational projects to boost the business acumen of Michigan's Hispanic companies, as well as its partners at groups such as the Southwest Detroit Business Association (SDBA).
SDBA President Robert Dewaelsche said the recent launch of initiatives such as the Hispanic Contractors Association is both an example of how business-focused groups like the chamber and SDBA are working together, as well as how little companies are becoming bigger companies.
The Hispanic Contractors Association, which started in May 2019, already has more than 45 paid members and is building up its lists of mentors and business coaches to help companies scale, Dewaelsche said. That way, these businesses can take on larger and more lucrative contracts, hire more people and get a share of the estimated $7 billion in construction projects going on around Metro Detroit, including the massive $5 billion Gordie Howe International Bridge project in Delray, a southwest Detroit neighborhood.
"We're coming together to come up with what we hope will be a solution to solve everybody's needs and help everybody grow," Dewaelsche said. "If you look at the (Gordie Howe International) bridge, it will have about 2,500 employees working on its construction at its peak. Half of them will be coming in and out of southwest Detroit. They'll need places to eat for lunch or places to buy new work boots. We want to take advantage of that increased need for retail and capture some of the tourism as well."
Finding a way to help Hispanic businesses, especially those that specialize in food and tourism, find customers and grow is what Juan Carlos Dueweke-Perez is doing at his Detroit business, Featherstone Moments. Dueweke-Perez describes the business he founded in August 2015 as a trilingual, immigrant-owned marketing and public relations agency focusing on immigrants and people of color.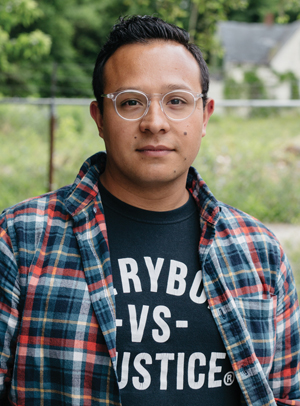 Dueweke-Perez has a variety of wins under his agency's belt: he helped the López family with its efforts to win the Hatch Detroit contest, as well as the 2017 winner, Baobab Fare. Featherstone Moments works directly with SDBA on its social media and newsletter. Dueweke-Perez also helped to create Southwest Detroit Restaurant Week, which recently celebrated its second year, bringing more than a dozen restaurants together to highlight Hispanic food, culture and community.
"We're people with skills we've developed in real life and we all have real-world experience," Dueweke-Perez said of himself and Featherstone Moments' employees. "We got started knocking on doors, telling people what we could do for them. It was pretty scary, but the main niche we identified was we were bilingual and we understood the culture."
An urgent need
Replicating what is being done in southeast Michigan, particularly Metro Detroit, with its Hispanic- and Latino-owned businesses, is what organizations on the west side of the state are working on at a furious pace. One such program is at Ferris State University in Big Rapids, where Carlos Sanchez is helping Hispanic and Latino professionals ramp up their skills and connections through the Latino Business and Economic Development Center.
The center's main program is known as LEADeres and is a non-credit leadership lab designed to support Latino professionals as they pursue their individual career and life goals. The program emphasizes identity formation and personal development in the areas of cultural awareness, leadership, professional development and community and civic engagement. Over a six-month intensive program, participants work together, receive mentoring from seasoned leaders and work on teams to identify creative solutions for community issues.
The goal is to give its graduates the skills, resources and confidence necessary to support each other as leaders, professionally and in their community, Sanchez said.
"This is not a feel-good community outreach program. We want to develop high performers," Sanchez said. "The idea is to change the landscape and help them create wealth. It's not just because it's the right thing to do — these students share their success with the community."
In Grand Rapids, Guillermo Cisneros, executive director of the West Michigan Hispanic Chamber of Commerce, is working just as quickly. Cisneros, who joined the WMHCC as its director in 2017 after serving as a board member, says there needs to be much more investment, not only in the chamber, but in the kind of programs that will help small businesses scale into larger enterprises.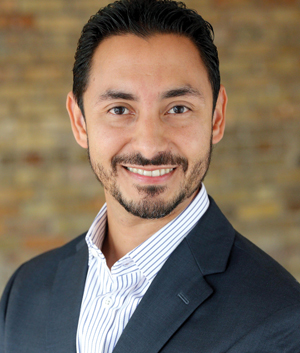 Census data shows there is a growing Hispanic population, not only in the Grand Rapids area, but in neighboring communities such as Holland, Cisneros said. As of the latest census, Latinos represent 16% of the Grand Rapids population, making it the largest minority group in the city. That number is projected to increase alongside the number of Latino businesses, who will serve the neighborhoods, as well as provide a boost in tourism through bars, restaurants and cultural events tied to the community. The Holland area is an estimated 25% Latino.
"There is a change in demographics happening in West Michigan, which is bringing different opportunities to the community as a whole," Cisneros said. "But in the past 100 years, we haven't seen the support of many organizations. As a result, the Latino business community here is stagnant. There are issues with access to capital and a lack of processes and systems in place to build businesses. That means there is no creation of wealth among the community."
The WMHCC was created 15 years ago to change that situation. It created networking events, as well as an annual awards gala to bring the community together to celebrate. Now, Cisneros said, his role is to take the chamber to the next level. That means working with business, governmental, educational and community groups to invest in Latino companies.
"Right now, our focus is in two main areas: economic development and developing West Michigan. Our mission is to revitalize the entire Latino business community in 20 to 30 years," Cisneros said. "Bringing in resources from all our partners to invest in the Latino business community will benefit all of us, because they will generate financial resources, hire more people and spend more locally."