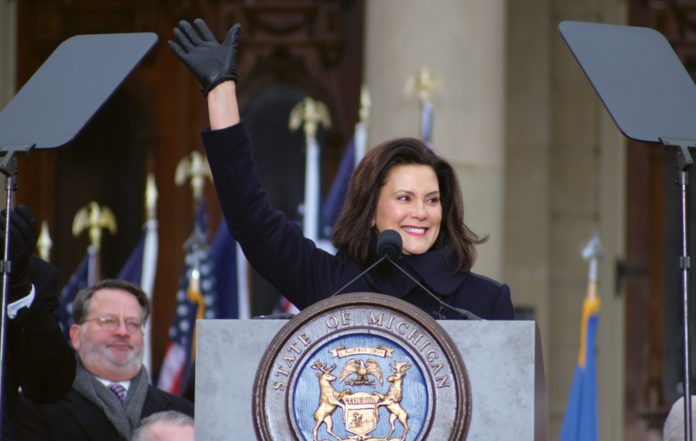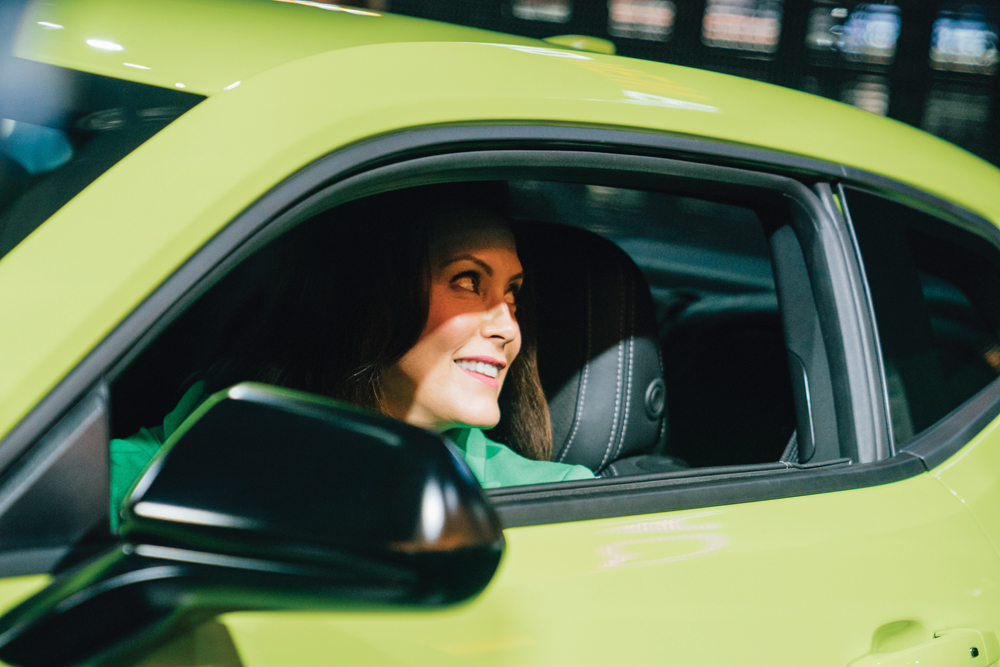 You would expect the new governor of a state where the economy is moving along pretty well, and unemployment is low, to be confident the state is in good shape from a business perspective.
And that's exactly how Gretchen Whitmer feels.
Whitmer, a Democrat who replaced term-limited Gov. Rick Snyder by winning 53% of the vote in the 2018 election, said Michigan is "in a strong position."
"We are growing, we've made a number of fantastic announcements in the first six months around investments happening around mobility," said Whitmer, elected to the state House in 2000, then the Senate in 2006. "We are poised to continue to lead in the mobility space."
She pointed to the vast variety of industries in Michigan, ranging from the auto industry (the obvious one) to furniture on the west side of the state (where the state is responsible for some 14% of the production in the furniture industry) to the blue industry revolving around the Great Lakes.
"We are actively working on growing every industry," Whitmer said.
While she believes the state's business position is a strong one, Whitmer said the need was obviously there to help keep it that way. One way to do that, she said, is through local partnerships.
FCA's good news
She pointed to the Michigan Economic Development Corp. as a partner that is helping push the idea that Michigan is the right place for business.
As examples of those kinds of partnerships working, Whitmer pointed to Fiat Chrysler Automobiles' new Jeep plant project in Detroit, and the work that will go on at four other FCA facilities in the region.
The projects won approval from both the Detroit City Council, which also okayed land swaps, among other developments, for the plant near Mack and St. Jean. Following that move, the Michigan Strategic Fund approved tax incentives to help make the projects happen.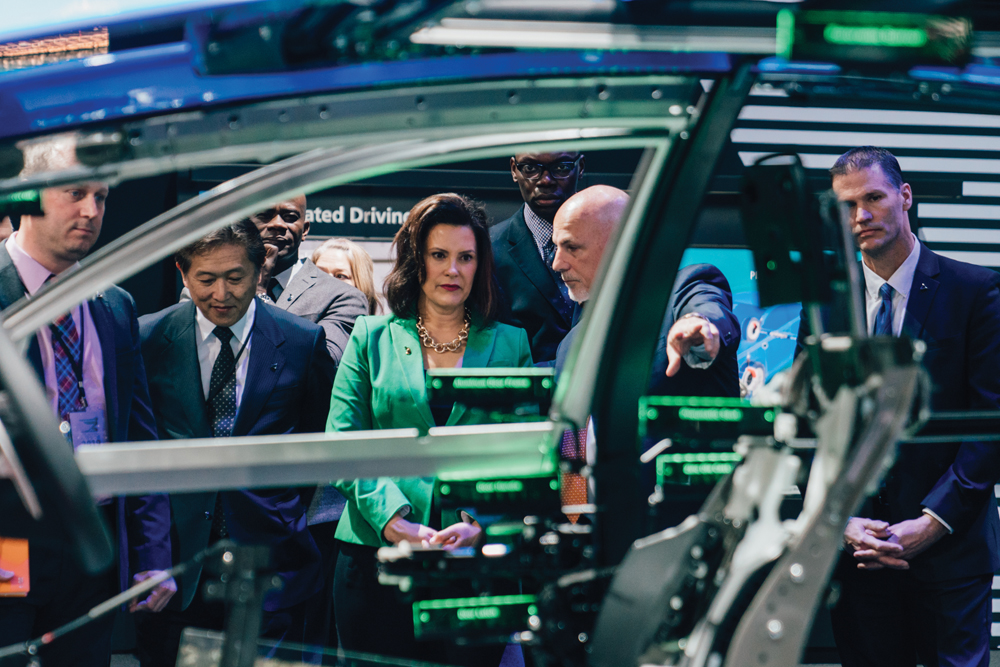 Together, the moves are expected to bring an estimated 5,000 jobs and $2.5 billion in new investment.
"It's really important to have strong relationships at the local level," Whitmer said. "The MEDC plays an important and active role in promoting Michigan as a great place for business. The FCA assembly plant (project) is a wonderful example."
Helping with growth
While such examples are good, Whitmer knows that to keep it going, the state must be able to help existing businesses grow.
Whitmer said a key piece of that puzzle lies in public-private partnerships, like the collaboration with the MEDC. She said she's worked a "bridge building" component into her budget, an item that will combine projects in "a strategic way" to maximize funding, workforce, etc.
"We're making announcements almost every day for small- to mid-size businesses … It's a philosophy that we can do more together," Whitmer said. "Public-private partnerships are really important to the success we've had and any success we have in the future."
She pointed to an executive order — "One of the first (orders) I signed," she said — establishing Opportunity Zones for disadvantaged businesses that have been cut off from capital.
Opportunity Zones are economically
distressed rural and urban areas where
special tax benefits can be applied, aimed at kick-starting investment and creating jobs.
"Disadvantaged business owners get an opportunity to work with agencies to make sure they have a chance to work with the state" for funding, Whitmer said.
Getting, keeping talent
None of that will matter if talented workers seek jobs elsewhere. Whitmer believes Michigan has plenty to offer workers already established in the state and those looking for someplace to work. She said the state has plenty of advantages:
• Lifestyle: "We have this phenomenal offering of water and outdoor recreational activities," she said. She pointed to "coastline" activities that could attract talent, not only to the metro Detroit area, but to western and northern Michigan.
"We are finding that young people are coming to Detroit," Whitmer said. "But they're also coming to Grand Rapids and to northern Michigan with our phenomenal coastline."
• High-tech jobs: "We have cutting-edge research going on in Michigan," she pointed out. (Indeed, the University of Michigan, for instance, spent some $1.55 billion on research in fiscal 2018.) "Some of the finest engineering and design goes on here, as well.
"Assuring people have the opportunity to get skills and then have the ability to stay here is important," Whitmer said. "We have to attract more young people with skills; it's a priority of my administration."
One of the ways she's planning on doing that, she said, is to "recreate" Snyder's Marshall Plan for Talent, which was designed to invest some $100 million over five years to do things such as developing new courses to teach 21st-century job skills, upgrading career centers with state-of-the-art equipment, training 5,000 cybersecurity students for IT/computer science careers and providing 16,000 low-income/at-risk student scholarships, among a variety of other goals.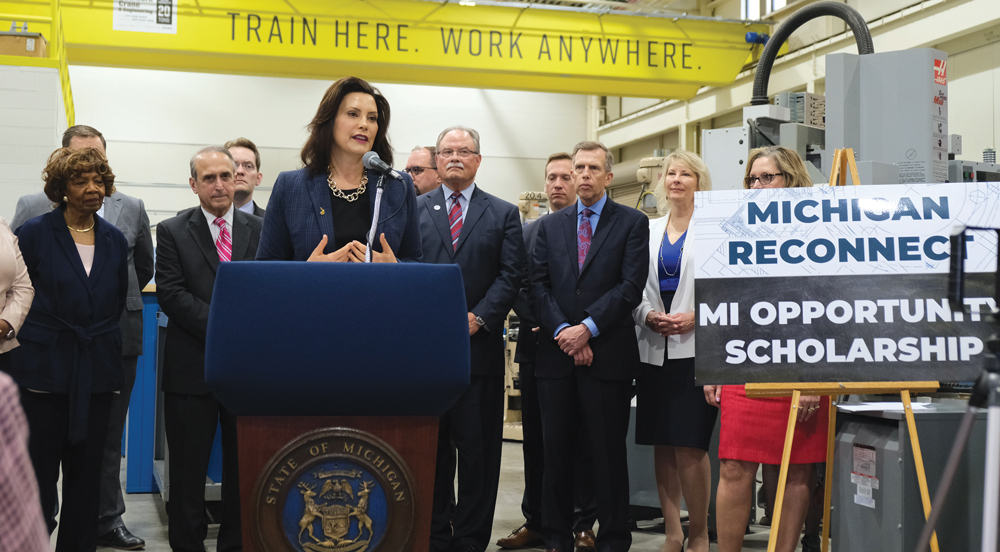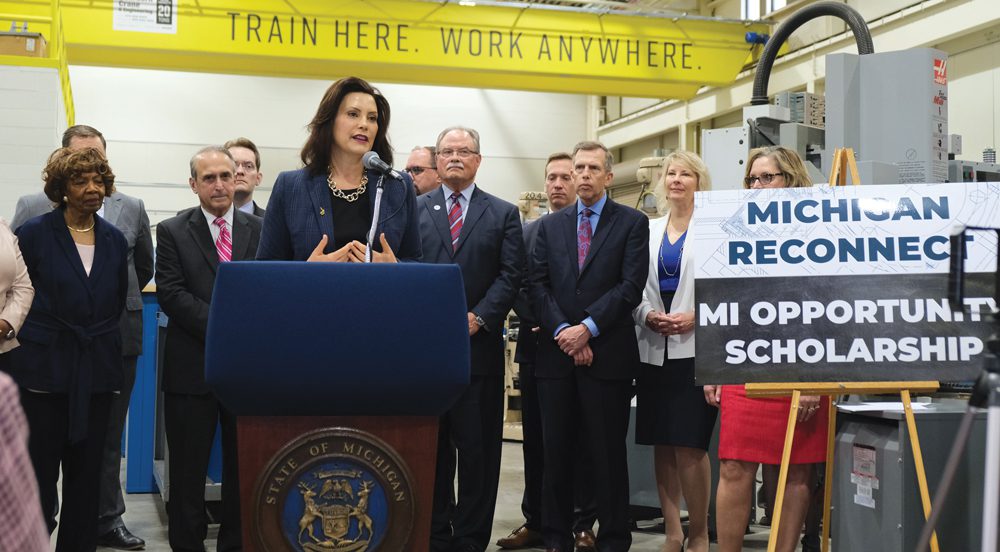 A step forward
Whitmer called the Marshall Plan a "step in the right direction," but believes it can be improved upon. She said two bills have been introduced creating the Michigan Reconnect Program, designed after a similar plan in Tennessee, that targets students 25-years-of-age and older who are high school graduates.
The $110-million program is designed to help students in the skilled trades arena. More than half of the funding would come from unspent money in the Marshall Plan; the other half would come from the general fund.
"I've worked with the Republican-led legislature and our chambers of commerce on these bills," Whitmer said. "The Marshall Plan was a step in the right direction, but this changes the dynamic in a more holistic way across the state."
While helping local businesses and keeping and attracting new talent, Whitmer said Michigan is also keeping up with the other states in the region in the battle to attract new business and retain the businesses already here.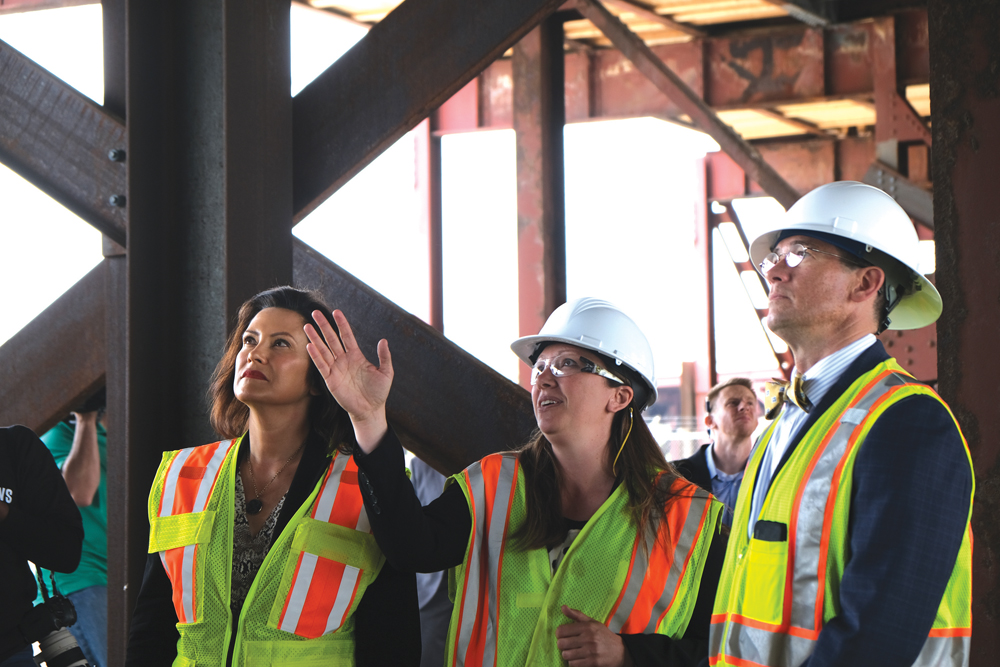 Uniquely positioned'
She again touted the MEDC and other business groups in helping Michigan accomplish that, and said the state has "thoughtful incentives to make Michigan a good place to expand." She said Midwest states are all "working hard" to shore up infrastructure, but pointed to some advantages she believes her state has.
"Michigan is uniquely positioned, I think, to meet the needs of business," Whitmer said. "We have some phenomenal research institutions, a great network of universities and community colleges, and a market that is demanding skills."
She also pointed to something most people might be surprised she considers an advantage: the weather.
"Sure, we have winter, but we don't necessarily have to confront (weather disasters) other states might have," she said.
Farmers and others who depend on the state's agriculture to make a living might disagree this year. In a state that has seen, at times, record amounts of precipitation, farmers have "been struggling," Whitmer said.
In a state that is the second-most agriculturally diverse (behind California), that's obviously a problem, the governor admitted. She also tied the struggle to what was her campaign rallying cry: "Fix the damn roads."
"I worked with the Legislature to allocate funds to help farmers get by this year," Whitmer said. "(Agriculture) is an incredible strength, so it's something I think is very important to our economy. It's part of why fixing the roads is so important. Having a reliable and safe infrastructure is really important to helping farmers have a way of delivering their goods."
How long will it last?
The economy seems to be chugging along at the moment, but it might not always be that way. Whitmer also pointed to the state's infrastructure as a way to keep businesses as "recession-proof" as possible, in case of an economic slowdown.
As she's made clear from the beginning of her campaign, roads and infrastructure are her priority. But she said "closing the skills gap" is another way to protect businesses from a faltering economy. In any event, she said, working together will be a key component.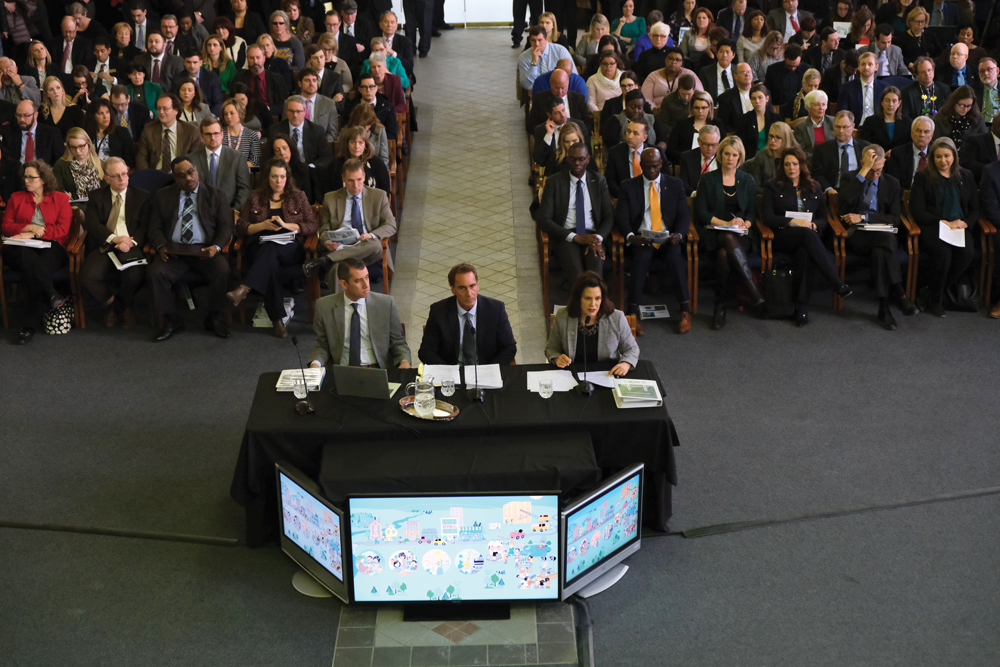 She pointed to the recent auto insurance reform as an example of the state's ability to make that happen.
"I think these are nonpartisan or bipartisan issues," said Whitmer, who holds a bachelor's degree and her law degree from Michigan State University. "We've seen Washington grind to a standstill, but we've been able to work well together. That's the most important thing we can do to secure our business."
The key component to her plan to improve Michigan's infrastructure is, understandably, fixing the roads. Obviously, suggesting the 45-cent gas tax Whitmer proposed as she launched her campaign isn't the way political science majors might suggest to start. But Whitmer is adamant that, as ugly as it is, it's the best way to fix what she calls "a $2.5 billion problem in Michigan."
"It's not an easy thing to lead with," she acknowledged. "But it's an honest solution to what we're dealing with. It was something in a unique way that inspired the business community to get on board. We all recognize how important this is to the business bottom line. A forward-looking infrastructure (plan) is critical.
Shrugging off critics
Of course, critics didn't think the 45-cent gas tax was that "forward thinking" — "The people of the state of Michigan can't afford a 45-cent gas tax increase," Speaker of the House Lee Chatfield said back in May — and have used that among other examples to paint Whitmer as not being business friendly.
Whitmer shrugs off the criticism, pointing out she's gotten support from the state and Detroit regional chambers of commerce, and other business leaders, she says, have "endorsed the plan." She points to roads as one reason Amazon decided against moving its second world headquarters here.
"Every one of them (business leaders) has endorsed the plan," Whitmer said. "They recognize (roads) are hurting us. People who suggest (she isn't business friendly) are on the ground and don't see what (leaders) see."
With the Legislature on break, Whitmer said, it might be the middle of August before anything gets resolved.
What if she can't get the 45-cent hike?
"I'll do the best I can with what I do get," she said. "I'm focused on trying to get this done and trying to get this fixed. If the Legislature stands in the way, I'll make sure I have a Legislature I can work with."
Living in Lansing with her husband and two daughters (three stepsons also live in Michigan), Whitmer said she doesn't let tough days get her down.
"I love Michigan…I'm grateful to be here," Whitmer said. "Even on the hardest day, there's a person or an event that reminds me how important this is and inspires me to work through it. It's incredibly energizing."