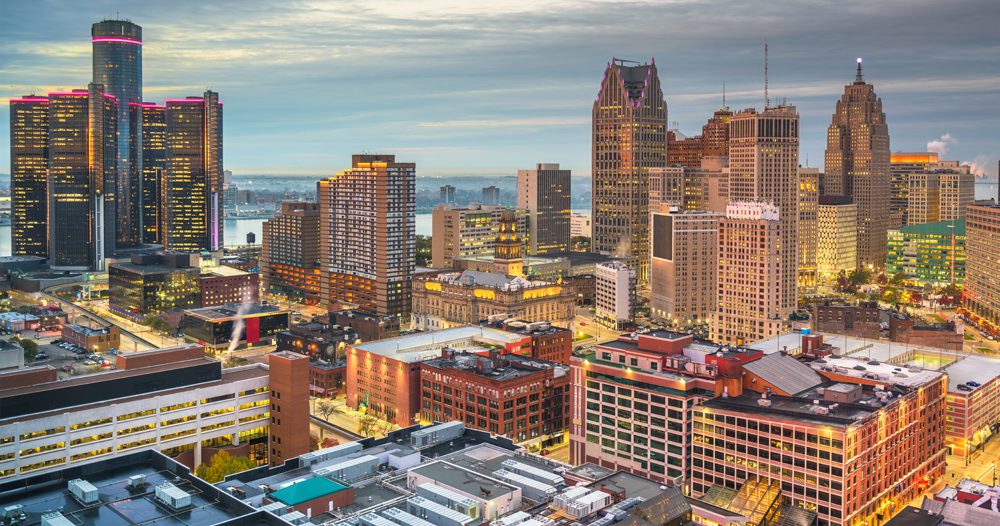 Metro Detroit's office market just keeps growing and vacancies in hot cities such as Detroit, Troy, Southfield and Birmingham are likely to continue to decline as more businesses look to set up shop in urban areas, according to new research.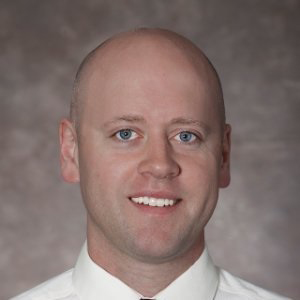 John DeGroot, vice president of research for real estate advisory firm Newmark Knight Frank in Southfield, said that Detroit's office market in particular has been transformed in a way that has been remarkable, especially over the past five years. Moreover, it still has plenty of potential in office, residential and beyond, he said.
"There has been over 2.6 million square feet of (office-space) absorption in Detroit over the past five years," DeGroot said. "No one has ever seen the Detroit market like this since we started tracking statistics for real estate in the city."
Moreover, Detroit's office market has a vacancy rate of around 12.5% now, which is lower than the suburban market, he noted. That's good news for the city but also shows how much the area has improved overall in terms of the tenants and spaces available, most notably the historic buildings that have been renovated or are in the process, he said.
"Generally, there's still a good vibe in the city," DeGroot said. "It's been going on for five years straight and there's good potential for it to go on for several more years."
Market reports
DeGroot, who has been with NKF since 2001, supervised the data collection, verification, tracking and analysis of Metro Detroit's office and industrial markets. He writes quarterly market reports on Metro Detroit's economy and trends in the industrial and office markets.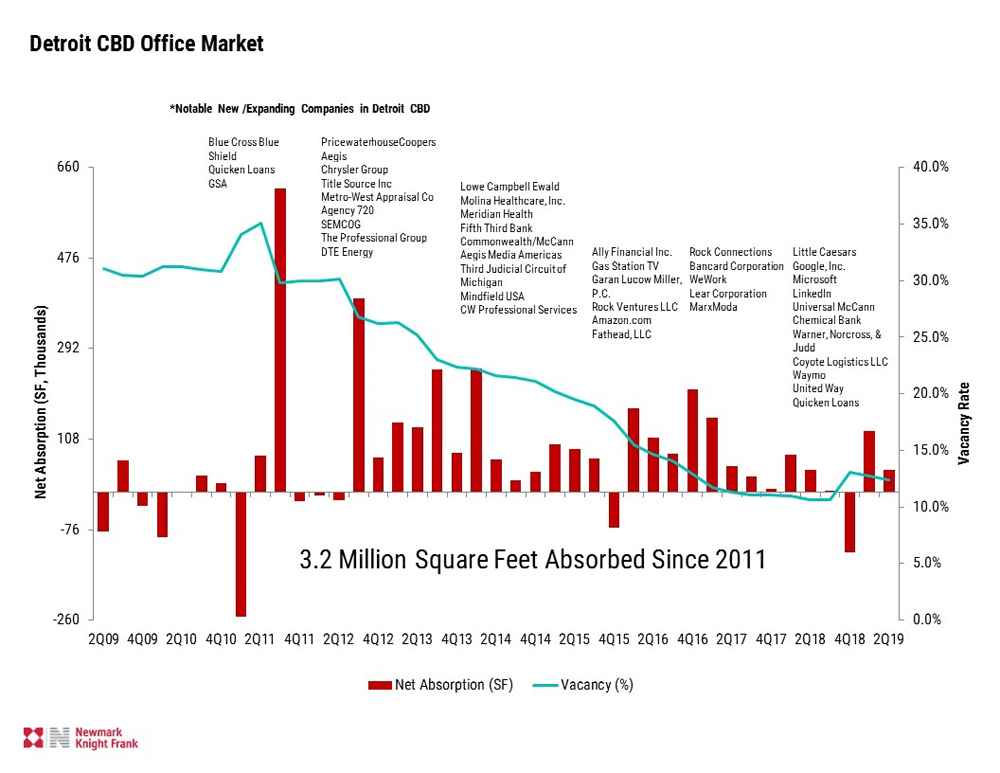 During the second quarter of 2019, Metro Detroit's office market saw its vacancy rate drop to 15 percent with just over 216,000 square feet of space absorbed or used. DeGroot said Ann Arbor's office market also is as healthy as ever with a "surge in office demand."
Areas that are seeing a slump include Novi, which had large vacancies pop up with the loss of two major office users, and Livonia, where the demand for office space remains soft, DeGroot said.
Detroit's office "revolution" began when large employers, such as Dan Gilbert's Quicken and Blue Cross Blue Shield of Michigan, started moving into the Central Business District, DeGroot said. It then expanded with large employers such as Little Caesars putting in a new arena and soon completing its additional office space.
That continued with big names such as Google, Microsoft, LinkedIn, WeWork and many others coming into the Detroit office market, some following Gilbert's example or enjoying the spaces he renovated as part of his acquisitions there, DeGroot said. Tech companies are leading this trend, and that bodes well for Detroit's overall economic health.
"Over the past three years, we've been seeing suburban companies moving downtown to Detroit; they want to be a part of that excitement," DeGroot said. "Everyone started saying it would slow down – but we would get a quarter of that then it would ramp back up again. … Looking ahead, there's still some major building going on with Chemical Bank, Ford" and others.
Suburban markets
In Southfield, the occupancy rate dropped to 21.2 percent during the second quarter, adding tenants such as Northwestern Technological Institute's 20,000-square-foot lease at 24800 Northwester Highway, for example. Troy's office market hit 17 percent with just over 37,000 square feet absorbed by new tenants. Birmingham had a 7.9 percent vacancy rate in the second quarter as well with about 16,000 square feet absorbed.
"These are still healthy submarkets," DeGroot said.
Novi's office market vacancy rate jumped up to 12.5 percent with 47,000 square feet of vacancies entering the market in the second quarter, DeGroot said. It lost South University on West Twelve Mile Road and the Art Institute of Michigan from the Haggerty Corporate Office Centre, nearly doubling its vacancy rate, which had been at 6.8 percent at the beginning of 2019.
Livonia's office market vacancy rate also went up to 13.3 percent with more than 5,000 square feet of new vacancies entering that market. DeGroot described its office market as "largely … stagnant" over the past three years with a citywide vacancy rate hovering around 13 percent over that time period.