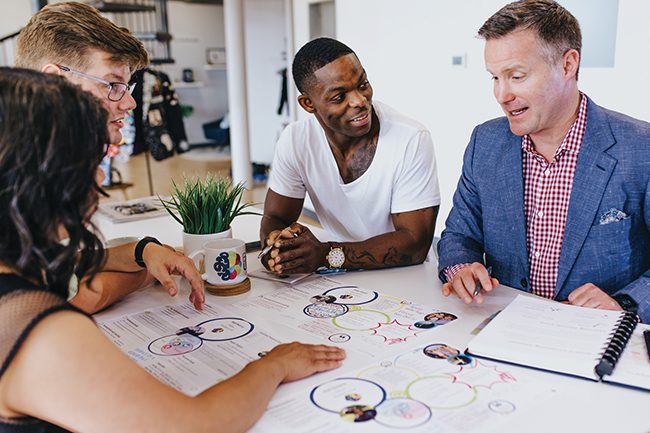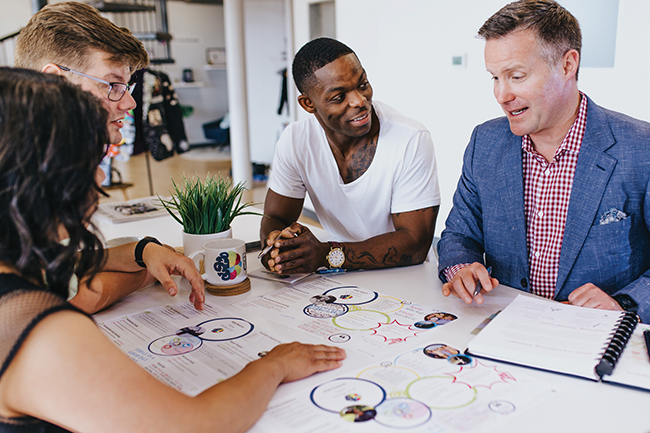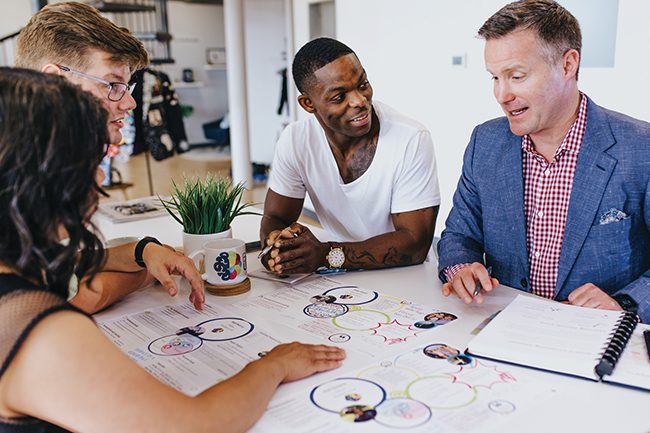 When Rob Dwortz's company, Become Unmistakable, first released its on-line management tool in March 2019, he had no idea what was coming.
Or how it would affect things.
The tool, called uMap, is designed to enhance employee engagement by making it a collaborative process that includes both the employer and employee and kicks the traditional review process to the curb.
But less than a year after launching it — and only months after actually beginning to sell it — the once-in-a-lifetime COVID-19 pandemic struck, throwing the employee-employer relationship into chaos.
"We really released it into the teeth of the pandemic," Dwortz recalled. "We didn't start selling it until midyear (2019), got some initial clients and then the pandemic hit.
"The original concept was that (the uMap) would be a document that helps create a sense of belonging within an organization, which it certainly still does, and also is a performance management tool with a continuous coaching model. That was the initial intent and that remains true to this day."
With companies shifting their work schedules and styles — using on-site workers when possible, along with allowing work-from-home and a hybrid of both — uMap suddenly became a popular way to both connect with workers and build almost a new culture.
"The tool itself has become even more in demand and relevant through the pandemic," said Dwortz, a founding partner in Become Unmistakable, a business management consulting firm. "These are things that are the most important, particularly to the next generations — Millennials and Gen Z's — of worker that have kind of been most harmed through this situation."
Dwortz's uMap has changed the annual employee review process, which too often resembles a steely-eyed summit, an uncomfortable place unlikely to lead to an open or constructive discussion.
Instead, the person giving the review holds all the cards and the recipient at the other end — the employee — is often left to sit in trepidation, not knowing what is to be administered in a sweeping assessment of skills, talents and contributions that are hastily summed up in labels such as good, meets objectives, exceeds expectations or needs improvement.
"The annual review process is a drag for everybody," Dwortz said. "The person on the receiving end is super stressing. The person on the receiving end has no idea what to expect. It happens once a year and you're usually being assessed on things that don't even matter to your job."
Become Unmistakable's uMap tool continues to reshape the employer-employee dynamic and that includes kicking the annual review process to the curb.
The company's online uMap system collects information — with both employee and employer taking part — regarding the employee's professional and personal goals. These are melded into a series of company and personal benchmarks, so-called uMaps where left- and right-brain, as well as "balanced brain," tendencies are road-mapped into a comprehensive success strategy.
Companies can use uMap during hiring, training and development, performance management and for employee recognition.
A sharp contrast
Personalized uMaps are in sharp contrast to the hard, cold numbers in "Moneyball" data analytics, which are typically used to measure employee performance in sales or similar quantitative output.
When using solely metrics to rank employees, though, a dagger goes into the heart of teamwork, as everyone is out for themselves in a competitive atmosphere, University of Michigan Ross School of Business professor Wayne Baker, who did a large-scale study on the phenomenon, in tandem with Cassandra R. Chambers of Bocconi University in Italy, told Corp! Magazine in 2019.
Their findings didn't come as a surprise and can be chalked up to human nature.
"If my cooperation with you might push you ahead in rankings and you get the benefit and I don't, it puts me in a really difficult situation," Baker said in a statement released with the study. "I've got conflicting incentives. I want to cooperate, help you, and help the organization, but also I want to do well myself."
The study involved 592 participants and monitored their cooperation through various simulations. When ranked based only on performance, participants weren't as helpful to one another.
However, when information about individual helpfulness was shared along with performance data, the study found cooperation increased again.
"What this really shows is that you need more information to judge a person's performance," Baker said. "It's not simply the sales. You don't have to get rid of performance rankings, but you do need to add something else."
Rethinking the process
What the study underlined is the need for organizations to rethink how they measure employee contributions, said Baker, who is the Robert P. Thorne Professor of Management and Organizations and faculty director of Ross School's Center for Positive Organizations.
Become Unmistakable software is designed to jump-start the performance management process. Each employee and company are the authors of their destiny, Dwortz said.
By collaborating, they're striving toward the goals, which enhances the overall workplace culture.
"So if ABC Company has all of these great plans that are very specific to their organization, they use the uMap to communicate all of those plans to their employees visually and use it to manage on a weekly, monthly, quarterly basis — whichever they choose — and then measure people's performance and connect their performance specifically to those organizational priorities," Dwortz said. "And, at the same time, because they're asking information about what's important to the individual — their development, their personal goals, what they value — they are able to celebrate the individual at the same time.
"We're trying to empower, celebrate and support people in their own personal journeys."
Since its launch, uMap has scored on the communication front, Dwortz said, recalling an incident involving a company where a group of the workers didn't have wills despite being in dangerous-risk jobs. Through a frank discussion, they agreed to set a goal where individual wills would be written up within a year.
When asked why they didn't have wills, many said they didn't know even where to start or found the idea too morbid, Dwortz said.
In the end, the company managed to bring in its own resources and was able to get a discount for the legal documents.
"They got it done and they actually paid for it for these individuals," Dwortz said. "And they created so much loyalty and so much appreciation from those folks just for taking care of them and what they needed to do for them in that way.
"The way this is used is so fundamental to folks in how they run companies."
The lingering pandemic hasn't kept Become Unmistakable and uMap from growing. The company recently released what Dwortz said is a "completely customizable" platform.
"So now uMap can really be expressed in the language of every organization's culture and can even offer some customized reporting and analytics," Dwortz said.
"That's the other big feature we've released very recently — an entirely new set of dashboard analytics that measure engagement, manager effectiveness and organizational health."
Dwortz said the ability to customize uMap provides a "level of insight at the organization level and the individual level" that companies can really support personalization at scale.
"That has been something that has been really well received," Dwortz said. "If you spoke to clients we have rolled out — particularly those who've participated in our training — you'd hear some incredible stories and testimonials of transformation of culture and heart-warming stuff. It's been a really cool experience."
Another by-product of employment in the pandemic era is a sense of disconnection workers are feeling as companies pivot their operations. There's a disconnect, Dwortz said, among most levels of worker: those working from home, those still working on site and those working some form of hybrid schedule.
With COVID-19 still hanging around, he said, there are disconnect issues revolving around vaccine mandates, COVID testing and mask-wearing. Many of the issues are causing people to simply leave their jobs.
According to the Bureau of Labor Statistics, a record 4.3 million people left their jobs in August alone.
"Every company across the country is so focused on retaining talent, and so uMap, being a tool that connects people through distance, creates a more human experience and really focuses on performance and development in a very human way," Dwortz explained. "This is really viewed as a culture builder. That's what's really drawn people to it. Once they experience it they're like, 'oh my goodness, this really does bring people together.'"
Unlikely roots
Become Unmistakable came from "an unlikely place," said Dwortz, whose background is in commercial banking.
Until June 2018, the University of Michigan Ross Business School graduate was president and partner of integrated communications agency, Lambert, and previously was a CEO of a bank.
Partner Mike Novakoski's background is in commercial construction. He is president and CEO of Elzinga & Volkers Construction Professionals and the EV Group.
Novakoski's book with John M. Parker, "Become Unmistakable: Start the Journey from Commodity to Oddity," was released in May 2018. He's also a recognized speaker on the power of right-brain thinking and visual communication.
"We are both CEOs and both took a people-centric approach in a non-people-centric industry, him in commercial construction and me in commercial banking," Dwortz said. "So when we came together, his focus was really on employee happiness and creating an environment where people are rising and my focus was really on supporting the development and aspirations of the individual, where we focus on the employee's success, and good things will follow for your organization.
"And we put them together in this software. That's why we have so much information about the individual, so that we can celebrate and personalize their experience and then we have all kinds of information about how they want to develop to be successful as they define it."
Deep connections make a difference
The key through uMap software and leadership training is building authentic relationships, Dwortz said. Become Unmistakable's Thrive 365 management process involves meeting quarterly to hash out company goals, "but we also talk about personal stuff," Dwortz said. "Like, 'Hey, how are you doing toward your personal goals? How is your family doing?'
"We create very deep connections on a personal level with our people. That is what we teach in training."
Another vital aspect of collecting and mining data involves positioning employees for succession within an organization. That increases retention.
"We're also gathering skills and intrinsic motivation in the information we collect," Dwortz said. "So, we're not only able to kind of collect their aspirations, but also their skills and motivations, to be able to place them within organizations, which is something that is in high demand from executive management."
As for those annual reviews? They are likely to be replaced with a less-formal sit-down every three months.
"Let's just have a quarterly conversation around your performance," he said. "Let's just converse through the uMap and make sure we know what your job is and so when we have this conversation, there is no ambiguity, there is no confusion. We are talking about the job, duties, measurables, goals, development and all of it that you and I can talk about.
"Now we're just saying, 'How's it going?' How do you like what you're doing? Yeah, we should do more of this, less of that. Perfect. By the way, how's your family?'
"We find when we do this, productivity increases, turnover decreases dramatically. People do their best work, most innovative, creative, hard work, because they feel connected to each other, the purpose…it all flows."
It's also popular because — unlike what sometimes happens with the more traditional review process — uMap doesn't take the personal relationships out of the equation.
"It's not technology that replaces personal relationships, which is what a lot of HR tech does, replace an in-person or face-to-face or spoken-to-spoken relationship with your thumbs, or with a keyboard," Dwortz said. "uMap really doesn't do that. It brings people together more personally and humanly, and uses technology as a platform."