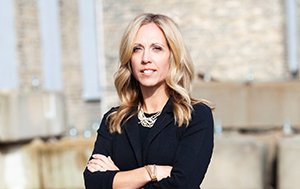 Vicksburg, MI – Rebecca Luong has joined The Mill at Vicksburg as Director of Design to serve as the liaison between the ownership and consultant teams, ensuring owner Chris Moore's vision of creating a world-class destination is brought to life. Luong brings over two decades of knowledge in planning, architecture and interior design for experience-focused hospitality destinations. She will be instrumental in creating a memorable guest experience for every facet of The Mill, including its boutique hotel, social and event spaces, museums, taprooms and future brands.
The concept of renowned design is familiar territory for Luong. She has directed the design of amenity-rich, luxury, multi-family, residential community projects across the United States, Middle East and Asia. Her projects range from the 61-room LEED Platinum certified Bardessono Hotel in Napa, CA—rated one of the top 10 luxury boutique hotels in the world—to a multi-hectare development of seven human-made islands off the coast of Dubai.
Luong most recently served as hospitality practice area leader for Gensler in Seattle—a global architecture, design and planning firm with 49 locations and a network of more than 6,000 professionals across Asia, Europe, Australia, the Middle East and America. Founded in 1965, the firm serves more than 3,500 active clients in virtually every industry. Gensler is widely recognized for creating some of the most notable mixed-use projects across the globe.
Her arrival to The Mill is a somewhat serendipitous moment for Luong. Like The Mill's owner Chris Moore, she was born and raised in Vicksburg.
"I have long valued what Chris and the Paper City Development team's vision is for The Mill and the Village," said Luong. "I'm excited to use this role as a way to blend my experience, local roots and passion for the future of Vicksburg to create a world-class destination."
Jackie Koney, Chief Operating Officer of Paper City Development, is excited to take The Mill to new heights with Luong's direction on holistic design.
"We didn't have to give Rebecca 'The Mill 101' story, as she was very familiar with its history and has followed every step that Chris has taken to transform the property," said Koney. "Rebecca will ensure that everyone on the team is capturing the story of the site and its aspirations by using her unique lens. With Rebecca leading the design effort, we know that The Mill at Vicksburg and its associated brands will offer a cohesive, authentic and elevated guest experience."
Luong's specialty in destination development complements The Mill's mission to build a space rooted in hospitality and experience. By drawing upon her professional expertise gained with her previous powerhouse hospitality firms such as WATG, The Gettys Group and Gensler, she will reshape the historic architectural backdrop of The Mill into contemporary, design-forward spaces to create a truly one-of-a-kind campus experience.
Luong has an extensive educational background in design, having earned her Bachelor of Architecture degree from Ball State University and Masters' Degrees in International Development from the University of Washington. Much of her focus can be seen in the integration of site, architectural, landscape and interior design as a holistic hospitality experience. Aside from her educational and professional career successes, Rebecca is also a Leadership in Energy and Environmental Design Accredited Professional (LEED AP) and a member of the Network of Executive Women in Hospitality (NEWH), having most recently served on the NEWH Northwest Board in Seattle.