Better late than never.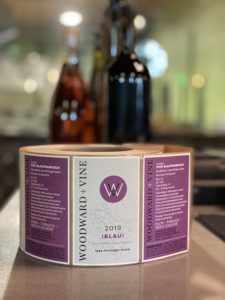 Detroit Vineyards is announcing the release of its Spring 2020 collection, the first from winemaker and Michigan native Christopher Southern. The city's only wine producer and tasting room, Detroit Vineyards is also introducing an extension of the brand, with the new "Woodward & Vine" line.
The Spring 2020 collection, delayed due to the coronavirus pandemic, includes two wines under the Detroit Vineyards label, a 2019 Rose and 2018 Chardonnay, and four wines from Woodward & Vine: 2019 "CV" (Chardonnay and Vignole), 2019 Marsanne, 2019 "Blau!" (Blaufrankisch), and 2018 "Emcee" (Merlot and Cabernet Franc).
"We wanted to branch out from what we viewed as a somewhat traditional approach to winemaking, and Woodward & Vine is the result," said Christopher Southern, winemaker for Detroit Vineyards. "We're all about making wine approachable, but we're also serious about viticulture, wine production, and showcasing the depth and breadth of wine we can make really well here in Michigan."
Detroit Vineyards works directly with growers along the Lake Michigan Shore AVA, an American Viticultural Area in southwest Michigan. Located in the state's traditional "fruit belt," Lake Michigan Shore AVA is the oldest modern commercial grape region of the state and home to a majority of Michigan vineyards and half of the state's wine grape production. Vineyards in the region date back to 1867.
The Detroit Vineyards Wine Club was introduced earlier this year and offers three levels of membership, including the 'Founders 1701 Society,' which includes a full case of wine and many other perks.
More: Movie Theaters Say Reopening the Doors was Easy But Finding New Movies and Willing Patrons are the Harder Parts
More: Experts: Holiday Shopping Likely to Look a Lot Different
More: Bedrock Unveils Retail, Residential Renovation in Former Freep Building
The tasting room at Detroit Vineyards is open Wednesday-Sunday from 2 p.m. to 10 p.m. Curbside or contactless order pick-up is available, as well as delivery to Michigan and 37 other states across the U.S. The winery continues to offer virtual / online wine tastings, led by the winemaker, for individuals and groups of any size. Visit www.detroitvineyards.com for more information.
Southern grew up outside of Detroit and spent 10 years in food & beverage retail management before relocating to San Luis Obispo, Calif. and earning a Bachelor's of Science in Enology from Cal Poly, San Luis Obispo. He has managed winemaking operations in iconic regions including Paso Robles, Sonoma, Napa, Santa Barbara, and Edna Valley in California, as well as Walla Walla, Washington, New Zealand, and Northern Michigan. In 2019, Chris returned to manage Detroit Vineyards and add his support to the region's wine-producing efforts. He is a certified CrossFit coach and marathon runner, and loves Chablis.
Detroit Vineyards is a full-functioning winery creating nuanced and noteworthy wines, ciders and meads using Michigan-grown fruit and honey in their state-of-the-art facility in downtown Detroit. Detroit Vineyards produces wines reflective of the terroir and microclimate of Michigan, focusing on Vinifera varietals like Cabernet Franc, Merlot, Pinot Noir, Blaufränkisch, Chardonnay, Riesling and Marsanne, along with French and American hybrid varietals that thrive in the region's variable climate, like Traminette and Vignole. The winery works with producers across Michigan, and maintains a one—acre vineyard in Detroit's Morningside neighborhood, with 700 vines of Marquette, a cold-hardy hybrid varietal.
Every Detroit Vineyards product is made on-site: grapes (or apples, for mead and cider) are destemmed, crushed, pressed, fermented, bottled, and racked at their production facility and tasting room in Detroit's historic Eastern Market district. Detroit Vineyards is the only place in the city where guests can sample wines where they're made and meet the people who make them. For more information, visit www.DetroitVineyards.com.