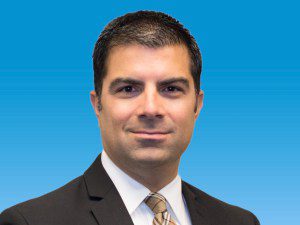 If you've ever had the chance to meet WWJ Technology and New Economy Reporter Ed Cardenas, then you know that he possibly is the happiest guy around town. He genuinely likes meeting people, learning new things and sharing stories with readers.
That is why he's perfect to host the first two "Leaders and Innovators" breakfast series for the radio station. The premiere event, "Energizing Your Business," showed how new technologies can make businesses more environmentally aware and cost saving, whether it is through new light bulbs to wholesale replacement of energy-efficient equipment.
But that smooth delivery that you hear on the air is a relatively new thing for Cardenas. Previously, he was a newspaper reporter, chasing stories for the Metro section of The Detroit News. After that, he dabbled in politics, working with two of the more interesting politicians Metro Detroit has had the pleasure of electing.
His transition to radio has been a revelation to Cardenas, who has found new ways to tell tales to his audience. It has been a mix of business and pleasure – for example, he recently told a story about the Selfridge Air National Guard Base Show that highlighted women in aviation by flying in a A-10 Warthog as it refueled mid-air.
"Having access to photo, video and radio helps tell the story in a different way," said Cardenas, who has been learning at the feet of WWJ anchors and reporters, including beloved veterans such as Roberta Jasina.
For example, he tries to tackle the technology beat on a consumer level. "If my mom was listening, what does (a new technology) mean to her? I try to look at it from her point of view," Cardenas said.
A little background on Ed: Cardenas joined The Detroit News after graduating from Grand Valley State University. At The News he covered a variety of stories including high-profile court cases, environmental issues affecting Lake St. Clair, major sporting events including the Super Bowl and military stories from Selfridge– including a supersonic flight on an F-16.
He left the news and worked on the opposite side of the notebook by working as communications  director for Congresswoman Candice Miller and press secretary for Detroit Mayor Dave Bing. He returned to the writing side of journalism to help launch the hyper-local Patch network in Michigan. He was the founding editor for St. Clair Shores Patch and covered a variety of local, regional and national stories including the final space shuttle launch where he provided localized stories for Patch sites nationwide.
Cardenas joined WWJ Newsradio 950 and CBS Detroit in 2014, where he covers technology, development and new economy stories.
In his free time, Cardenas enjoys spending time with his family, taking in Detroit Tigers games and trying to put in a few miles of running when his schedule permits.
He's excited to join the Leaders and Innovators Breakfast Series, which takes place September 2014 through March 2015. At the kick-off event Sept. 18, Energizing Your Business attendees  heard from local business owners and energy experts of all stripes
The event was held at Lawrence Technological University UTLC Gallery at 21000 W. 10 Mile Road in Southfield. Breakfast and networking started at 7:30 a.m. and the discussion around 8 a.m.
Panelists included: John Economy, Partner, America's Green Line LED;  Vicki Campbell, director of Energy Efficiency programs, DTE Energy; Ford Cotton, Jr, engineer/manager, LaFontaine Automotive Group; Joe Veryser, architect, Lawrence Technological University and Carla Walker-Miller, president/CEO, Walker-Miller Energy Services, LLC.
Topics for future monthly breakfasts are:
Oct.  9 –  Re-investing in Detroit
Nov. 13 – Meeting New Fuel Economies
Jan. 8, 2015 – New Year, New Office
Feb. 12, 2015 – Attracting Talent
March 12, 2015 –  Health Care and Medical Main Street
"We're excited to kick off the Leaders and Innovators breakfast series at LTU featuring key business leaders who will cover interesting topics affecting our listeners and businesses in this area," said Rob Davidek, program director at WWJ Newsradio 950 said in a statement.
The WWJ Leaders & Innovators Breakfast Series is sponsored in part by Lawrence Technological University, Comerica Bank and Raymond James Birmingham.
Owned and operated by CBS RADIO, WWJ Newsradio 950 is Detroit's all-news radio station, which also provides content for the Michigan News Network, the state's news and information source for radio affiliates throughout the state. WWJ-AM can be heard online at www.cbsdetroit.com  and via the Radio.com application for a variety of mobile devices.