She's been a teacher, a copy editor and a professor. Gloria House, who also considers herself an activist and a poet, added one more title recently: The Kresge Foundation's 2019 Eminent Artist.
It's an honor House didn't expect – she was as surprised as anyone when she got the call about the honor and the $50,000 prize that comes with it. Yet having such grace in her life is one more reason she said she has treasured her years in Michigan, Detroit in particular.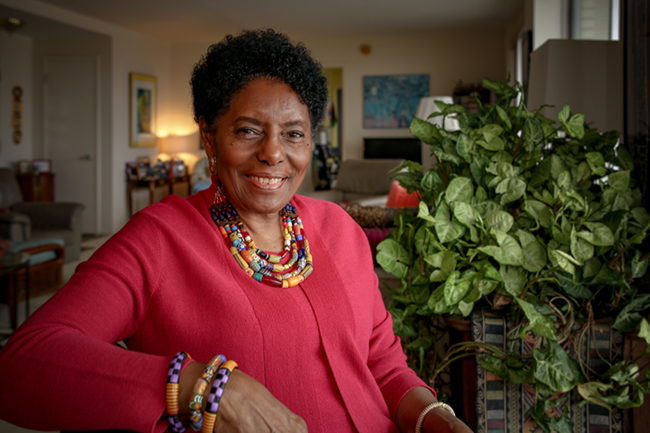 "It's an affirmation of a whole life's journey," the 77-year-old honoree said.
Invested in art
House is the 11th honoree of the Kresge Eminent Artists program, part of The Kresge Foundation, a national private foundation based in Metro Detroit. The award focuses on celebrating and investing in Detroit artists, such as fellow Eminent Artists musician Marcus Belgrave, artist Charles McGee and photographer Bill Rauhauser.
House's career spans the past five decades. Most of her career has been as a teacher, professor and student. In other words, she is in love with learning. Her longest tenures were as a student at University of Michigan and as a UM-Dearborn professor emerita.
Born in Tampa, Florida, House traveled the world, earned several degrees, joined the Civil Rights movement and moved to Detroit in 1967. She returned to teaching and was a copy editor at the Detroit Free Press before receiving her Ph.D. in American culture/history at U-M.
After 27 years of teaching at Wayne State University, House joined UM-Dearborn as a visiting and then full professor of African American literature, American culture and research methods in the interdisciplinary studies program. House also designed the university's major in African American and African Studies.
These days, House is retired yet still working on the projects she loves. She is co-editor of Riverwise quarterly magazine, senior editor at Broadside Lotus Press and a volunteer for groups such as We the People of Detroit, which focuses on water, land and education.
House has published four poetry collections: Blood River (1983), Rainrituals (1989), Shrines (2003) and Medicine (2017).