What Detroit now knows as Better Made Snack Foods started as a simple 50/50 partnership between two men – Cross Moceri and Peter Cipriano – who both loved food and feeding people with love.
Better Made, which is still family owned and made fresh daily in Detroit, is is celebrating National Potato Chip Day on Thursday, March 14. For 89 years, what started as Cross & Peters has made Michigan's favorite potato chip.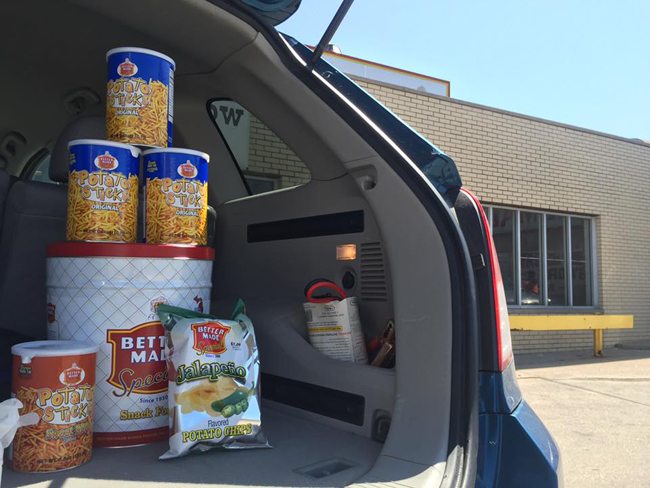 The potato chip – a blend of potatoes, oil and salt — remains the largest selling segment of the salty snacks market with over $15 billion in sales worldwide.
"We have several different flavors of potato chips and are always experimenting with new flavors," says David Jones, president of Better Made. "We have many different types of BBQ chips available, including our newest flavor, Southern Style Sweet Heat BBQ, and our Red Hot BBQ flavor was featured in Rachel Ray Every Day Magazine last July/August."
According to some, and this number has never been proven, Michiganders still eat more chips than people in any other state. That makes sense based on the fact that there are few locally based potato-chip companies like Better Made left in the United States.
Here's one version of the origin story: Potato Chips were first made in 1853 when Moon's Lake Lodge was a popular tourist location. As the story goes, a customer kept sending his fried potatoes back to the kitchen because he said they were too thick and not crunchy enough. The chef, George Crum, decided that he would cut them into paper-thin slices, boil them in oil, fry them, and salt them as a joke. It backfired as they became an instant success and the restaurant became well known for them.
In the late 1800s, chips became a staple in cracker barrels and in glass cases. Around that time, a woman came up with the idea of using a heated iron and waxed paper to form the first potato chip bag. The bags were filled as people bought them and sealed them shut with the warming iron.
Cross & Peters opened in several locations but settled on Gratiot, where the company is still making fresh chips, popcorn and potato sticks. A favorite activity for Detroiters of all ages is to stop by the retail store there and look in the factory's large windows to watch the chips and potato sticks as they're being made.
(Karen Dybis has written a history of Better Made chips. Her favorite flavor is Garlic Dill Pickle.)