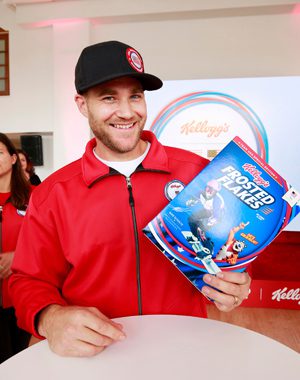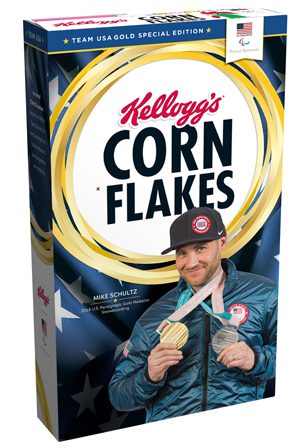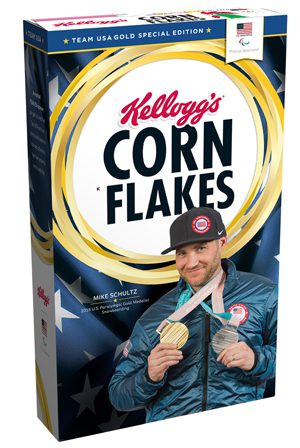 It is an honor all athletes likely dream about: Seeing their picture along with their gold medal on the front of magazines, television shows and, if you're lucky, a box of cereal like Kellogg's Corn Flakes.
Recently, U.S. Paralympic Snowboarder and Team Kellogg's member Mike Schultz won the gold medal for Team USA in the Snowboard-Cross and the silver medal in the Banked Slalom at the Paralympic Winter Games PyeongChang 2018.
To celebrate Schultz and his hard work, Kellogg's has announced that he will be the first U.S. Paralympian to be featured on a Gold Medal Edition box of Corn Flakes.
A life in sports
Schultz has been a lifetime enthusiast of action sports. When a snowmobile accident during a professional competition in 2008 cost him his left leg above the knee, there was only one thing for Mike to do – find a way to continue competing in sports at a high level. To do this, he had to design himself a better leg.
Only seven months after his accident, Schultz went on to compete in his first Moto event post injury and won a silver medal at the 2009 Summer X Games in Adaptive Motocross on a prosthetic leg he designed. It was after this that Mike realized the need for advancements in high impact adaptive sports prosthetics and founded his own company to continue making prosthetics in July 2010.
Currently more than 100 wounded soldiers, action sport athletes and amputees wanting to return to an active lifestyle are using Mike's prosthetic equipment. In 2010, Schultz was inducted into the Athletes with Disabilities Network Hall of Fame in the U.S.
Almost 10 years since his accident, Mike has eight X Games gold medals to his name between Motocross and Snocross and was named to the U.S. Paralympic Snowboard team.
Joining the best
"It was a true honor to have represented my country at my first Paralympic Winter Games and proud to bring home gold and silver medals for the U.S.," Schultz said in a statement. "I'm so thankful for my family, who have been with me every step of my journey, and the support from Team USA and Team Kellogg's."
Schultz was a first-time Paralympian for PyeongChang 2018 and was honored to carry the American flag for the U.S. Paralympic Team at the Opening Ceremony.
"Mike is the first Team Kellogg's Paralympian to win a gold medal, and we're thrilled to commemorate his accomplishment with the first Paralympic Gold Medal Edition box," Sam Minardi, director, brand marketing, Kellogg Company, said in a statement.