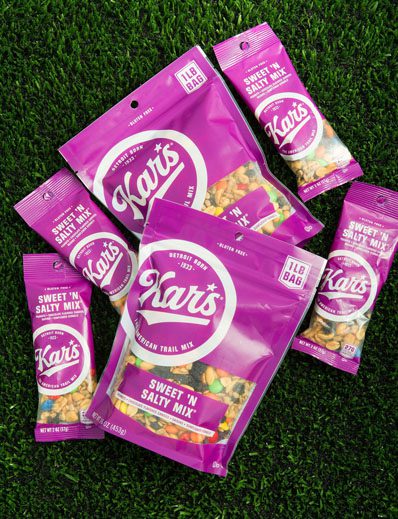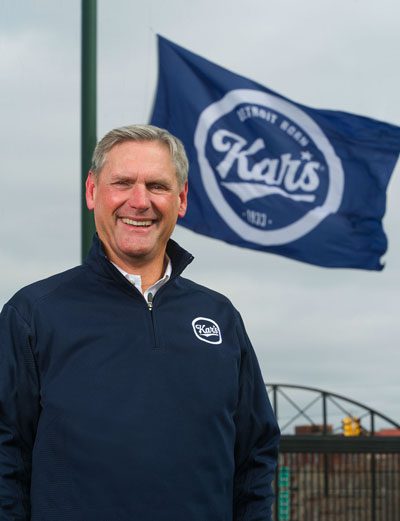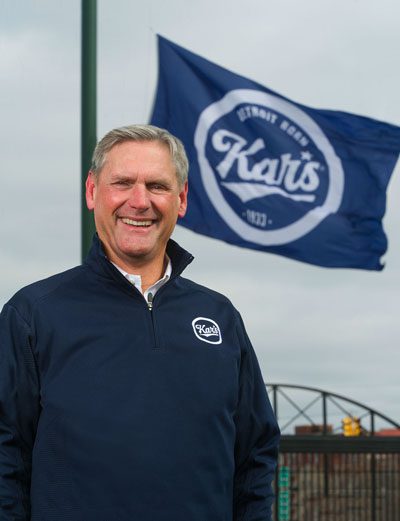 You know its purple packaging. You've likely eaten its tasty trail mix from a vending machine somewhere in the United States. But did you know that Kar's Nuts has a Detroit backstory and is part of the city's venerable snacking history?
All of those statements are true – and, now, Kar's Nuts is sharing its history with all of its customers with a rebranding campaign. The rebranding process is exciting because it shares Kar's story in a new and interesting way, said Nick Nicolay, president of the Madison Heights, Michigan-based company.
Kar's Nut Products, the makers of Sweet 'n Salty mix, the best-selling branded trail mix in the United States, recently announced its new brand identity, reflected in the packaging of all of its products sold from coast to coast.
'America's Trail Mix'
The changes include adding the phrase "Detroit Born," which will be featured on the front and back of every Kar's product. Kar's flagship product, Sweet 'n Salty Mix, will be branded "America's Trail Mix." Kar's market research found that Detroit is synonymous with trusted American-made products and that consumers consider Detroit to be "authentic."
"Kar's is the only Detroit-based snack food company to pioneer a nationwide taste sensation," said Nicolay, Kar's President and a third-generation Detroit snack food business executive.
Nicolay is grandson of Ernest Nicolay, cofounder of New Era Potato Chips, a Detroit-based chip company that was a contemporary of Better Made. Its story is outlined in the book, "Better Made in Michigan: The Salty Story of Detroit's Best Chip."
Story goes back to 1933
Kar's Nuts company was founded in Detroit in 1933 by Sue Kar, who roasted peanuts in her home to sell outside nearby Navin Field, which later became legendary Tiger Stadium.
"Kar's has transitioned packaging to an 'All-American' look, boasting our Detroit roots on every bag of every product that will be sold across the country," Nicolay added.
Kar's is building upon its roots near Tiger Stadium and decades-long commitment to Detroit via the modern-day transformation of the Stadium – a venue for youth sports in Detroit. The company is sponsoring the flagpole that will be a centerpiece of Detroit PAL's "Kids At The Corner" facility and was long a favorite part of the Tiger Stadium structure.
"By combining our direct ties back to Detroit's historic Corktown neighborhood roots, our original tie to sports in that location, and our new Detroit-made brand, we believe supporting Detroit PAL is the ideal way to live our commitment to our hometown community, the place that allowed us to create products for consumers in all 50 states to enjoy," said Nicolay.
The company is also launching a redesign and repackaging of its Second Nature snack food, a snack nut brand that balances indulgence and taste with wellness and functionality.