Couples who run together, stay together. At least, that seems to be the theory of longtime runners Milt and Jenna Greenman.
She and her husband, Milt, are attorneys who run together as a couple. And when they had a kid, he joined in and now they run together as a family. The Greenmans, who live in West Bloomfield, saw a void in summer runs in the city of Detroit and decided to change that while raising money for a good cause.
The Greenmans are the co-organizers of the "Escape to Belle Isle – Spirit of Detroit Challenge," a 5K and 10K run/walk that is now in its seventh year. The annual event, which draws around 800 participants, will start at 8:30 a.m. Saturday, July 18, on Belle Isle. The Kids' Fun Run of 400 yards starts around 10 a.m.
Proceeds from "Escape to Belle Isle" benefit Ronald McDonald House of Detroit, which offers a home away from home for families whose children are hospitalized for serious illnesses. It's a cause that is dear to Jenna Greenman's heart as she serves as a board member on this great place.
They became aware of how important it was for families to have a place to stay to be close to their children while they are hospitalized through their work on medical malpractice cases. Their goal is to raise funds for the Hearts, Hands and Home campaign to benefit expanded services at the new Ronald McDonald House of Detroit at 4707 St. Antoine.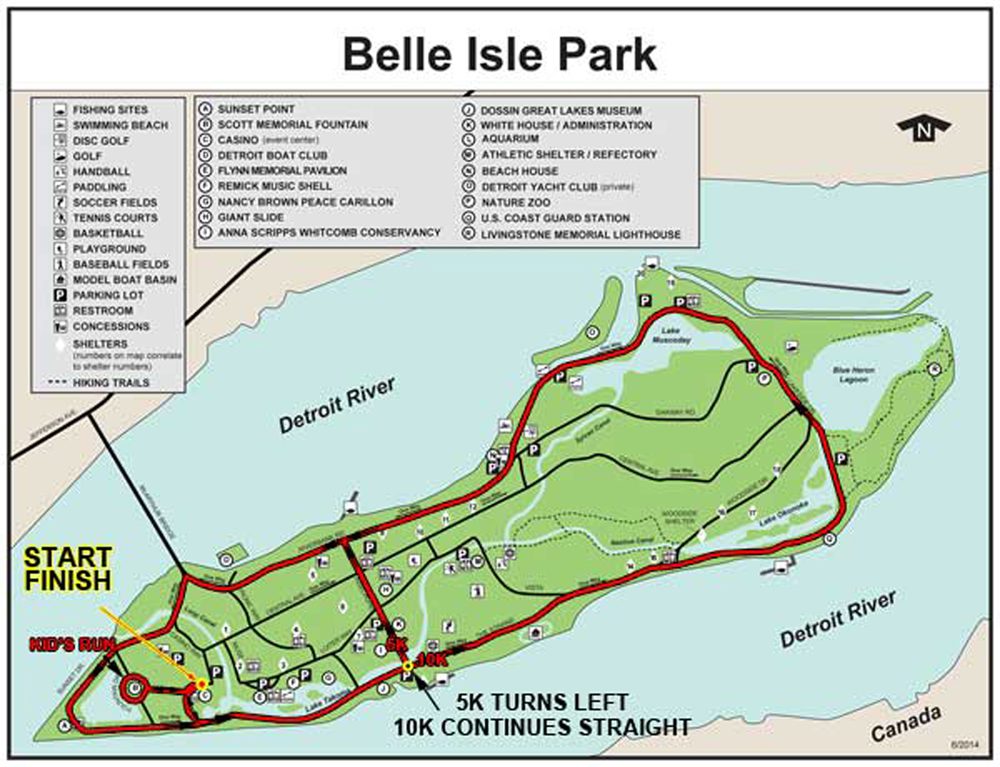 "I'm a longtime runner; I started in high school and continued in college as a way to get in shape. That got me into road races, then marathons. I did 13 in a five-year period – I ran in any race that I could, just to say that I could do it," said Jenna, who grew up in Detroit and remembers visiting Belle Isle as a child. "When I met my husband, we'd train and run together. In 2008, we decided to start our own race, something in the city that you could do in the summer because there weren't a lot of races during that time period."
Their first race in 2009 was a word-of-mouth thing, bringing out around 100 people. From there, it grew and grew, Jenna said. These days, more than 800 people show up to show their support both as runners and as the Greenmans' friends. Because the two attorneys work on opposite sides – she works for the defendant, he's for the plaintiffs – they can create friendly competitions among their colleagues and clients, Jenna said.
"In Southeast Michigan, it's a relatively small (legal/medical malpractice) community so all the players know each other," Jenna said. "So we put the word out about the race – he lets the Plaintiffs'' Bar know; I make sure the Defense Bar and hospital systems know."
Greenman is also one of the race sponsors along with Kitch Attorneys & Counselors, Absopure, Running Fit and The Thurswell Law Firm, PLLC. Jenna, who has run 13 marathons, serves as master of ceremony at the Race to Belle Isle, and calls out runners' names as they pass the finish line.
This summer event, which also features music, face painting, a sketch artist and refreshments, attracts families as well as competitive runners who use it as a training event. Last year, Mike Anderson, of Walled Lake, came in first place for the 10K race and went on to win the men's division of the Detroit Free Press-Talmer Bank marathon.
Adult registrants (the fee to join is $35) will receive a dry-fit tech shirt and custom medal; kids will receive a T-shirt, medal, and trophy. The top male and female in the 5K and 10K will receive a gift card prize ($75 and $100, respectively). Register online at www.escapetobelleisle.com by July 16 (11 p.m.) to guarantee a tech shirt. Participants can also register on race day. Shirt and number pick-up will be from 6:30 a.m. to 8 a.m. on race day at the Belle Isle Casino. Reminder: A recreation passport or day pass is required for entry to the state park.