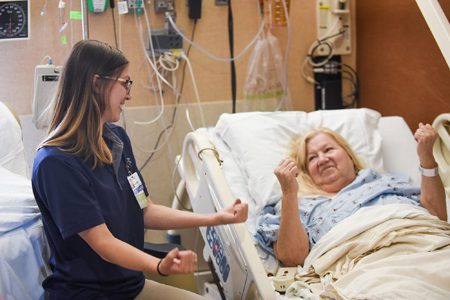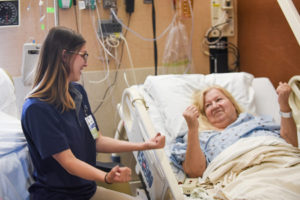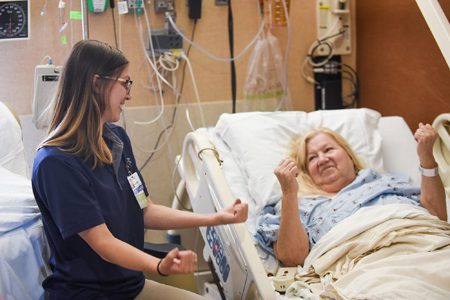 Like many employers these days, Henry Ford Health System had a problem that needed a solution. The health care organization was looking for more nurse assistants, and there just wasn't enough job candidates to fill the available openings.
In 2017, the staff got together and came up with a game plan. The result is the successful Grow Your Own program, aimed at encouraging non-clinical Henry Ford Health System staffers to pursue careers in medicine like nurse assistant through in-house training opportunities.
Grow Your Own, which is led by Henry Ford's nursing leaders and educators, offers current employees in non-clinical roles, such as housekeepers and valet drivers, an opportunity to learn the necessary skills and begin work as a nurse assistant upon completion.
"Grow Your Own allows employees to obtain their nurse assistant education and start their career without having to miss work, balance school and work, or pay for the program," said Mary Kravutske, Ph.D., R.N., Henry Ford Nursing Development and Research Administrator.
The program helps all four Henry Ford Health System locations find quality staff and gives the people in the training mentors and peer support as they take on this new job and challenge, Kravutske added.
"We already know them as individuals. They already know the System," Kravutske said. "The program gives them the opportunity to try out another area, which can lead to further growth and development."
Room to grow
Now in its second year, the Grow Your Own program is a six-week course with both classroom and clinical training components. The program is approximately 36-40 hours per week and offers full-time benefits and compensation to current Henry Ford Health System employees who enroll.
Participants must pass both written and clinical skill exams before beginning their new role as a nurse assistant. Under the direction of a registered nurse, nurse assistants are responsible for performing specific patient care duties to meet the safety and comfort needs of patients, as well as providing input to assist the registered nurse in planning and implementing patient care.
Dekeisha Campbell, who began her career at Henry Ford as a housekeeper three years ago, graduated from the first class of Grow Your Own participants at the end of 2017. Now one year into her new role as a nurse assistant, Campbell says she was thankful to be part of the program and is glad she pursued the opportunity.
"The Grow Your Own program was very informative and prepared me to transfer into my new role as a nurse assistant," Campbell said. "My favorite part of being a nurse assistant is having the opportunity to provide care for the patients. There's also a lot of room to grow professionally, and I'm excited about that."