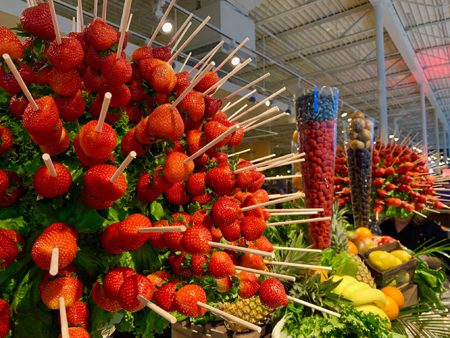 Kirk Taylor, president OF Nino Salvaggio International Marketplace, has learned one thing for sure in his time with the premiere grocer: The customer is always right.
That means when the company was ready to opened its first store since 2003, it knew what needed to be done. The new Bloomfield Township location, which will open December 28, has more kosher. It will have artisan breads. And it will have a huge array of prepared foods, something customers are asking for more than ever.
"We've learned a lot over the years, especially since our last store opened in 2003," Taylor said. "We've taken out things that maybe weren't necessary or oversized and we've shrunk the back rooms. As far as the sales floor goes, we lack nothing. We've actually increased our fresh offerings and it's a store that's well suited to today's clientele."
Nino Salvaggio was founded in 1979 as a modest fruit stand by the late Nino Salvaggio, the company today continues to adhere to his mantra, taking pride in its pledge of value and quality, customer service and a commitment to community through support and involvement.
New location
The Bloomfield Township store is constructed by Sterling Heights-based Roncelli, Inc. and designed by Birmingham-based Ron & Roman. At 42,000 square-foot, it is the grocer's third largest store and is slated to create 200 jobs.
In fact, Taylor noted that the grocery would have loved to be open by the holidays, but the low unemployment rate in the state and region made it hard to staff up the store to the quality the chain wanted. So the store is holding off and making sure the stores are all set to serve the many customers they expect throughout December.
Featured offerings and services include an extensive and fresh produce department, premiere meat selection with a neighborhood butcher shop experience, artisan bakery, large assortment of wines and beer from around the world as well as an expansive organic, gluten-free, Kosher, ethnic, and specialty food offerings. There also will be a café and floral department.
The artisan breads are a new addition, and they will be available at all four stores soon, Taylor added. The breads and soups are made at the Nino Salvaggio bakery next to the Troy store by its top chef and it will rival any other bread program in Michigan, Taylor said.