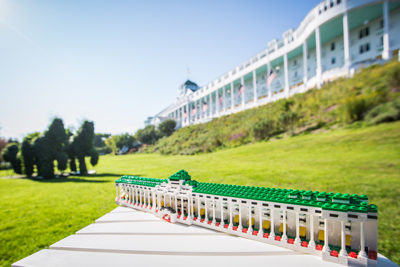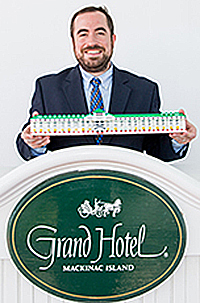 There are some Michigan buildings that are iconic and tell the story of this state: The Capitol building in Lansing, One Woodward in Detroit and the Grand Hotel on Mackinac Island.
Thanks to an engineer and LEGO enthusiast named David Lorch, one of those buildings has a chance of becoming immortal in a way through a LEGO model. There is a special program called LEGO Ideas where the public can vote on which models LEGO will make next – and the Grand Hotel is up for the honor.
Lorch, a University of Michigan engineer who lives in Ann Arbor, submitted his model to LEGO for consideration. He was inspired in part by a project he created for the historic hotel in 2017. That is when he put together a 9-foot-long version of the Grand Hotel for the resort's 130th birthday celebration.
In order to have the LEGO Grand Hotel design turned into a LEGO kit, the design will need to earn 10,000 supporters by members of the public. The first stage, which requires the product idea to secure 100 supporters in the first 100 days is complete, and the model now has approximately two-and-a-half years to achieve milestone votes of 1,000, 5,000, and eventually 10,000 supporters to become a kit.
Inspired by the Grand's beauty
Lorch said the Grand Hotel is one of his favorite landmarks in the state for its beauty and interest. It is an essential touchstone in Michigan's history, he said.
"Having lived in Michigan most of my life, the story and beauty of Grand Hotel really stuck with me as I learned more about its stately structure and history," Lorch said. "The Grand Hotel is a family owned National Historic Landmark, a point of pride for the great state of Michigan and has been for 131 years."
Grand Hotel's age is not its only impressive feat: the front porch at 660 feet long is the world's longest and its original wood framed structure was built in only 90 days. The porch is also well known for its many white rocking chairs where you can sit back and relax looking out over the Straits of Mackinac and its pots of thousands of blooming red geraniums, the hotel's signature flower.
"All of this produces an environment of vibrant colors which was exciting to represent with LEGO pieces," Lorch said. "I especially enjoyed using flat azure-colored pieces attached upside down on the porch ceiling of the model to match the sky blue that can be seen painted on the hotel."
The Grand Hotel supports Lorch in his vision of seeing his model become something everyone can enjoy building.
"Grand Hotel and Mackinac Island have always been a great place for families and we love the idea of turning our wonderful building into a LEGO kit," Dan Musser III, president and owner of Grand Hotel, said in a statement. "The hotel's classic architecture and iconic front porch are immediately recognizable as a LEGO set, and we believe the young and the young at heart would enjoy building Grand Hotel."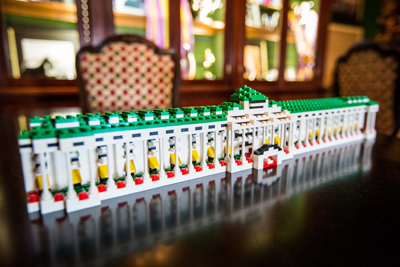 How to Vote and become a Supporter:
To VOTE go to ideas.lego.com.
• You will be taken to Grand Hotel's LEGO model page.
• You will be required to log-in or create an account.
• After doing so, it will require you to enter an authorization code and then validate your email address.
• After validating your email address, you'll be able to log in and support David's Grand Hotel LEGO set and hopefully, one day have the opportunity to build it yourself!
• If you vote, you can share it to social media using the hashtag #legograndhotel.