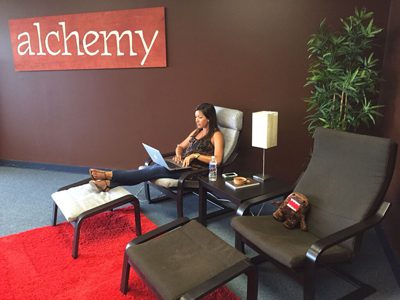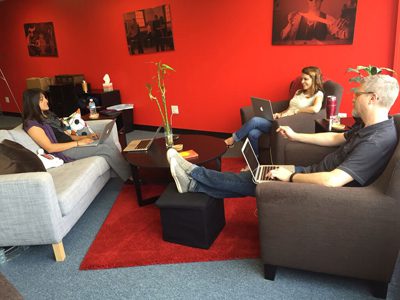 At the Alchemy Group, desks are so 2014. So are boring file cabinets, tethered desktop computers and most everything else that goes with a so-called traditional work environment.
The Troy-based advertising and marketing "laboratory" has created the ultimate "open space," removing the walls, desks and offices that disturb communication and collaboration, said co-creators Tom Nixon and Brent Eastman.
The goal, according to these brand scientists, is to foster the kind of work environment that creates innovative results for clients. Thus, having a "neo-traditional agency" made sense over the long term, Nixon and Eastman said.
It was a slow progression, the duo says. It started with a conversation between Nixon and Eastman as they opened the business. They wanted an open space, a place where desks were unnecessary because there were many options where people could work and talk to one another about projects.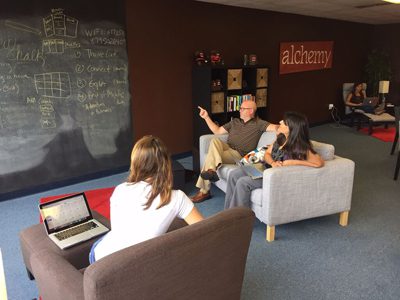 So, one morning in July, all of the Alchemy Group's employees showed up to find that every desk was gone. No more places to hang your photos, file your papers or eat your lunch alone. The result, they are finding, is that there no more barriers to conversation.
"Even without having walls around your desk or office, you still start to create walls around yourself when you have a dedicated desk," Eastman said. "We wanted to find a way to pull down those invisible walls and have people truly work together."
It was surprise to everyone, Nixon and Eastman said. They told everyone to work from home that day, allowing them to remove the traditional office equipment unobserved. It took them a minute to react, Eastman said. But they jumped onto the new furniture without a second thought.
Creative people work in creative ways, noted Nixon, so not having a desk wasn't a big shock to the Alchemy team. They just sat down in a comfy chair, grabbed a spot at the end of a couch or set up shop at a nearby table and got down to work.
"It's about fostering a creative, collaborative environment," Nixon said. "Many of the studies we read (before changing the office environment) reinforced this idea – creative people tend to abhor routine. … Everything here is fluid. We want people to think differently, act differently and challenge norms."
Besides eliminating desks, the Alchemy Group does other things creatively. For example, the office is 100 percent paperless. If an employee gets a piece of paper from a client, they scan it in and file it away in the community cloud. That way, people working together on a project can see the same document together and separately as needed.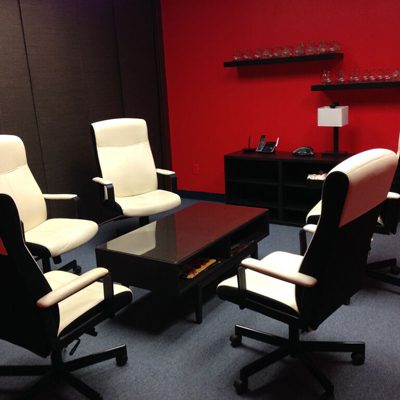 The Alchemy Group also follows the "BYOD" rule – Bring Your Own Device. There are no company-owned desktop computers. Rather, everyone brings in a device that they prefer to work on as an employee (the company helps pay for these devices). That way, employees can work anywhere they want, including home, the office or even the beach.
Many things have changed – and so far it's all been positive, Nixon and Eastman said. Even lunch is different – rather than eating alone at their individual desks, people tend to gravitate to the office's large community table.
"The other day, when it was time for lunch we all gathered at the table and everyone waited until we were all there to get started. People came together, talking and eating. It was more social with one central table," Eastman said.
It's still an office where real marketing and advertising ideas happen, Nixon noted. But now it's more like the office environment the duo pictured when they founded the Alchemy Group initially.
"We still do serious work there, but it's much more comfortable," Nixon said.