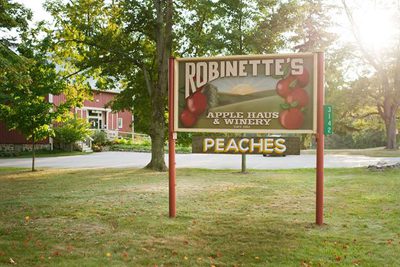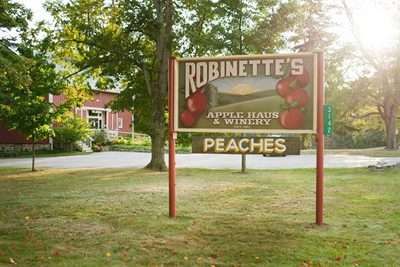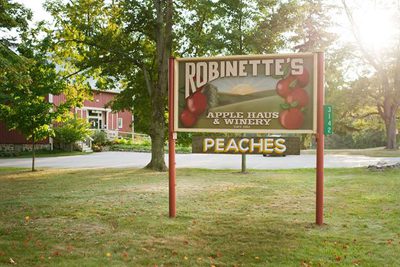 It's fall in Michigan, and that can only mean one thing. It's time to visit an apple orchard. And there are many, many reasons to do so besides the apples.
If you're looking for a place to visit, Robinette's Apple Haus and Winery in Grand Rapids is a great place to start. The family-owned orchard and related businesses have a long and storied history. And the Robinette family is always adding new options, such as a plan to open a pub in the upcoming months to serve its delicious hard cider, wines and, of course, apples.
Robinette's is a true family destination where you can also enjoy horse-drawn hayrides pulled by a team of Belgian horses, take a hike or go mountain biking on the area's many trails.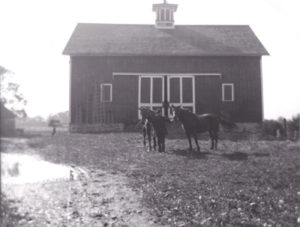 The Robinette family bought the orchard and farm in 1911, moving from Macedonia, Ohio, to Michigan's West side. The family included Edward and Minnie, the hard-working mom and dad, as well as Allan and Anna, their two children.
Jim Robinette built a cider mill on the farm in 1971. According to the family, "the world of growing apples had changed in 1960's, and it became more difficult for a small farm such as ours to survive.  The business of selling our fruit at wholesale was no longer profitable, as evidenced by the fact that all our neighboring farms are now houses and shopping centers."
Jim Robinette took the family on a tour of cider mills in south east Michigan, Wisconsin and Illinois.  The addition of a cider press to the farm transformed it into a retail destination.  From then on, it has constantly added new products and services to the business.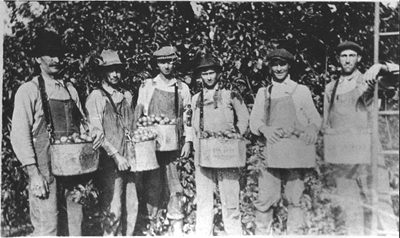 Following customer demand, the family opened the Apple Haus in 1973. The Apple Haus houses the bakery, lunch counter and eating area, cider mill, home-grown fresh fruits in season and a variety of other tasty treats and gift boxes.
Every morning, the Robinette bakers fill the air with aromas of breads, donuts, pastries and pies.  At lunch, you can try one of its many soups and sandwiches. Outside, families can enjoy the play area with picnic tables near the big apple.
In the apple room, you can get a taste of many different apple varieties.  Depending on the season, you can purchase sweet and tart cherries, peaches, apricots, apples, nectarines and pumpkins. If the family is making cider, you can watch how it is done.  Every batch is different because each has a different mix of apple varieties. They make fresh cider starting the Tuesday after Labor Day, and continue through April or early May.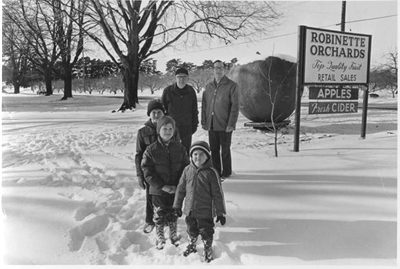 The cider is also the starting point for its apple-based wines and hard ciders.  The UV Light treatment removes almost all natural yeasts from cider, providing an excellent starting point for anyone wishing to make their own apple wine or hard cider.
Robinette's began serving its hard cider to the public in January of 2006. Bill Robinette makes the cider on site.  The first hard cider produced at Robinette's is named Barzilla's Brew for the founder of the Robinette farm, Barzilla Robinette. Barzilla always said, "Feel free NOT to name any of the children after me." So the family named its first wine after this beloved patriarch.
The original barn is now where the family sells wine and gifts. You can select different Michigan-made products to take home or give as presents to family and friends. If you want some more after you get home, you can order a beautiful gift box online or come in and have a basket made for you.