If you've been to one groundbreaking ceremony, you've been to them all. Line up, pick up shovel, toss some dirt, cut a ribbon and you're done.
That's why the Lormax Stern Development Company's "steel-signing ceremony" this week was a refreshing change of pace. Its "Going Vertical" event marked the start of Macomb Mall's first major construction project in nearly 20 years, and only one of the few in its 50 year history.
The transformation of Macomb Mall, which the developer has managed since May 2013, begins with a raising of a steel beam that will become one of the four walls of the mall's newest retailer, Dick's Sporting Goods.
The construction project includes the complete build-out of the 50,000-square-foot Dick's Sporting Goods, slated to open in October 2014, and renovated space that will be inhabited by retailers Lane Bryant, Shoe Carnival, GNC and the beauty supply store ULTA, coming in 2015.  Other plans include new ceilings, lights, flooring, and exterior landscaping. Additionally, the iconic, landmark MACOMB MALL sign near Gratiot and Masonic Boulevard will be retrofitted.  Efforts are underway to preserve its historical integrity.
Karl Zarbo, Lormax Stern's Director of Operations, said the company's complete renovation of the Macomb Mall's sister mall – the Livonia Mall – gave them great insights on how to bring these classic shopping centers back brighter than ever. Both malls opened on the same day in 1964 and needed an overhaul to become relevant to shoppers again, Zarbo said.
"We had a good feeling they had the resources and knowledge to redevelop Macomb because of Livonia," Zarbo said. "We didn't want duplicates. With Livonia, we scraped it an rebuilt it out of the ground. In Grand Rapids, we did something in between – we took the root off and took many tenants away. We made it smaller but it feels larger with tenants on both ends. Now, the parking is right in the front of the storefronts, like a power center."
Macomb will be a third interation of this redevelopment scheme. Its footprint will remain essentially intact, Zarbo said.
"We did our due diligence, and we saw a good handful of tenants doing well, sales wise. There was a good balance, so we're saving those," Zarbo said. "We also took a look at the demographics in the area, and there is incredible density – there are a ton of rooftops. We're exciting about that as opposed to going out something in the suburbs, bringing a shopping center out of the ground. The infrastructure is there at Macomb. … We looked at this and thought the property told us it only needed a facelift."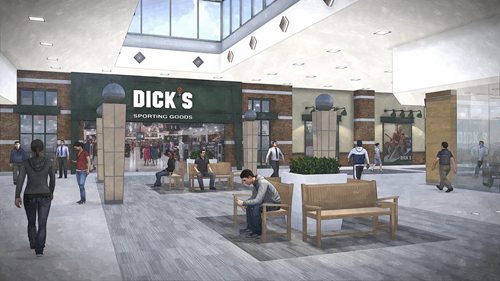 The mall's current tenants have shown their support, Zarbo added. Macomb Mall is a 900,000 square-foot enclosed shopping center located at 32233 Gratiot Avenue in Roseville. Major retailers include: Kohl's, Old Navy, Victoria's Secret, Sears, Babies R Us, Party City and features more than 50 inline stores and restaurants.
"We think we have great endorsements out there, and that's from the tenants themselves. GNC has signed a longtime lease and renovated. So has Spencer Gifts, H&R Block, Layne Bryant and others," Zarbo said. "They're saying we're going to invest if you're going to invest."
Because the property is so large, the company feel it can modernize the mall to fit today's shopper needs. For example, it has two small outlots that will gain a multi-tenant building on each. This gives shopppers strip-center convenience with the larger mall nearby for longer shopping trips.
Decades ago, the average mall trip was about 3 hours and 40 minutes. These days, it's about 40 minutes, Zarbo said. That is why stores including Dick's and Shoe Carnival will have both mall entrances and outside entrances. That gives the consumer easier access to the store and ensures finding the way in is never an obstacle to shopping there.
"We really study (consumers) and try to understand what you do on a cycle, daily, weekly, monthly – then we try to understand how we can provide that to you," Zarbo said. "If you're a working mom with kids, we know we need to protective of your time. Years ago, going to the mall was an event. Today, you know what you want when you go. It's not shopping. It's buying. We're very conscious of what we're doing to make sure we can protect your time."