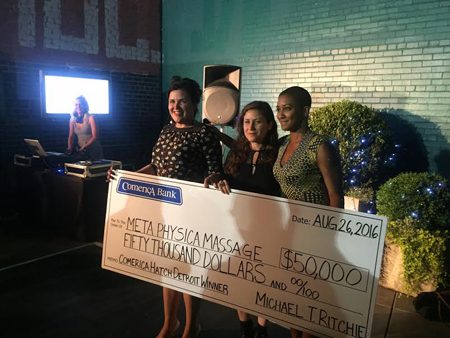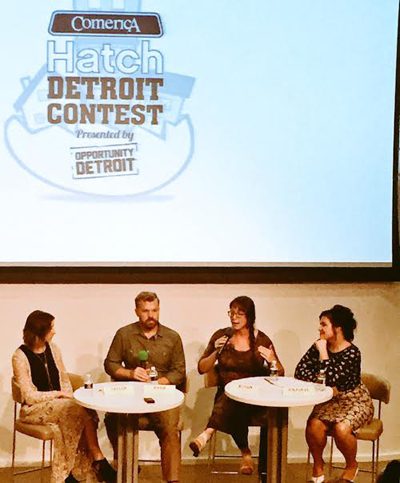 It started with hundreds of candidates, thousands of votes and a grueling pitch sessions in front of Detroit business glitterati.
But Hatch Detroit ended Friday night with Jenaveve Biernat winning $50,000 toward expanding her business, Meta Physica Massage & Sauna, in the 2016 competition.
Biernat was among great contestants in the Hatch Detroit competition. All four businesses – including Coriander Kitchen and Farm, Corbe Company and Bird Bee – did a fantastic job presenting their ideas, funding sources, current business plan and marking approach. It was clear that Hatch Detroit has matured as a contest; all participants nailed why they deserved the money, how they'd use it, how their business would grow because of it.
What was impressive as well was that all four also seemed so poised and organized that all of them could have won. It took the judges – business veterans, all – nearly 90 minutes to debate who would receive the magical $50,000 in funding and the additional $200,000 in in-kind services from Comerica Bank and partners such as Opportunity Detroit.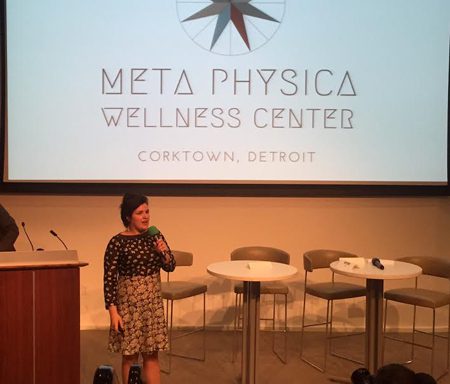 The judges needed that time. Even outside of the question-and-answer session, audience members genuinely debated which business would win. There was no obvious champ who talked everyone in the room into loving their brand and understanding their financial lives. They all did an outstanding job – creating connections with their brand story, coming up with fun buzz words like "handufactured" in Detroit, feeding the judges with samples of their food offerings.
In the end, Biernat won the day and the money. Her soft-spoken approach was backed by impressive business acumen, a well-researched understanding of her industry and competition, a no-nonsense attitude about her offerings versus those of her rivals. She noted that she already had financing to open her dream space in Corktown – but she was short about $47,000. That made the crowd appreciate her entry into the contest.
Then, Biernat noted that she could be open in six months. And added that would put her grand opening about January – adding a picture to her presentation of a snowy Detroit day. That thought – of trudging through the snow and melting your cares away in her sauna – created a ripple of laughter through the audience and got likely got everyone on board with her mission and savvy advertising.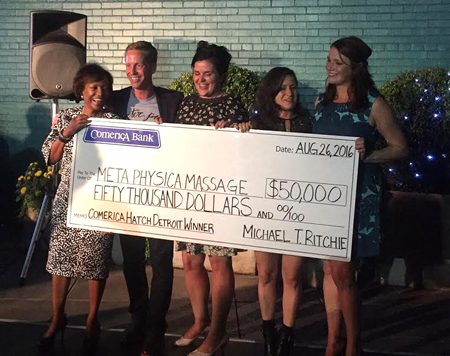 Biernat opened Meta Physica Massage in Midtown in 2013 with the motto that massage should be considered a necessity, not a luxury. Meta Physica Wellness Center will offer multiple massage rooms, several private saunas, a raw juice bar, an herbal apothecary and donation based community workshops. After a long search, Hollis and Biernat secured a new location at 1701 Trumbull in Corktown and plan to open there before the end of the year.
"The businesses selected to compete in this year's contest all brought forth unique and exceptional business ideas Detroit is missing," said Vittoria Katanski, executive director, Hatch Detroit said in a statement. "Meta Physica Massage & Sauna shined through from the very start of the competition and will continue to impress us as they open their doors and show us why Detroit needs their business."
In addition to winning $50,000 from Comerica Bank, Meta Physica Massage & Sauna will receive more than $200,000 in pro bono services including a $25,000 branding and design package from GTB (formally Team Detroit), a 30-second social media advertisement from MCCI, legal services from Honigman Miller Schwartz and Cohn, architectural renderings from Hamilton Anderson Associates and a package of accounting, IT, public relations support, and counsel from Hatch Detroit and its partners.
Meta Physica Massage & Sauna rose to the top of the more than 150 entrepreneurs who entered the 2016 contest and were selected as one of the contests' 10 semi-finalists. After 21,000 public votes were cast during the primary voting period, they advanced as one of the four finalists. The second round of public voting combined with jury deliberations crowned Meta Physica Massage & Sauna the winner of the sixth Comerica Hatch Detroit Contest presented by Opportunity Detroit.