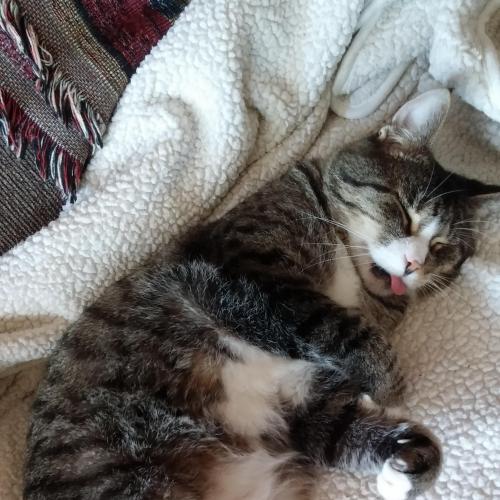 Everyone collectively knows that the World Wide Web is good for several things: Research, finding great places to eat or hang out as well as cat videos.
Yes, cats. They pretty much rule the Internet. And, in keeping with that theme, we offer you a little bit of cat fancy: An award-winning cat napper from Michigan.
Every year, Meow Mix – the brand that makes a popular cat food and brought you the iconic "Meow, meow, meow, meow" jingle – askes for submission for its Cat's Meow Awards. Its primary goal is to combine two of the world's most powerful artistic forces:  "award shows" and "Internet cats."
The awards, established to commemorate the "unparalleled cinematic impact that cute and cuddly cats have had in 2015," feature nominations from more than 25,000 cat enthusiasts in such award cat-egories as "Best Cat Napper," "Best Kitty Hijinks," and "Wild Cat Card."
Meow Mix gave a couple from Breckenridge, Michigan, the award for their cat's ability to sleep "without a care in the world." Fritz, with his hyper-realistic portrayal of sleeping, makes napping look like an Olympic sport.
According to Meow Mix, all of the nominees and winners not only embody the best Internet cat moments of 2015, but also highlight the one-of-a-kind (and often hilarious) bond that only cats and humans share.
And as if cats needed more confidence, the lucky nominees and winners take home honor, prestige, and the knowledge that Meow Mix 'real meat' treats will always be there to celebrate their impressive achievements.
Now, get back to work.