Few Michigan cities have changed as much as Detroit has in the past five years — the amount of new energy and businesses is impressive. But not everyone knows about it, and Terry Bean is doing his best to change that.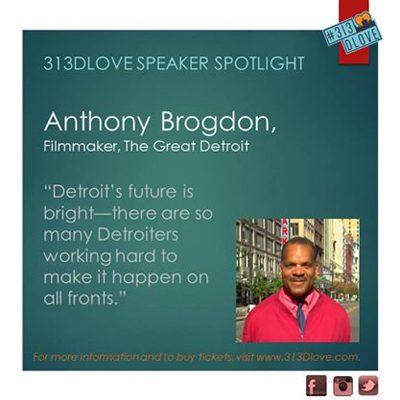 That is why an event like Bean's 313DLove is needed. It feels like the March 13 event (get it? 313?) always arrives at the right time – it comes just as we're all feeling like making a change and shouting some positive words from the rooftop.
According to its organizers, including the energetic and motivating Bean, 313Dlove is "a movement aimed toward bringing worldwide positive attention and focus to Detroit and its community."
"We like to tell people If TEDx is all about 'Ideas worth spreading,' #313DLove is all about 'actions worth emulating,'" Bean said.
Since the first #313Dlove hashtag was tweeted in 2012, 313Dlove has been an outlet for people to share their stories and love for the City of Detroit year-round online and during a once a year event every March 13, said Bean, founder of cool community-based organizations such as Motor City Connect.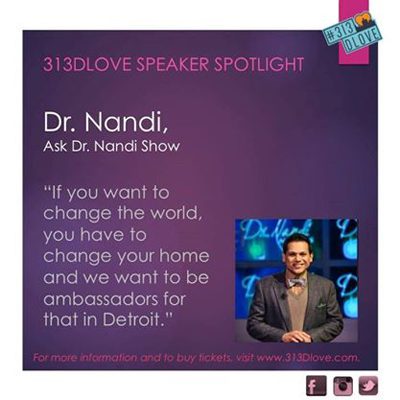 The vision, Bean notes, of #313Dlove is a Detroit whose self-worth is high, unemployment is low and education is second to none. I'd like to add a few more of my own creation: Where every small business is encouraged, where every person is seen as valuable to the overall mission of success and where people stop focusing on the small stuff and get going with the big stuff.
The day has is comprised of three events: A march, an event and an online outpouring of love for the city using the hashtag #313DLove.
The march, sponsored by United Way for Southeastern Michigan, is the newest part of the annual event. It will start at Detroit's Charles H. Wright Museum at 10 a.m. There will be music. There will be reveling. Rumor is that the Slow Roll (that amazing bicycle event started by Jason Hall) will be on board as well.
Then at 1 p.m., some of Detroit's most innovative and passionate minds will take the stage at the Wright Museum to share their best wishes and inspiration. More on those speakers in a moment – but it is a must-see event.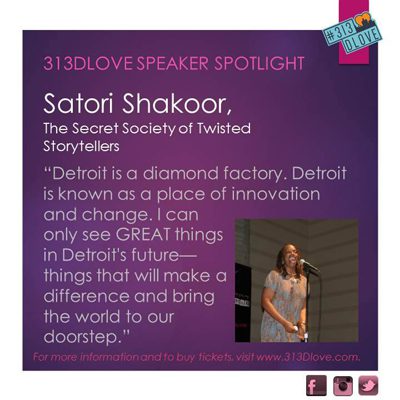 The most important moment of the day takes place at 3:13 p.m. and everyone in the world is invited to participate. The organizers of 313Dlove are asking all supporters of Detroit to log on to Twitter and share what they love about Detroit using the hashtag #313Dlove, in hopes of the hashtag trending globally once again, bringing worldwide attention to the positivity in Detroit, and ultimately changing the perception of Detroit around the world, Bean said.
The afternoon event is one of my favorites. Bean won't be alone on that stage, preaching the good news about Detroit. Scheduled speakers include Master of Ceremonies David Farbman, Satori Shakoor of The Secret Society of Twisted Storytellers, filmmaker of "The Great Detroit" Anthony Brogdon and Dr. Partha Nandi of the "Ask Dr. Nandi" show.
There also will be 12-year old Robby Eimers and his 9-year old sister, Emma, of The Eimers Foundation, an organization aiming to help, and hopefully end, homelessness.
Robby was inspired to start the Eimers Foundation after a ride to Detroit with his grandma and her friend to drop off some blankets and coats at a warming center in Detroit. Saddened by seeing how many people were homeless, standing in the cold, he told his grandma he had to help. So he did. Robby went home and took his own money and bought hats, gloves and socks to take back to the center and continued to do so, once a month. Before long he was going there every other week and then every single week.  Now, four years later, they serve over 200 people every week.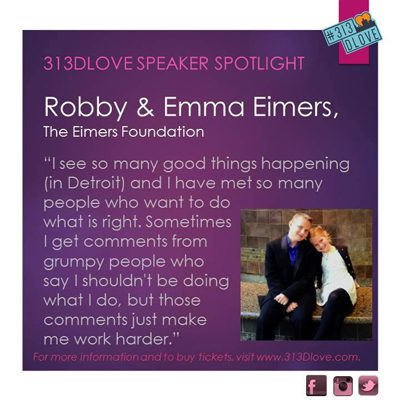 Inspiring, yes? That is one reason Allyson Jones, Early Literacy Manager for the United Way for Southeastern Michigan, also will be there. I can't wait to hear her story and every other story I see, hear and read that day. Because they're all inspiring. And they keep me believing in Detroit and its people.
"Detroit is where I grew up. Very early in my life I became aware of differences between the suburban middle class and the urban poor. I learned about resourcefulness and caring for others. I learned to never lose hope, and to strive for success no matter what the odds," Jones said. "I learned all of that in Detroit, which is why I reside and plan to continue my career here. Why invest in another city when this is the one that's invested in me?"