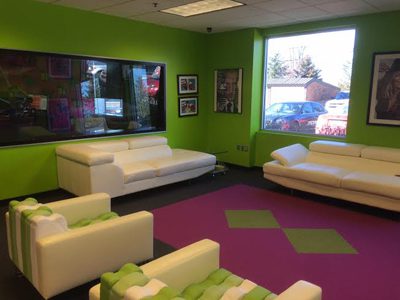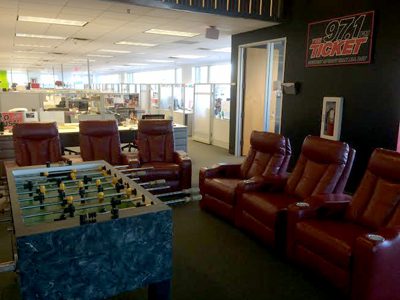 An office space should accomplish the basics – give you the tools and area you need to do your job. But it should also serve to inspire, invigorate and intrigue you and your guests.
CBS Radio in Southfield does the job. This space looks like an ordinary single-story building from the outside; in fact, you'd be hard pressed to know that it houses radio stations including WWJ News Radio 950 AM, WOMC 104.3 Detroit's Greatest Hits, 97.1 The Ticket sports radio, 99.5 WYCD Detroit's Best Country as well as 98.7 AMP radio.
So how do you put all of those stations together in a collective area? How do you give each station its own personality within that sizable office? It is an impressive sight, a recent tour revealed. There are so many ideas here for how to personalize your space and give your employees the kind of environment they need to thrive.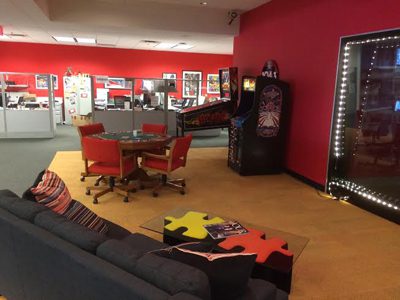 First, there are the great conference-room names that really ground you as to where you are. For example, who wouldn't want to have a meeting in the Eminem room? Everyone would want to cheer for your ideas inside the Gordie Howe room. And people of many generations would feel creative and well spoken in the Sonny Eliot room, where pictures of the weatherman grace the walls. Plus, the office's portrait of famed Detroit Tigers sportcaster Ernie Harwell makes you feel right at home and ready for the Boys of Summer.
Every station has its own broadcast room and working area with decorations. There is 97.1, which has big leather recliners and a foosball table. The hip kids over at 98.7, which plays pop-music hits, has sleek white couches with neon green walls and hot pink rugs.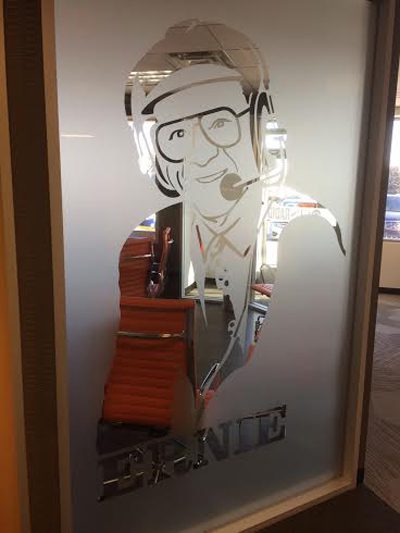 WOMC has a chill vibe with its game table, where the chairs are on rollers for quick movement to and fro. There also are classic video games in its play space. WYCD takes its country vibe seriously with its denim couches and wall of hit records as well as some great guitars on the wall.
Everything is very high tech and it is clear that the staff is there to work. The professionalism is obvious from the entryway with the station's top-notch ratings on the wall to the awards in the clear case. And there are windows everywhere, which makes the space bright and cheery. It's a great way to ground the stations and their talent in Metro Detroit and keep them feeling energetic.
Have a great office? Share your photos with Corp! magazine's Digital Editor Karen Dybis. Email her at kdybis at corpmagazine dot com.