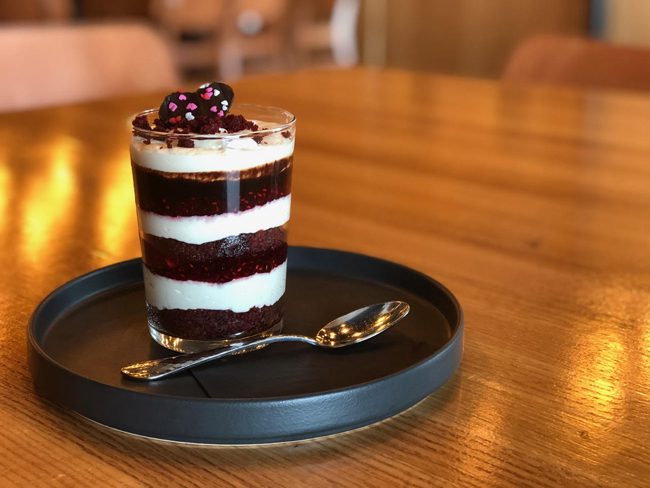 Hazel, Ravines and Downtown in downtown Birmingham is throwing it back this Valentine's Day offering a traditional dessert with a twist.
Pastry Chef Olivia Rinke is on a mission to bring back the English Trifle – a dessert traditionally made with alternating layers of fruit, wine-soaked lady fingers and custard. But the version you'll find at Hazel, Ravines and Downtown is steeped in fresh raspberry jam, red velvet cake and cheesecake mousse. This new dessert is set to debut in time for Valentine's Day.
Located at 34977 Woodward Ave. Ste. 100, Hazel, Ravines and Downtown opened in 2018 and earned its name from three neighborhoods that converge at this exact downtown Birmingham location. The women-owned establishment is focused on a come-as-you-are casual fine dining aesthetic. The HRD menu encompasses everything from familiar comfort foods to inventive and evolving food and beverage options – all with a strong connection to the community.
Red Velvet Pink Peppercorn Trifle
Recipe courtesy of Olivia Rinke, pastry chef
Description:
Layers of traditional red velvet cake, pink peppercorn raspberry jam and cheesecake mousse combine in this sweet, unexpected dessert, just in time for Valentine's Day.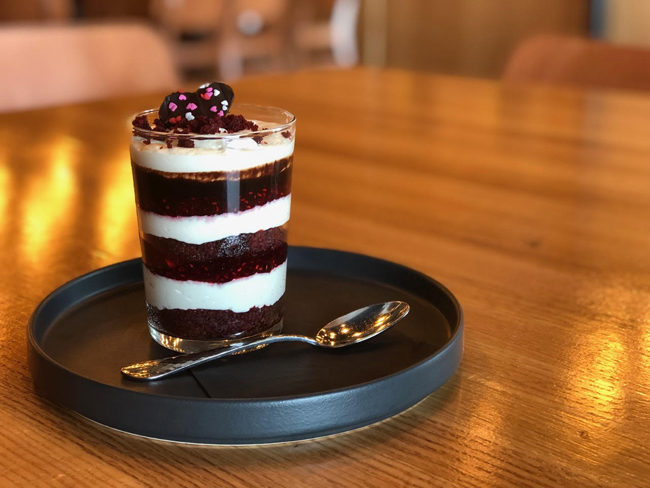 Cake recipe
2 cups of all purpose flour
1 tsp. baking soda
1 tsp. baking powder
1 tsp. salt
2 Tbsp. unsweetened cocoa
2 cups sugar
1 1/4 cup oil
2 eggs
1 cup buttermilk
2 tsp. vanilla
1 tsp. white vinegar
2 ounces red food coloring
In a bowl mix sugar, eggs, oil, buttermilk, and red food coloring, then add the vinegar. In a separate bowl combine all dry ingredients. Slowly incorporate dry ingredients into the wet ingredients. Pour the prepared batter into 2 8" greased cake pans and bake at 325 for 45 minutes.
Cheesecake mousse recipe
16 ounces softened cream cheese
1 1/4 cup powder sugar
1 tsp vanilla
2 cups heavy whipping cream
Beat cream cheese in a mixer until soft, scrape down bowl, add in powder sugar and vanilla, beat till smooth. Add in heavy whip and whip till fluffy.
Pink Peppercorn Raspberry Jam recipe
4 cups sugar
4 cups raspberries
2 teaspoons pink peppercorn
Add sugar to a stainless steel saucepan, let melt on low heat, once melted add in raspberries and smash until they are small chunks. Boil on high for 2 minutes, let cook for an additional 5 minutes on high.
Finish: Alternate layers of red velvet cake, cheesecake mousse and pink peppercorn raspberry jam into a trifle bowl and serve.