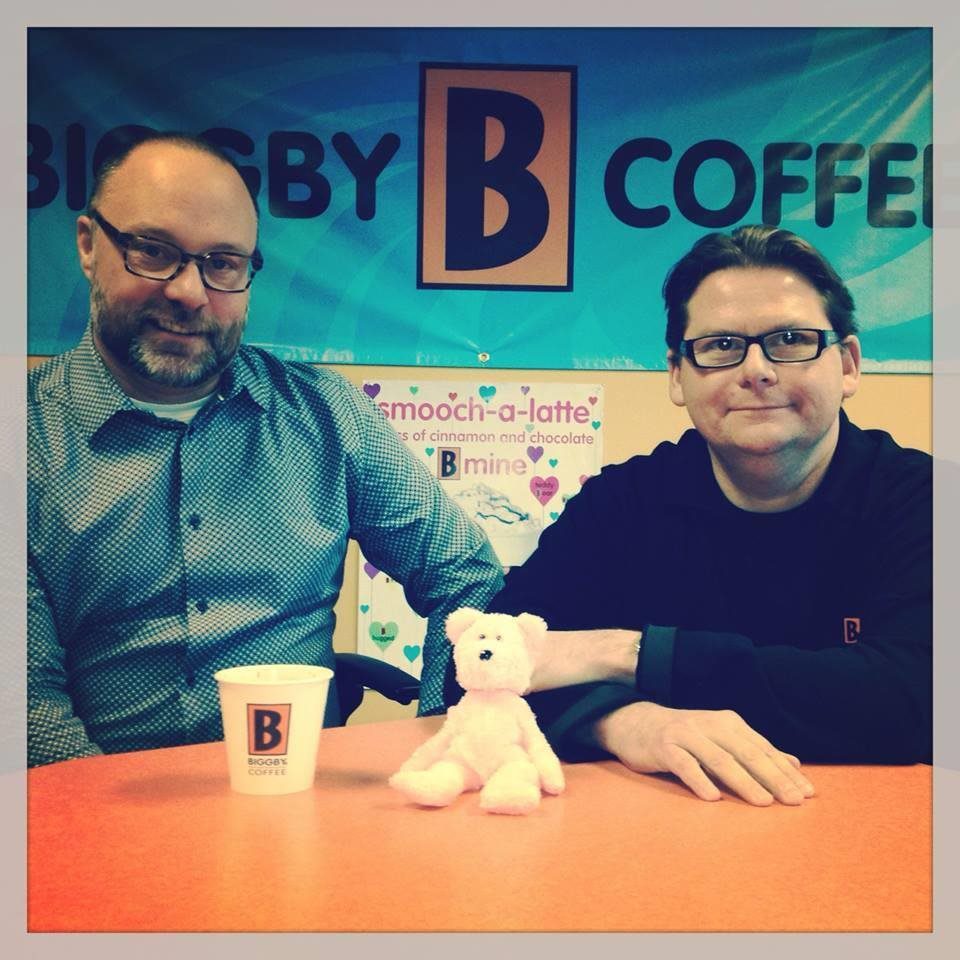 Michael McFall and Bob Fish, the brains behind Biggby Coffee, are probably two of the nicest guys you'd ever want to meet. How do we know? Let's just say that we asked them to pose with a pink teddy bear, and they did it.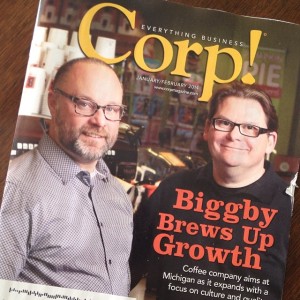 Contributing Editor Karen Dybis brought the bear to the Biggby interview, but the bear was part of a larger mission. Her 6-year-old daughter had a school project to take the bear around the state, and a trip to East Lansing where Biggby is headquartered was just the ticket for the day.
McFall and Fish didn't flinch when asked to sit with Pinky. They warmly welcomed our photographer, video team and related staff. They even offered to make everyone a warm cup of coffee at the headquarters' coffee shop, which is a replica of an actual Biggby.
Some of the coolest things we saw at their office that included boards reminding the Biggby staff how many new franchisees had entered the system, and how many more they needed to complete their goal for that year (which they hit — and then some!). We also loved the coffee cups signed by each franchisee, a real tribute to how important each of these people are to McFall and Fish.
You can see why we had so much fun with McFall and Fish that day talking about branding, social media, creating a strong franchise, finding your way against huge competition (read: Starbucks) and so much more.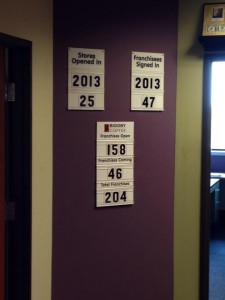 We understand what our core product is and I think that contributes to our success, Fish told us. You find people chasing other avenues, other venues of revenue. … Life gets a lot simpler when you know what your core product is and who you're serving it to.
Fish wrapped up our conversation that day with a beautiful quote. We even ended our story with it (check it out here). We'd like to share it one more time with you because it really fit how McFall and Fish view their business that it is a legacy to share with not only their fans but with the community as a whole.
We've always been very purposeful in what we're doing. We're not saying we haven't made an error or a mistake. But the asset is we tend to learn from those and move forward, Fish said. We're staying right here and focusing what needs to be focused on today.