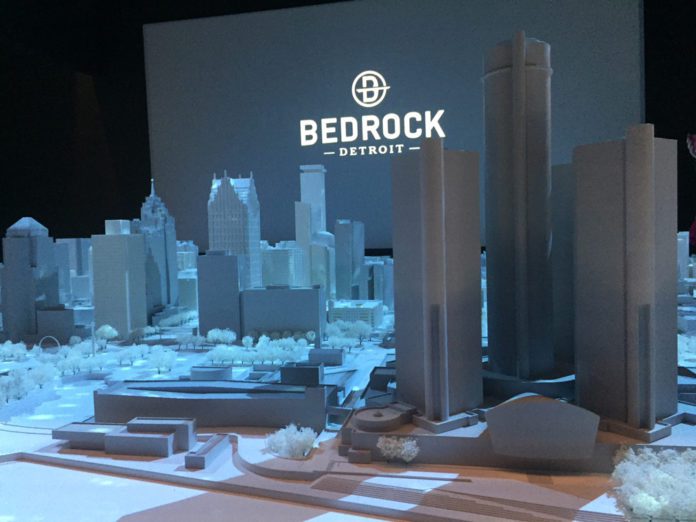 Imagine an architectural model – sleek design, replicas of buildings of all sizes and hundreds of tiny trees. Now, supersize that board, add state-of-the-art projectors and screens as well as 3D-printed models of nearly every piece of art, structure and roadway in Detroit's downtown core.
That is what Bedrock Detroit created to serve as its Showroom model – a reproduction of the city's actual Central Business District and nearby areas of Brush Park, Eastern Market, Lafayette Park and Corktown.
The model, which Bedrock officials demonstrated Wednesday, May 9, 2018, represents about 1.5 square miles of Detroit. The overall model is about 12 feet by 14 feet and is one of the largest such models created by Zoyes Creative Group and its architectural artists, officials said.
The 3D printed model is brought to life with 30 million pixels of immersive projection mapping, programmed to narrate conversation around the future of several downtown facets: lifestyle, parks, theaters, public art, transportation, residential options, sports, events, hospitality and shopping.
Storytelling in a different way
The model's main purpose is to spark conversation when Bedrock takes it to events ranging from local urban-planning conferences, Las Vegas shows and International Council of Shopping Centers events, says Jake Chidester, director of design for Bedrock.
But what it also does is generate a unique form of communication, Chidester adds. People who see it can understand Detroit's story better, especially when the projection system can show a video of Detroit as its naturally moves, a movie about the city and illuminations of the key zones around entertainment districts such as Ford Field and Comerica Park.
Richard Rozeboom, director, Imaging Department for Zoyes Creative Group, said the board is special because it took so many hours to create. The model, which can be broken down into six pieces for special projects or moving, has almost 600 buildings and took about 4,500 hours to create. Artists modeled the city's grid, created the designs for each building and items through the computer and then printed the majority of them out using a 3D printer.
The emotional impact of such a board with its size, complexity and beauty is impressive to see and to experience, Chidester says. It helps Bedrock explain Detroit in new ways and to hopefully tell the story to potential investors, employees and people around the world.