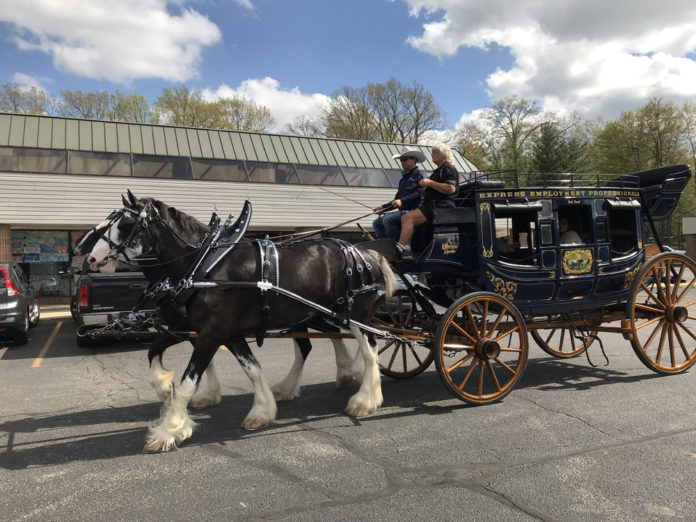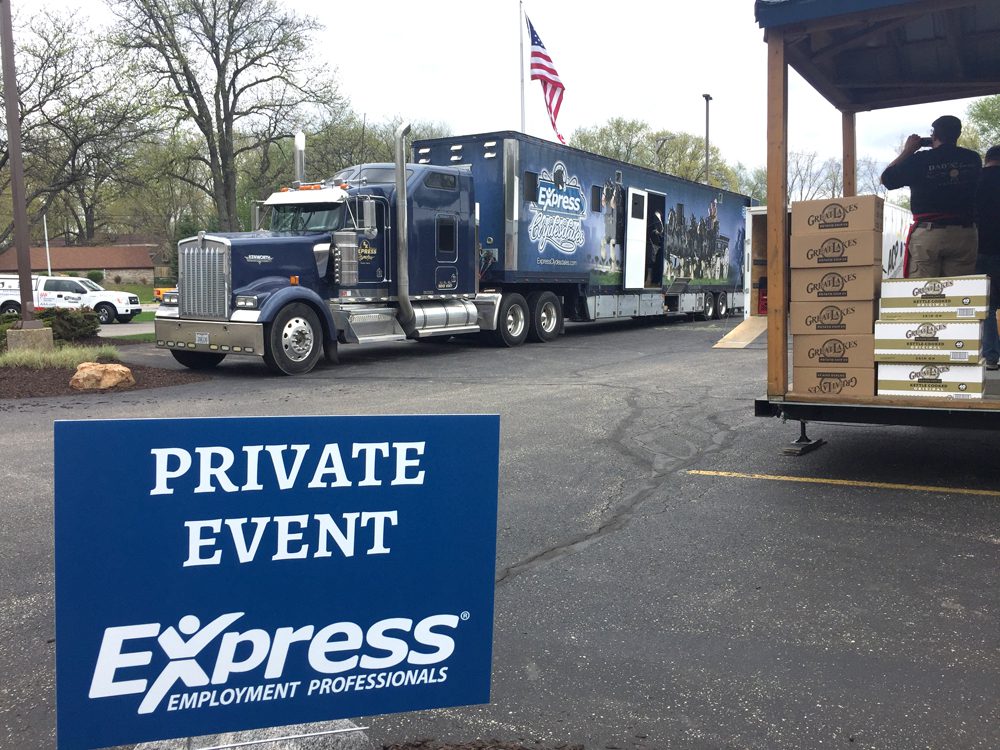 Companies frequently bring in special guests to bring some excitement to the workplace – but how often are those guests world-renowned Clydesdales?
Recently, The Express Clydesdales of Express Employment Professionals visited Grand Rapids and participated in an Employee Appreciation Event with the Grand Rapids Express Office.
This event, which drew hundreds of employees, was intended to honor "every person we have worked with to find a job over the last 22 years of being in business," Express Employment Professionals officials said.
Janis Petrini, owner of Express Employment Professionals, said the company wanted to host this special celebration to say thank you to all of Express employees past and present.
"We are so grateful for every single person that has partnered with Express Employment Professionals on their job search and represented us throughout the community," Petrini said in a statement.
Express Ambassadors
The rare black and white Express Clydesdales travel across North America as Express' ambassadors. These gentle giants strike a chord in the hearts of children and adults wherever they go. Serving as ambassadors for Express Employment Professionals, the Clydesdales weigh between 1,800 and 2,300 lbs. each. Looming over other horse breeds, Clydesdales mature to an average height of 17 to 19 hands, which is about six feet from the ground to the horse's shoulder.
The Express Clydesdales have been competing and touring in North America since 1999 and continue to win numerous competitions, including: Calgary Stampede, Royal Winter Fair, National Western Stock Show, North America Six-Horse Hitch Classic Series. The Express Clydesdales also help raise money for charitable organizations like Children's Miracle Network hospitals.
Making an impact wherever they go, the Clydesdales have been a part of numerous nationally recognized parades and events, including: Macy's Thanksgiving Day Parade, Tournament of the Roses Parade, Chicago St. Patrick's Day Parade, Kentucky Derby Pegasus Parade, and Chauffeuring the Duke and Duchess of Cambridge – Prince William and Kate — during their visit to Calgary.
The Grand Rapids Express office is a franchise of Express Employment Professionals, which helps people find jobs and employers find top talent. In 2017, Express helped over 550,000 people find jobs and is on a mission to put 1 million people to work annually. Express Employment Professionals of Grand Rapids has been providing talent and human resource solutions in the West Michigan area since 1996.