GRAND RAPIDS – Grand River Aseptic Manufacturing, a leading sterile injectable contract development and manufacturing organization specializing in biologics, small molecules, and vaccines, continues its exponential growth in Grand Rapids.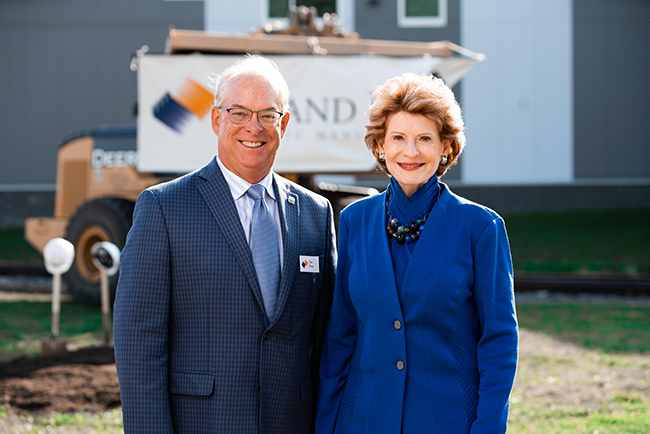 GRAM has been a local contributor to COVID vaccine manufacturing through their partnership with Janssen Pharmaceuticals, Inc., one of the Janssen Pharmaceutical Companies of Johnson & Johnson, to support the manufacture of its SARS-CoV-2 vaccine. GRAM's capabilities and capacity expansion provides further opportunities to grow relationships with existing customers and to support a greater variety of production needs for additional customers.
GRAM's latest expansion, the third multi-million-dollar investment in the past two years, increases the footprint of GRAM's large-scale fill/finish facility by 18,000 square feet, bringing the total square footage across all facilities to 230,000 square feet. The phase I expansion of this facility opened in June 2020 and was recognized by the International Society for Pharmaceutical Engineering as the 2021 Facility of the Year Award Winner for Special Recognition for Operational Agility: COVID-19 Impact.
"Embarking on multiple expansions and opening the doors of two state-of-the-art pharmaceutical manufacturing facilities over the last two years, right here in our hometown, is tremendous," said Tom Ross, President & CEO of Grand River Aseptic Manufacturing. "The innovative modular technology GRAM ordered for this new space arrives in early 2022 and allows GRAM to expand offerings to existing and future customers, ultimately taking on more products to support industry demand for getting products to market."
The existing large-scale fill/finish facility utilizes world-class equipment and technology from the likes of Bausch+Ströbel, SKAN, and IMA. The phase II expansion includes a new VarioSys syringe and vial filler, and an additional Bausch+Ströbel Vial Filler with SKAN Isolator Technology (a duplicate of the current vial filler to increase manufacturing capacity). Expanding their portfolio with advanced, flexible modular technology sets GRAM apart to biotech and pharmaceutical companies interested in efficient scale-up of products.
GRAM credits their growth to the incredible talent that comes to work and live in West Michigan. With a workforce that has doubled from 200 to 400 employees in a year, they've experienced exponential growth as they battled a pandemic. GRAM continues to recruit talent to join their team of experts in Grand Rapids.