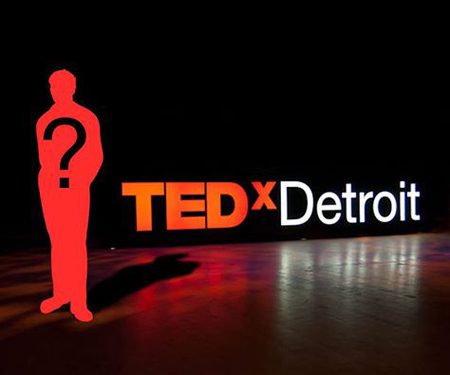 Some conferences are about sharing industry data; some are about learning new materials. Some offer inspirational speakers; some bring bright ideas to the masses. What is great about TEDxDetroit is that it offers all of that — and more.
TEDxDetroit is returning to Detroit's Fox Theatre Thursday, Oct. 6, and is seeking speakers for its eighth annual celebration of ideas, innovation and inspiration in the Motor City. More than 3,000 designers, entertainers, entrepreneurs, educators, scientists, technologists and artists, including 1,000 students, will gather to share in a day-long conference dedicated to sparking collaboration between the technology, entertainment and design industries.
"TEDxDetroit is a truly unique experience for everyone involved. Part business expo, tech conference, art festival and revival, it's an authentic representation of the Motor City's heartbeat," said Janet Tyler, executive producer of TEDxDetroit and COO of Red Level Networks. "Last year was the first time we hosted the event at the Fox Theatre, and with such a rich history of iconic performers gracing its stage, we couldn't image a more inspiring venue for TEDx."
TEDxDetroit, an independently organized TED event, will feature a full day of TED talks, live entertainment, local brands and products, a live feed from TEDx conferences across the globe and hands-on, interactive labs, all helping to share a positive message about the city. Attendees can expect to immerse themselves in an experience unlike any other. Follow TEDxDetroit on Twitter (@TEDxDetroit), Facebook (facebook.com/TEDxDetroit) and LinkedIn.
The call for speakers, performers and exhibitors is officially open. Individuals interested in sharing their ideas with other thinkers and doers are encouraged to submit an application on TEDxDetroit.com. A selection committee will review all applications and inform hopefuls of the committee's decisions. The deadline for submissions is Friday, Aug. 26. The 2016 schedule will be announced in early September.
"True creativity comes from the cross pollination of ideas," said Charlie Wollborg, curator of TEDxDetroit and chief troublemaker at Curve Detroit. "As experts in our individual fields, we read trade journals and go to conferences relevant to our industries, but at TEDx we bring together influencers from a variety of industries to inspire each other and share ideas worth spreading. This year, we're seeking another group of stirring speakers, performers and exhibitors to unfold innovation in Detroit. We're looking forward to another passionate display of wit, wisdom and breakthrough ideas."
Previous conferences have featured notable speakers, including innovators like Dr. Cathy Olkin of NASA's New Horizons Mission on Pluto, Paul Elio of Elio Motors and Jim Murphy of Pixar Animation Studios, entrepreneurs from Asia Newson of Super Business Girl and Pashon Murray of Detroit Dirt to Veronika Scott of The Empowerment Plan and Dan Gilbert of Quicken Loans, journalists like Lee Thomas and Aaron Foley, artists such as Alicia Michilli and JR JR, formerly Dale Earnhardt Jr. Jr., as well as TV personalities such as Dr. Partha Nandi of "Ask Dr. Nandi" and Les Gold of "Hardcore Pawn."