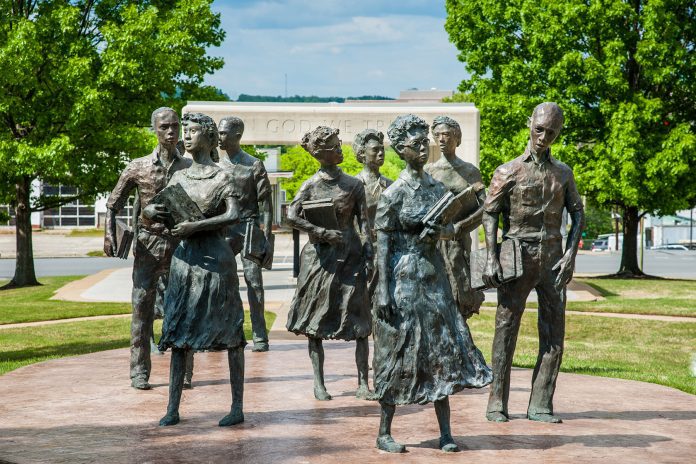 LANSING – The signature annual event of the Dr. Martin Luther King Jr. Commission of Mid-Michigan is recognizing the 65th anniversary of the Little Rock Crisis that mobilized a nation to ensure access to a quality education.
The 2022 MLK Day of Celebration will feature four of the nine students, known as the Little Rock Nine, who volunteered in 1957 to desegregate one of the nation's largest all-white high schools. Candice Glover, an American R&B singer and actress who won the 12th season of "American Idol," is one of the event's musical performers.
In addition to airing on WILX and WLNS TV stations, Jan. 17, 7-8 p.m. EST, the program will be available on the commission's website and YouTube Channel, and rebroadcast Tuesday, Jan. 18, 12:30 p.m., on ELAJ TV CW-5, and Sunday, Jan. 23, 5 p.m., on WLAJ TV.
"Our guests' stories reveal their strength and resolve to correct an injustice even at their ages at the time — the youngest was 14," said Elaine Hardy, commission chair. "One of the strongest lessons they offer is that age need not be a factor in one's ability to correct an injustice."
The event's theme is "In the long run, justice finally must spring from a new moral climate." Dr. Martin Luther King Jr. wrote it for President Dwight D. Eisenhower when requesting assistance in Little Rock, Arkansas. The nine students had initially been met by a hostile crowd of about 1,000 people and the state National Guard, ordered by Gov. Orval Faubus.
The former Little Rock students to be interviewed by Lt. Gov. Garlin Gilchrist II are:
Ernest Green
Carlotta Walls LaNier
Dr. Terrance Roberts
Minnijean Brown Trickey
More information about them is at https://bit.ly/CommissionLR9.
The Jan. 17 program also includes:
Musical performances.
Messages from elected officials.
Recognition of winners of the commission's student essay contest — $17,500 in prizes and scholarships.
Announcement of annual sponsors.
Sponsors include cities of East Lansing and Lansing, and these corporate sponsors donating $10,000 or more for 2022 programming: AF Group/Blue Cross Blue Shield of Michigan, CASE Credit Union, Cinnaire, Consumers Energy, Dean Transportation, Delta Dental of Michigan, Jackson, LAFCU, Lake Trust Credit Union, MacDonald Broadcasting and MSU Federal Credit Union.
Visit https://mlkmidmichigan.com for more information.