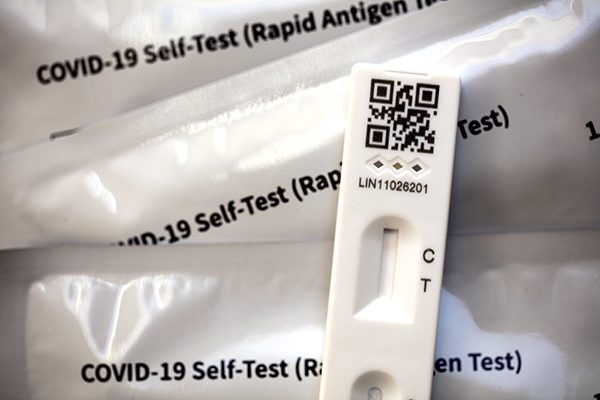 States across the nation are struggling to keep up with the rapid surge in demand for COVID-19 tests as at-home kits sell out at pharmacies, testing appointments are booked out for weeks in many cities and lines stretch around city blocks.
Fueled by the rapid increase in COVID-19 cases, health systems across the country are severely strained. That has led to problems with testing too as the much more contagious omicron variant now accounts for about 95 percent of new cases, according to the CDC.
In Michigan, health officials warned this week that omicron could overtax deluged hospitals. State officials say Michigan has enough testing supplies to weather the storm.
"There is adequate testing available in the state, but we are aware there is an increased demand recently due to the surge in cases," Lynn Sutfin, a spokeswoman for the Michigan Department of Health and Human Services, said in an email.
Sutfin added that pop-up testing sites have surfaced at Michigan welcome centers, airports and 22 neighborhood locations across the state.
Michigan will receive more home tests that will be distributed to people after President Joe Biden announced before the holidays that his administration would distribute 500 million home tests in anticipation of the current omicron surge gripping the nation. Sutfin said health officials "anticipate that Michiganders will have additional access to tests, however we don't have the details yet."
But the sheer volume of new cases has led to increased wait times for testing and difficulty finding at-home tests in Michigan too, said Ruthanne Sudderth, a spokeswoman for the Michigan Health and Hospital Association.
Many Michigan residents are finding it difficult to book appointments for a COVID-19 test, or they're waiting in long lines. That can create hardships for time-crunched families trying to get back to work or send their kids back to school. It's leading some people to seek testing at emergency rooms, adding further strain to already overburdened hospitals.
"You might have to sit in line for hours at the local testing facility to get a lab test done," Sudderth said, adding that "folks are having to call pharmacies all over the region" to find at-home tests.
"It's really important that individuals not go to an emergency department or a hospital for a test," Sudderth continued. "It is happening, and it's causing already really long wait times at emergency departments to be even higher."
The problems in Michigan are playing out in states and cities across the country.
In Virginia, officials have pointed to supply chain problems and surging cases to explain why local health departments are short on tests, local news reported. In Illinois, official testing locations from pharmacies to clinics and hospitals often are booked out for weeks. Amid the soaring demand for tests, private pop-up clinics have surfaced across the state, prompting Illinois Gov. J.B. Pritzker to issue a warning that unofficial pop-up clinics don't offer adequate turnaround times and often aren't up to proper medical standards.
Extreme long lines for testing have been reported in Boston and other major U.S. cities too, likely obscuring the true extent of Omicron's spread. Bumper to bumper lines at locations in Massachusetts are just a snapshot of what's occurring nationwide, the Boston Globe reported.
"The current demand for testing far exceeds the testing resources that are available," Michael T. Osterholm, an epidemiologist and director of the Center for Infectious Disease Research and Policy at the University of Minnesota, told the New York Times.
Apart from demand far outstripping current supply, staffing and transportation problems, even storage has been an issue in some cases. Up to 1 million COVID-19 tests expired in a Florida warehouse, state officials there recently admitted. A Florida official told CBS News the state tried to get the tests to people sooner, but there wasn't demand for them at the time.
Meanwhile, local news reported price gouging as the same testing supply problems faced in other states hit Florida too, where cases are skyrocketing. From Miami to Boston and Brooklyn and as far west as California, people are facing long waits in winding lines to get tests. Or they're finding barren drug store shelves where rapid at-home tests used to be. In California, the state's National Guard is even helping staff COVID-19 testing sites because personnel shortages have been a problem too, the San Diego Union Tribune reported.
Prior to the post-holiday surge, Bridge Magazine reported that Ohio gave out millions of at-home COVID-19 tests to people. Other states, including Massachusetts, Colorado and North Carolina have distributed at-home tests, and Maryland recently announced a plan to do so too. Michigan has no such statewide plan in place for the general public, even as the much more infectious Omicron becomes the dominant strain, Bridge reported.
In an email to Corp! Magazine, MDHHS spokeswoman Sutfin said the department is "working on getting test kits to libraries and more information will be available later this week."
She continued, "MDHHS is interested in getting over-the-counter tests into the hands of people that will use them and identifying the appropriate community venues that we can partner with to distribute OTC tests at no cost."
She also pointed to Michigan distributing close to 4.6 million rapid antigen tests in 2021 to schools, prisons, long-term care facilities and other venues.
Urging Americans to get fully vaccinated or a booster shot going into the holiday season, Biden declared his promise to distribute 500 million at home tests to U.S. residents in 2022, acknowledging then the likelihood of a rapid omicron surge after the holidays.
"What happened was, the omicron virus spread even more rapidly than anybody thought. If I had told you four weeks ago that this would spread via a day-to-day basis, it would spread by 50 or 100 percent, 200 percent, 500 percent," President Joe Biden said in an address, "I think you would have looked at me and said, 'Biden, what are you drinking?'"
But not all public health experts are convinced the president's plan will do much to help.
"That's not a plan — it's a hope," Jennifer Nuzzo, an epidemiologist at the Johns Hopkins Bloomberg School of Public Health, told the New York Times. "If those tests came in January and February, that could have an impact, but if they are spread out over 10 to 12 months, I'm not sure what kind of impact it is going to have."
Suppliers, meanwhile, have been struggling with workplace infections, bureaucratic delays for new tests and sprinting to keep up with demand, Bloomberg News reported. Abbott Laboratories, for example, shut down one of its factories in North Chicago and scaled back production at another factory after cases declined over the summer, the publication reported. Then omicron surged.
"Less manufacturing and fewer distributors means more pressure on existing test makers," Jason Feldman, CEO of telehealth company Vault Health, told Bloomberg. "But even if there were enough tests available, everyone is hoarding rapid tests.
"There's no such thing as 500 million tests available anywhere," Feldman said.
But if suppliers do ramp up production, private insurers will have to cover the cost of eight at-home tests a month with no out-of-pocket costs at certain pharmacies starting Saturday under a rule passed this week by the Biden administration.
According to Dr. Gigi Gronvall, a professor at Johns Hopkins Bloomberg School of Public Health, the country is "on the upswing of being able to have enough testing capacity."
But Gronvall said because of the many reasons that people may need a test — from offering peace of mind before or after a social gathering to getting on a flight or returning to school or work — demand is likely to remain high.
"It was really crunched right before the holidays," Gronvall said. "I think the holidays plus omicron would have caused a problem regardless of the current status. Certainly the U.S. is not the only country to have a problem."