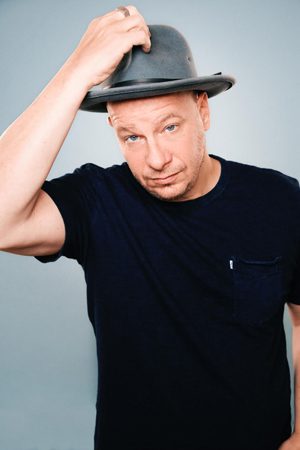 Get an annual work evaluation, going through a tough peer review, receiving negative feedback online – Jeff Ross feels your pain. Few people like to be criticized.
However, Ross is a firm believer that you've got to take your hits, think about what was said and try to use the information shared constructively if possible. Ross – a genuine expert in the art of insult, comedy and human behavior – knows that it isn't easy to receive harsh truths. But there is a way to make the experience work for you.
Ross, a professional comic, is best known as The Roastmaster General or the A One Man Verbal Assault Unit. You may have seen his work on Comedy Central, where he appeared on the hit show "Roast Battle." He's also done specials for the cable network, including Jeff Ross Roasts Cops. He's been interviewed by Terry Gross, featured in Playboy magazine and much more.
Earlier this month, he performed at the Andiamo Celebrity Showroom in Warren, MI. It is a favorite venue for Ross, who says he looks for audience volunteers who want to get some experience fending off his sensitive yet scathing insults.
To be honest, Ross doesn't necessarily see his jokes or humor as insults. Other comics have noted that his roasts are a blend of intuitive comments with a sly punchline that often touches on an individual's faults or failings. But people can learn from these kinds of events, whether you're Joe Lunchbox off the street or a celebrity like Justin Bieber.
"If it comes from a constructive place or a loving place, that person is doing you a favor. They're giving you some truth and they've taken some time to craft an insult," Ross said. "If it comes from a boss, (the criticism) always has to be met with laughter. You can take your job very seriously, but we need not to take ourselves so seriously. We always have to be open to improving ourselves."
A good roast is like tough love, Ross explained.
"It's like a reset button," Ross said. "I do think that if you can be open minded and have thick skin, these things (a roast or a critical review) can work in your favor. In a way, it's like therapy. … Only the truth is funny. The bigger the laugh, the more truthful it might be."
So you need to be cruel to be kind? Kinda, Ross agrees.
"Generally speaking, we're all sensitive creatures. I think that's why we all like to see others get roasted. … It certainly doesn't hurt you. These things only propel you," Ross said. "I do think that laughing at yourself is power. … Having a thick skin or having tenacity is the mark of a winner."
Think of taking criticism well as an important character trait, Ross added.
"It's a personality trait or quality that comes with life experience," Ross said. "It's about being comfortable in your own skin. There are people who can take a joke and there are people who cannot. Those who can tend to rise to the top."