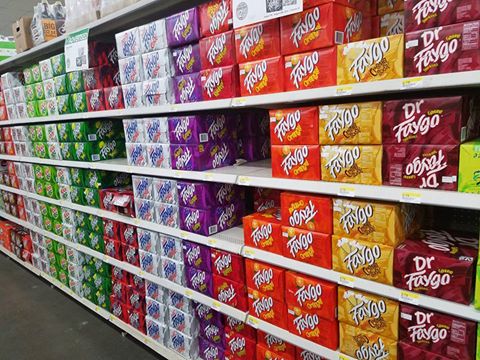 Admit it: There are food that are so addicting that you'd drive out of your way on any night of the week to consume if you had the waistline, budget and time to do it.
That is one reason why living in Michigan is so unique. Every state and every region has its foodie specialties. And Metro Detroit has some of the best, many people would agree.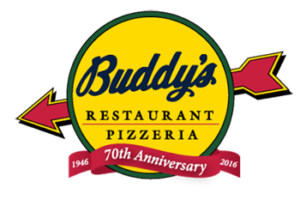 Here are some of the top eats in the Mitten State and where you can find them. They range from the cheesy, like pizza, to the decadent, like coney dogs.
Coney dog: The debate rages as to which Detroit coney joint makes the best hot dogs slathered with chili, onions and mustard. There are three main places to eat a traditional Detroit coney dog: American Coney Island, Lafayette and Duly's (although nearly every diner in town serves a similar product). You can change the recipe to your liking, but there is nothing better than that snap of the hot dog mixed with its original toppings.
Faygo pop: The Feigenson brothers were bakers by trade, so it makes sense that this flavorful drink is so sweet and memorable. They started out with brewing beer, but their soda pop grew so popular that it soon became their main product. The family is no long associated with the company, but Detroiters across generations still love this nearly century-old product.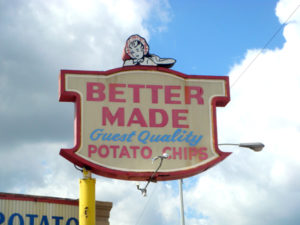 Better Made potato chips: There's no company that symbolizes Detroit's tenacity than Better Made, which has called Detroit home since it was founded in the 1930s. Its Gratiot factory, open since the late 1940s, shows off how it makes its chips and potato stick with the factory floor open to the public via large windows facing the street. Flavors runs from jalapeno to sour cream to no salty. If you like chocolate and chips, you'll covet its chocolate-covered variety.
Buddy's Pizza: You better arrive hungry when you decide to eat the classic Detroit deep-dish pizza served at Buddy's restaurants. The recipe hasn't changed since the place opened with a full crew of female bakers, known as the Supreme Court. Other cities may claim to make amazing pizza, but nothing compares to the crispy crust, rich tomato sauce and cheesy goodness of a Buddy's pie.
Chicken and waffles: If you've never eaten at the New Center Eatery, you're missing out on one of Detroit's most decadent and delicious comfort foods. The waffles are light and crispy with lots of divots just waiting for the sweet syrup. The chicken is moist and full of flavor, covered with a secret mix of spices. Put these two great bites together and you'll see why chicken and waffles are a staple food for anyone who visits or lives in this city.