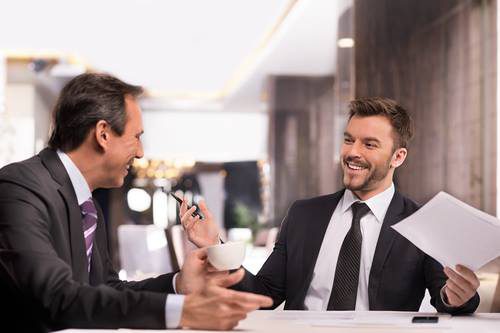 Social media may be fun, but it also has a dangerous side. After mega mistakes from venerable companies, it is clear than anyone can make a mistake and it will cause huge waves across the World Wide Web.
How dangerous? Let's put it this way. We were looking for a particular Twitter incident involving a major U.S. airline to highlight in this blog post. However, we put in the wrong name. Rather than finding nothing, there were links to half a dozen incidents involving OTHER airlines. Social media, it seems, is fraught with issues.
In this age of digital connectedness, it's more important than ever to take a step back, think about what you're writing and what your tone is, said Jeremy Brodsky, the Branch Manager of Robert Half Technology in Detroit.
Robert Edge nationally interviewed human-resource managers and found that 76 percent of HR managers thought that online social media etiquette can affect job prospects. That's more than three out of four, Brodsky highlighted. This kind of search is so easy to do that a lot of companies think it's important to do, he added.
"Social media is great. People love it. But there are different uses. It's important to separate the professional from the person," Brodsky said.
Brodsky is part of the Michigan Division of The Creative Group, which specializes in placing interactive, design, advertising, social media and mnarketing talent with a variety of agencies and firms on a project and full-time basis. The Creative Group is the Creative Services division of world-wide staffing leader Robert Half International.
There are miscommunications simply because what we've typed might seem harsh when we never meant it to be, Brodsky said. That is why following business etiquette and courtesy in the workplace is more essential than ever.
Here are some reminders about why it's important to stop and think before you hit the send button.
• Think before you type. Think twice before you Tweet. Count to 10, Brodsky recommends. "Employers check your social-media presence before pulling the trigger to hire," he noted. "I was working with an employer about a week ago who had a job opening that was very important for them. I told them from the beginning that anyone on that assignment needed to have a check of their social-media presence – especially because this position had a high presence."
• Never say something rude about your company. And avoid mentioning your business contacts. It's easy to forget who's in your network. Most of us get a lot of invites; you never know who's going to see some of those things. Don't think you can get away with any rants about your co-workers or boss, Brodsky noted. That's the kind of stuff that will blow up and go viral.
• Create privacy settings on Facebook. You can create different lists of connections and friends. If you must continue your online presence with informality, it's important to grant different access to different connection on Facebook, Brodsky said. Separate family from friends or colleagues for better post management.
• Untag yourself from inappropriate photos. There are ways to delete these from Facebook or other social media, especially if they show you in a negative light. Friends may not realize that the picture they posted will get you in trouble at work. Make sure you untag them quickly and report them to the site as well. Get them taken down.
• Be mindful of the privacy settings on a regular basis. Check out who has access. Change those settings often. Facebook and other sites update these settings often, Brodsky noted. And when they do make those changes, they don't always publicize them! Go look at your settings often and be mindful of how what you post could change your life.