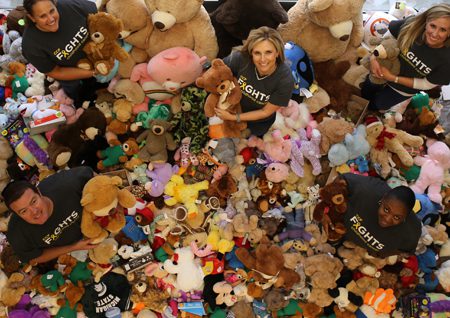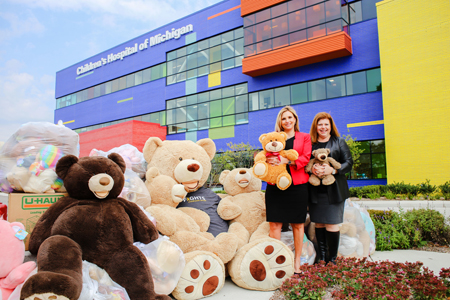 Few things inspire thoughts of childhood as much as a teddy bear – that symbol of warmth, kindness and compassion that all kids long for and, hopefully, enjoy.
This fuzzy toy is the centerpiece of Cornerstone Community Financial's "Teddy Bear Drive," an event now in its second year. The fundraising event, which runs through the end of September, hopes to collect more than 2,500 new teddy bears as part of Childhood Cancer Awareness Month.
"Last year, our amazing community donated more than 1,000 huggable teddy bears. We hope to double that amount during our 2nd Annual Teddy Bear Drive this September. A simple thing like a teddy bear can provide so much comfort to these kids during a really tough time," said Heidi Kassab, President & CEO, Cornerstone Community Financial.
Cornerstone Community Financial started the annual public teddy bear collection drive to support Children's Hospital of Michigan (CHM) as part of September's Childhood Cancer Awareness Month. All CCF branches will serve as collection sites for NEW teddy bears of all sizes, with collection bins available during regular credit union business hours throughout September.
To achieve this year's goal of 2,500+ teddy bears, CCF has partnered with The Bottomless Toy Chest, a local nonprofit dedicated to bringing toys, joy and hope to sick kids, to accept monetary donations for the purchase of additional bears.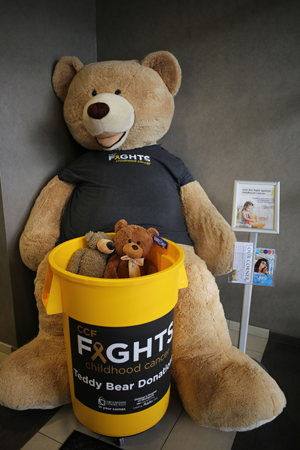 "Children currently fighting cancer at the Children's Hospital of Michigan, as well as the thousands of childhood cancer survivors whom we've treated, are found throughout our communities in both Metro Detroit and throughout the entire state of Michigan. The support of community partners like Cornerstone Community Financial and the Bottomless Toy Chest are immeasurable in helping our patients and their families dealing with this devastating disease," said Dr. Jeffrey Taub, Chief of Oncology, Children's Hospital of Michigan.
Online donations can be made through a link on the CCF homepage at www.ccfinancial.com. After the month-long collection, the supply of new stuffed animals will be gifted to patients at children's hospitals in the Detroit and Toledo areas.
All Michigan CCF branch locations are participating. They are:
· Auburn Hills – 2955 University Dr.
· Center Line – 7291 Bernice
· Royal Oak – 30606 Woodward Ave.
· Troy – 1785 Rochester Rd.
· West Troy – 3001 W. Big Beaver Rd.
Cornerstone Community Financial is a progressive, full-service, state-chartered credit union, owned and operated by its members, which currently number more than 27,000. Originally established in 1951 as Motor Parts Credit Union, CCF today has six branch locations in Michigan and Ohio and more than $260 million in total assets under management.