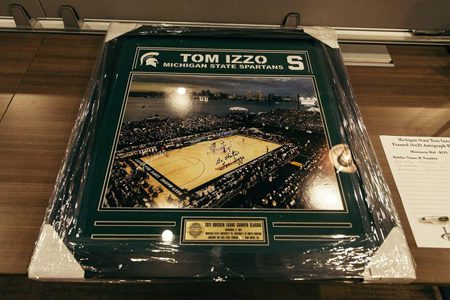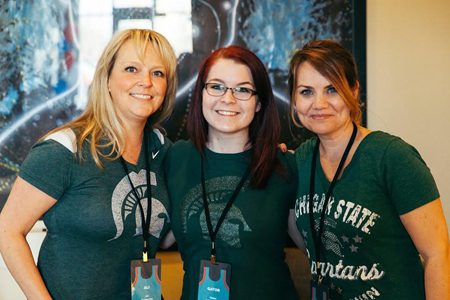 Bringing your employees together to socialize and bond as a company is a great idea. Adding a way to raise funds for a great cause is even better.
For the 12th consecutive year, Grand Rapids-based technology firm Open Systems Technologies commemorated the opening day of NCAA Basketball's March Madness tournament with a party for 1,000 of its closest friends at its 3-floor West Side headquarters.
But, for the second year, the party added a fundraising component that will benefit Grand Rapids Public Schools. Throughout the event, participants could bid on sports memorabilia with proceeds benefiting GRPS' GR8 Sports, Great Kids program.
The program raises money to ensure that the ability to pay for school sports programming doesn't prohibit anyone from signing up. Last year's silent auction raised $2,000 for the program.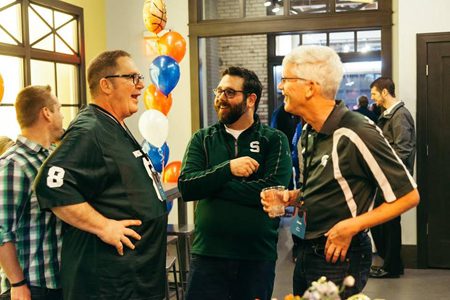 Open Systems Technologies describes itself as a "technology, design and digital transformation" company. It was founded in January 1997; its CEO is Meredith Bronk. In fiscal year 2016, OST had revenues of $150 million and 255 employees.
GRPS strives to develop exceptional, well-rounded student-athletes by fostering an athletics program that supports: academic achievement, overall improved school performance, athletic skill development, strengthened positive coach relationships and community service.
Through a formal partnership with GRPS, SAF implemented the GR8 Sports, Great Kids program to ensure access to K-8 sports to all students regardless of ability to pay. Most school districts don't provide elementary programs at all and require that students "pay to play" at any level.