Every company has a reason to celebrate at year's end – they could honor their yearly success, talk about their employee efforts or think about the work to come and how they'll accomplish even more in 2017.
One company did all that and more. On the heels of a recent recapitalization, Avomeen Analytical Services, a full-service independent analytical and chemical testing laboratory based in Ann Arbor, awarded its entire staff of 50 employees with a share of a $1.5 million bonus.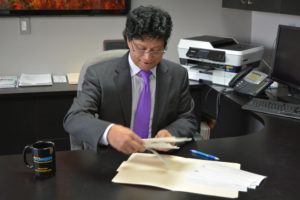 Avomeen CEO Shri Thanedar, Ph.D., distributed the gifts at a special event at company headquarters just before the holiday.
The employee bonuses were made possible through a recent move by Thanedar to sell a controlling share of the company to High Street Capital to further growth opportunities in key business areas. Among the staff of 50 individuals at Avomeen are 22 Ph.D. scientists, with others focused on inside and outside sales, business development, administration and customer service. Monies were awarded based on tenure with the company.
"When I was looking to take the company to the next level, it was of critical importance to me to recognize the people who had been part of this journey and helped Avomeen become a leader in the chemical testing and development space," Thanedar said in a statement.
"Over the years, I have cultivated a team of smart, capable people who were all dedicated to achieving the same goals, which has set us up to make even greater strides in the years ahead," Thanedar added. "I am proud to reward this team for their hard work and look forward to accomplishing more together."
Avomeen Analytical Services is a fast-growing analytical services and product development company. It provides services to both pharmaceutical and chemical industries. Avomeen has been an Inc. 5000 company two years in a row and was named in the Top 50 Michigan companies to watch. In 2016, Thanedar was named "Entrepreneur of The Year" by Ernst and Young.
Thanedar came to Michigan in September 2010 and opened Avomeen on Dec. 1, 2010. He had previously owned a laboratory with similar chemical testing and analysis functions, which was impacted by the declining 2008 market. Thanedar applied best practices from his previous business to a successful model in Avomeen, and made recognition of his staff a priority when he sold a controlling share of the company in late 2016.
Since 2010, Avomeen has asserted itself as a chemical testing leader of a wide range of services related to laboratory testing and analysis in the pharma, cosmetic, consumer products, health and beauty, and manufacturing industries.
Although various chemical testing and analysis functions are performed by Avomeen, the company is recognized as an industry expert in deformulation, a form of reverse engineering involving separation, identification and quantitation of ingredients in complex formulations.