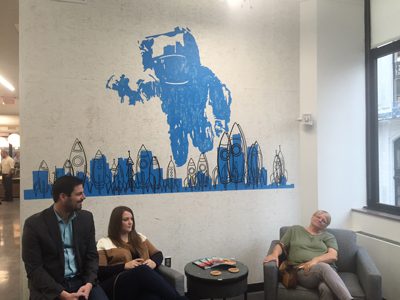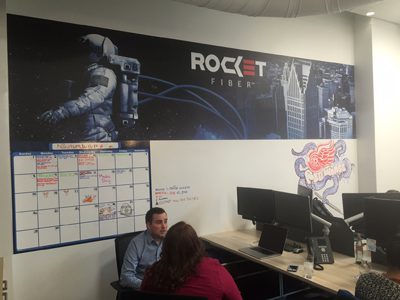 A company's headquarters should tell you about the business from the moment you step in the door to when you grab a seat in the conference room or offices. And the new digs of Detroit's high-speed Internet provider Rocket Fiber does exactly that – from its logo to its workspace, Rocket Fiber is all about high idea, bright people and innovation.
The technology start-up also announced the opening of its new headquarters in the 48,000 square-foot Albert Kahn-designed Bedrock building at 1505 Woodward Avenue in downtown Detroit. Rocket Fiber's open and collaborative environment was designed by architectural firm ROSSETTI and office design firm  dPOP!, both also headquartered in downtown Detroit.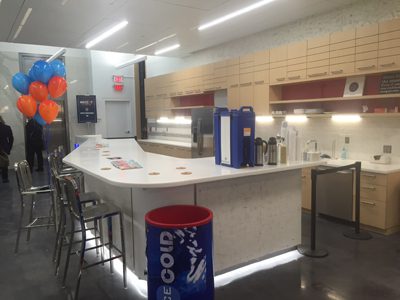 "Gravity is irrelevant to the ambitions of Rocket Fiber, so the 'space' is motivated by the anti- gravity," says Tony Reiner of ROSSETTI, the lead designer on the project. "The lobby's sky blue ceiling, framed by articles of Detroit's historic innovations, offers a foundation for creative take-off. The centrally-located, collaborative kitchen, defined by linear directional lighting, is a launch pad for innovation. Imaginations defy limits in this outer-space inspired work environment, illuminated with constellations and orbs."
And lots of pictures of astronauts. That is one of the most unique aspects of the office space – there are pictures of space explorers in the lobby area as well as on the bulletin boards. This serves as a reminder to employees and visitors that their goals are big, important and groundbreaking.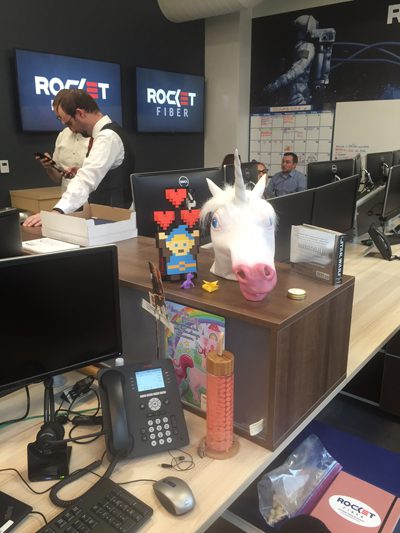 There also are fun elements in the write-in walls and other helpful ways to create instant areas for collaboration. This is a dPOP! Essential, found in many of their office designs. Workstations also show this flair, allowing people to be creative and show off their personalities at the same time within this open environment.
Another interesting aspect of the office is the so-called uniform. Rocket Fiber techs wear navy blue shirts with American flags on them, which makes you think of the Boy Scouts in all the best ways. They're here to help you with whatever issue you might have, solving problems and being trustworthy and loyal.
One more thing: The logo is outstanding. With its rocket-shaped letters and impression of speed, you immediately know what Rocket Fiber does and how they'll do it. It makes you feel like it is going to change Detroit – and that's what they want you to think and believe.
"Rocket Fiber's mission is to develop and implement critical technology infrastructure that will contribute to transforming Detroit into one of the most attractive cities for technology and other businesses to locate," Rocket Fiber Chief Technology Officer and Co-founder Randy Foster said in a statment. "Ten-gigabit Internet will put Detroit in an elite category in which technology start-ups and growth companies will naturally and quickly emerge inside its borders."