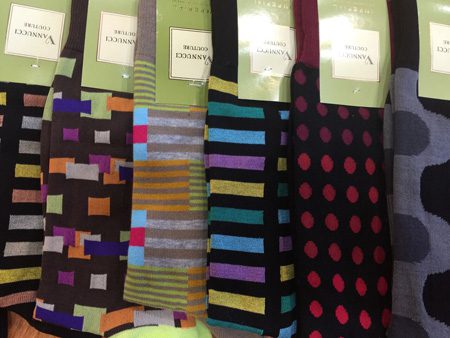 Getting dressed for work – day in and day out – can sometimes be a drag. There are only so many ways to wear the same wardrobe staples, and you can feel frustrated with how to show your personality in what might be a conservative office.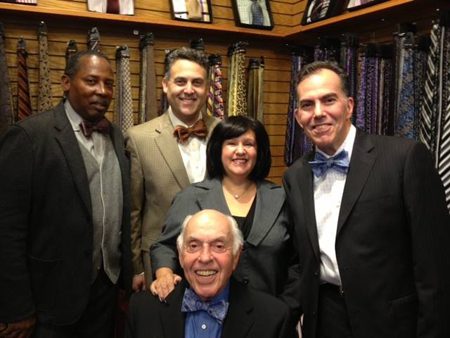 That where is where Ron Elkus and Rod Brown come in. They are masters of creating fashionable looks, right down to the socks. The owners of The Shirt Box in Farmington Hills have taken their mission one foot forward with their new startup, The Sock HookUp.
Also based in Farmington Hills, The Sock HookUp selects and delivers a pair of fashion-forward, kind-of-sexy, yet durable, socks to subscribers' doors every month. The program helps keep looks fresh with current styles while ensuring no duplication.
"Socks are arguably one of the top commodities in a man's wardrobe," said Elkus, founder and co-owner of The Shirt Box and The Sock HookUp. "While it is important to have the basic black and white socks at the ready, adding several fashionable pairs to your drawer can help tie an ensemble together."
The Sock HookUp's inception originated 35 years ago when The Shirt Box first opened its doors. The haberdashery began providing men with "hook ups" for their suits and casual wear. Customers would bring in their suits and The Shirt Box would do the rest – providing the shirt, tie, cufflink, pocket square and, most importantly, wait for it… the SOCK.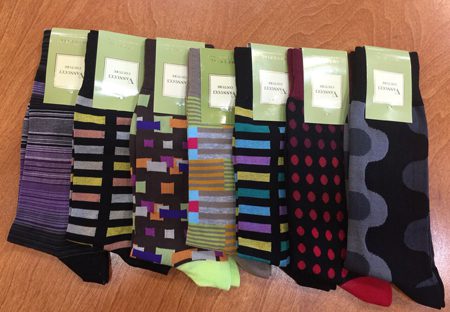 NPD Group, who provides global market research trends and insights estimated that in 2013, U.S. shoppers spent $2.8 billion on men's socks alone. There are other sock-delivery companies out there, but few if any based in Michigan.
"Many men still do wear a traditional suit to the office and that limits how they can use fashion to add a bit of their own personality to their wardrobe," said Elkus. "Showing off a little sock can be fun. It creates a statement and makes you memorable."
People can share the love and gift a "hookup" as well. Membership options for lucky guys are available as follows and include the price of shipping: 12 Months is $120, six months is $72 and three months is $42.
Added co-owner Rod Brown, "We've already had a lot of interest in our gift subscriptions of The Sock HookUp. It's the gift that keeps on giving all year round and it's not likely to be duplicated."
The Shirt Box has been a trendsetter in men's fashion since opening that first store for men's shirts and ties with just 600 square feet of space. Over the years, the store has kept up with customer needs and expanded the store to include sport coats, casual and business casual wear, a big and tall section, and even shoes and other accessories.
After several expansions at the Southfield location, they finally outgrew that space and moved to the current location in Farmington Hills in 1997. Today, the 3,100-square-foot space now boasts a showroom full of dress shirts, ties, sportswear, slacks, jeans, shoes, outerwear, cufflinks and more.