Anyone already familiar with the work done by Veronika Scott and The Empowerment Plan, a 501(c) 3 non-profit she launched in 2012 after seeing firsthand the plight of Detroit's homeless, will surely feel an affinity with all the organization is doing.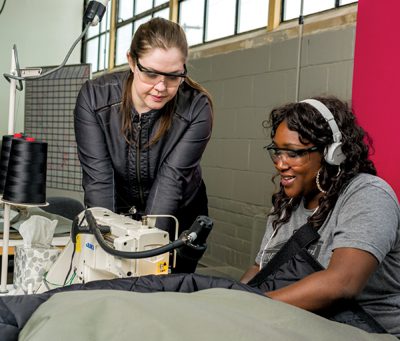 An obvious big part of the ongoing initiative is to design and make coats that can be turned into a kind of "sleeping bag" as well as storage for those who receive them.
As those who look even a bit deeper will discover, the Empowerment Plan is really about jobs—and along with the basic economic benefit, the dignity that comes from working.
But it's a big job and the organization could use some help. It's making it easy for a growing number of "friends" to come together to do just that through its "Kicking Off the Cold" fundraiser, the third year it has done so.
The Nov. 12 event will be held at the Chase building in downtown Detroit and tickets are $40 ($125 for a VIP version). Get ready to socialize, network and, above all else, contribute to the kind of ongoing initiative that's bound to have a human impact for generations to come.
Tickets are available online.