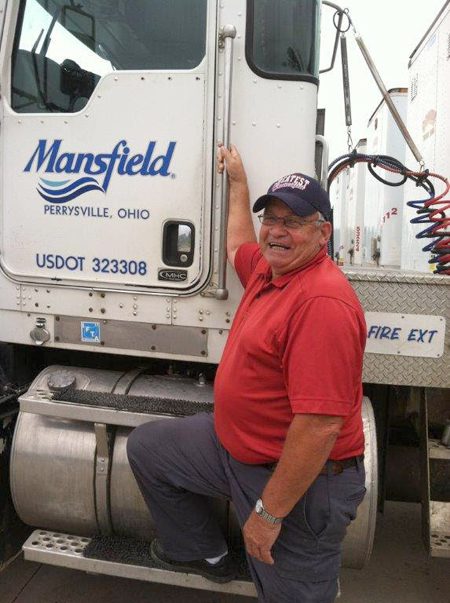 If you like a challenge, consider this one: Could you work for 52 years for a single company and never take a sick day?
That challenge was established by Mansfield Plumbing employee Ron Kline, who marked 52 years of service with the company – that's 18,980 days for those of you counting – with a perfect attendance record.
At the age of 72, Kline has no anticipation of retiring. He enjoys his work at the Ohio-based company. He says he is in good health and wants to keep on trucking. As a truck driver for the sanitaryware and bathware company, Kline can travel between 350 to 500 miles a day making customer deliveries of toilets, sinks and tubs.
"I love talking to our customers, being on the road and working for this company so why would I retire?" says Kline, a resident of Perrysville, Ohio. "My health has always been really good and this is a great team to be a part of, so I'm going to keep working as long as possible."
Hired on January 30, 1965 at the age of 20 as a clean-up person at the Mansfield manufacturing facility, Kline relishes his work and his family. The father of 11, grandfather of 38 and great-grandfather of eight, Kline is keeping a family tradition going strong at Mansfield.
"During my lifetime I've seen two of my children work at Mansfield, three of my brothers and a variety of other family members," says Kline. "This place is part of all of us."
Kline spent his first 18 years with Mansfield as an inspector/grader of sanitaryware products as they came out of the kiln. "I checked for cracks and blemishes to make sure the quality was there for each and every piece that went out the door," says Kline. "About 34 years ago I decided to try driving a truck. That's been a terrific job because I've been able to make deliveries to every state east of the Mississippi River."
Mansfield Plumbing precision manufactures millions of pieces of sanitaryware and bathware each year at its facilities in Perrysville and Big Prairie, Ohio and in Henderson, Texas. Founded in 1929, Mansfield Plumbing, which is owned by Corona, is a leading producer of top-quality, high-design, performance plumbing fixtures and fittings for use in residential, commercial and institutional markets.