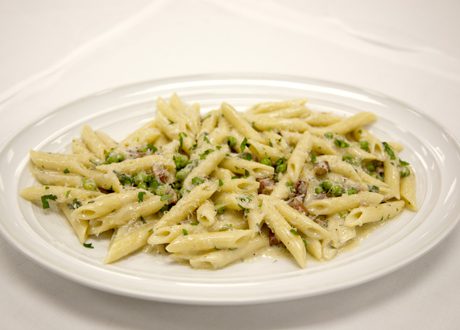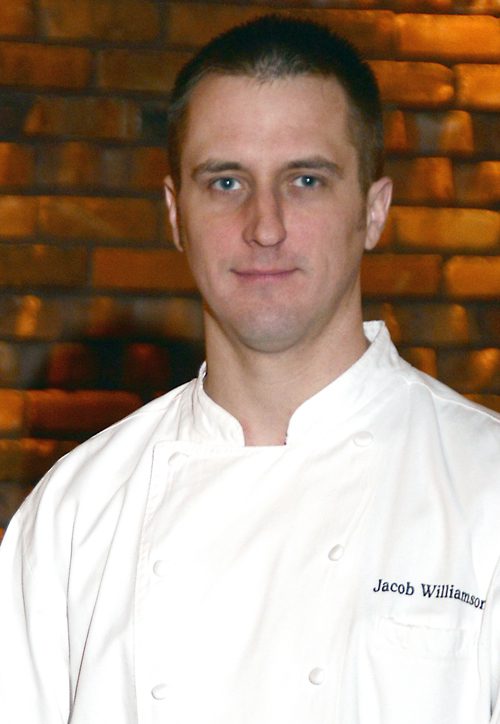 You know the drill: It's a busy day full of meetings and reports. You may have skipped lunch or barely eaten a thing. Maybe you have a hard commute home to top it off.
Wouldn't it be nice to know you have the ingredients on hand to make a warm, comforting pasta at home? And, thanks to MGM Grand Detroit's newest executive chef, you've got the ideal recipe for making dinner both easy and satisfying.
Actually, most of the ingredients in this Penne Carbonara will be in your pantry already. Just pick up the fresh ingredients – such as tasty pancetta, shallots and spring peas – and you'll be all set. Jacob Williamson will elevate your average dinner into something divine.
This is Williamson's latest addition to the MGM Grand Detroit menu – and its crisp pancetta and Parmesan cream sauce promises to be hugely satisfying. (We will willingly taste-test this one for any reader.)
A little about Williamson: MGM Grand Detroit named him the executive chef of Wolfgang Puck Steak and Wolfgang Puck Pizzeria & Cucina in March. He previously served as the chef de cuisine here. In his new role, he will supervise the operations of both spots as well as come up with fresh recipes within the steakhouse and Italian themes of each restaurant.
"I am committed to using my knowledge and experience received at MGM Grand Detroit to ensure attractive dining options that utilize seasonal items and local sources," said Chef Williamson. "Being named as executive chef is a great honor for me."
Some of his additions to the menu include: the House Made Lasagna, made with spinach pasta, beef Bolognese and creamy béchamel sauce and fettuccine alfredo served with roasted chicken, baby spinach and sundried tomatoes.
A Dallas native, Williamson came to Detroit from Washington, D.C. where he was sous chef at The Source by Wolfgang Puck. He joined the Wolfgang Puck Group when Chef Puck opened Five-Sixty by Wolfgang Puck in Dallas in 2009.
He also has served as lead line cook at Vong by Jean-Georges Vongherichten in New York City, as well as Stephan Pyles Restaurant and Charlie Palmer at the Joule, both in Dallas. Williamson attended the French Culinary Institute in New York City where he studied Culinary Arts and Restaurant Management.
FYI: The MGM Grand Detroit is the only Forbes Four-Star hotel in the City of Detroit, the only Forbes Four-Star spa in Michigan and AAA Four Diamond Award-winning hotel, MGM Grand Detroit is the city's first and only downtown hotel, gaming and entertainment destination built from the ground up.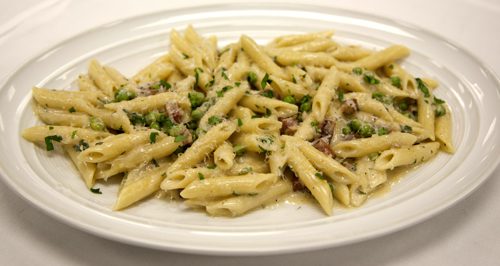 Penne Carbonara with Crisp Pancetta
8 oz.                    blanched penne pasta
2 oz.                    pancetta, braised
1 each                thyme sprig
1 tsp.                  garlic, chopped fine
1 tsp.                  shallots, minced
1 oz.                    butter
2 oz.                    spring peas, blanched
4 oz.                    heavy cream
2 oz.                    chicken stock or broth
1 oz.                    Parmigiano-Reggiano, grated
1 each                egg yolk
Garnish             chopped parsley
Drop blanched pasta in salted boiling water for one minute. In sauté pan over medium high heat, add olive oil and caramelize pancetta until light golden brown and crisp. Drain excess fat. Add thyme sprig, garlic, shallots and sweat until translucent. Ladle 4 ounces cream and 2 ounces chicken stock into pan and bring to boil. Add pasta and peas, cook for one minute. When sauce is reduced and pasta is coated, remove from heat, add egg yolk and Parmesan and toss to coat. Sauce should thicken. Do not reheat or egg will scramble. Finish on plate with chopped parsley, grated Parmesan and a drizzle of extra virgin olive oil.