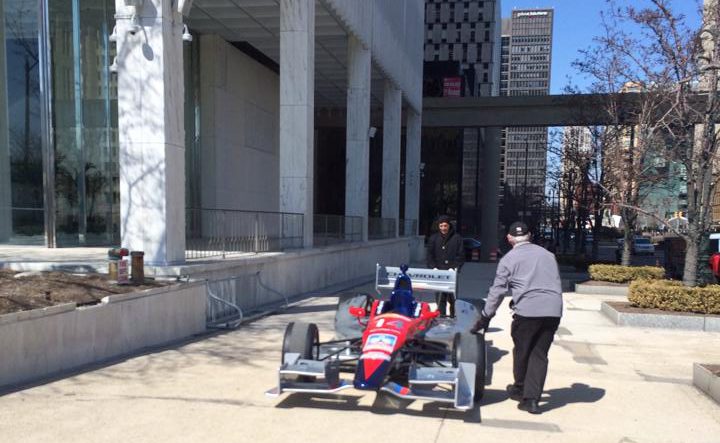 With a new race, better viewing areas and a fund-raising event for the city's "crown jewel," the 2014 Chevrolet Detroit Belle Isle Grand Prix will not only entertain its guests, it will continue to improve the city that serves as its host, said Penske Corp.'s Bud Denker.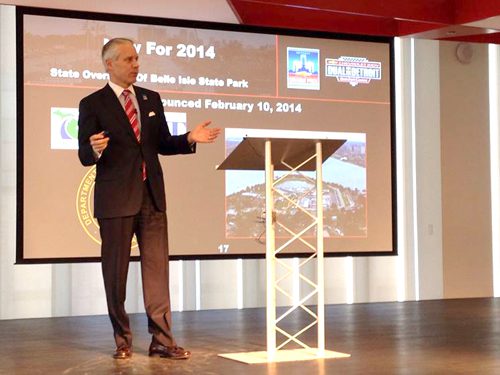 Denker, who spoke about his company, Detroit's revival and the Grand Prix at the Adcraft Club of Detroit luncheon March 21, hopes the race's preview will raise as much as $400,000 for the Belle Isle Conservancy, the non-profit, member-based organization that coordinates with the city's input the public and private investments in the park.
The Chevrolet Detroit Belle Isle Grand Prix will take place May 30-June 1 in the park, which became a part of the Michigan Department of Natural Resources in February. That move to DNR made Belle Isle a state park, and that is a change that benefits not only the Grand Prix, but all of the Metro Detroit area, Denker said.
"This is our home. We love Detroit," said Denker, who serves as the senior vice president of the Penske Corp. and chairman of the Chevrolet Detroit Belle Isle Grand Prix.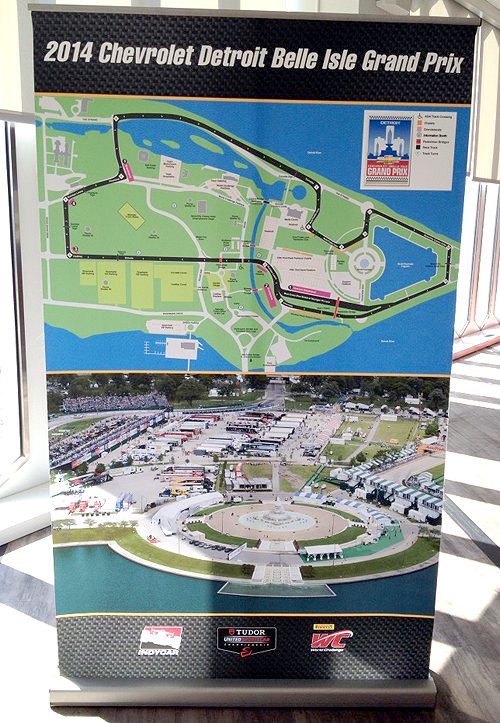 He noted Penske's many Detroit initiatives, including Clean Downtown (which picked up 52 tons of trash downtown in 2013), its M-1 Rail investment and its recent donations of police cars and emergency vehicles to Detroit, something "we're going to keep doing. We like action. If it's a good idea, do it."
A little about Penske: The company, which is based in Bloomfield Hills, grew 11 percent last year. It has about 41,000 employees; 120 work at its headquarters. It has four main "legs," as Denker said: Transportation, Automotive, Performance (which includes Penske Racing) and Private Equity.
"We race because it's who we are. It's in our DNA," said Denker, who noted that owner Roger Penske chose business over his racing profession, and it's a bet that worked out pretty well.
Denker added that you can learn a lot from losing; Penske Racing only wins about 15 percent of its competitions. But that is what makes the victories that much more sweet.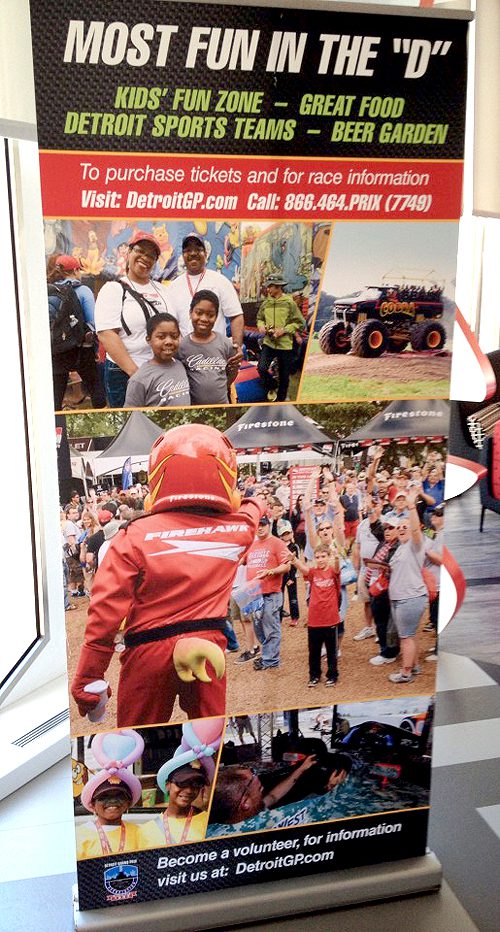 The Detroit Belle Isle Grand Prix brings in more than $45 million in travel expenditures during the race period to Detroit, more than the Final Four basketballs games did, Denker noted. The race has brought in about $15 million in investments on Belle Isle since 2006. About $250,000 of that has gone to rehabbing the famous Scott Fountain.
The event will feature the cars of the IndyCar Series, the TUDOR United SportsCar Championship and the Pirelli World Challenge Championship Series. The weekend collectively is referred to as the Chevrolet Detroit Belle Isle Grand Prix and it will feature the Chevrolet Indy Dual in Detroit presented by Quicken Loans IndyCar doubleheader.
This year, the Detroit Belle Isle Grand Prix will have a new "SPEED Energy Stadium SUPER Truck" series race, which can send its races up to 20 feet into the air. This will give Detroit crowds a taste of Baja desert racing, Denker said, and broaden the range of the event and its visitors.
This year's musical performers will be Shaggy and Lifehouse – bringing some Caribbean flavor and rock credibility to the stages, he noted. There will be seven hours of live broadcasting on national channels during the races, bringing the nation a picture of the city and "Detroit in its glory," Denker added.
He also said he's exciting to bring the Friday night fund-raising preview to Belle Isle for the first time. A giant tent that can hold 500 people will host party guests and the race-car driver hosts for "A Night in the Fast Lane," an event Denker said he hopes will raise $400,000 for the Belle Isle Conservancy.
Background: Denker joined  Penske in 2005, assuming responsibility for its marketing and communications functions, including the Penske Automotive Group's 345 automotive dealerships and Penske Racing's IndyCar and NASCAR teams. He is also president of Penske Car Rental, which owns Hertz locations in Tennessee and Indiana, and is chairman of QEK a locally-based fleet services company owned by Penske Corp.
FYI: The Adcraft Club of Detroit is Metro Detroit's association for advertising and marketing communications professionals. It hosts regular luncheons around Metro Detroit with locally and nationally known speakers. Check them out here.
"It's important to Adcraft to continually provide learning opportunities for both our members and non-members within all areas of marketing communications," Adcraft president and vice president of National Accounts for Auto Trader Ron Boe said.