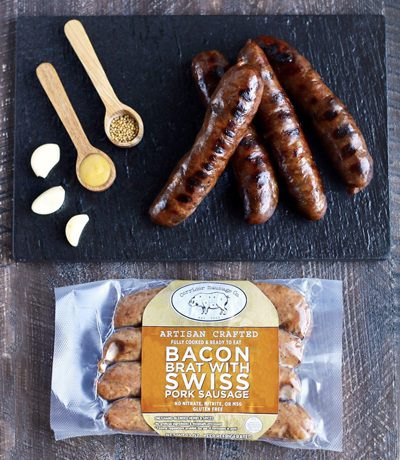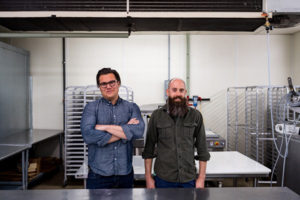 Nine years ago, Will Branch and Zachary Klein started making artisan sausage, learning about the art and science of the food business along the way. Now, in the largest account acquisition yet, Corridor Sausage Company's products are now available in Kroger stores across Michigan.
It's a big move for the already successful company, says Branch, who explained that it took two years of research and development along with intense work with Kroger representatives to make this deal happen.
The Detroit-based sausage company created a fully cooked product to sell at Kroger; it can be found in the deli aisle at any of the 126 Kroger locations across the state. It comes in three varieties: Vietnamese Chicken, Bacon Brat with Swiss and Cherry Maple Chicken Sausage.
"If we wanted to be in the deli aisle, we had to switch over to being precooked. That took two years of research and development on the food-science end," Branch says. "We wanted it to stay clean and ethical. That meant no nitrates, so we had to decide what to do. We found some cool new products to keep it a clean label and totally healthy."
Having Kroger as an account is a major boon for Corridor Sausage in terms of size and growth. But Branch says he always will be grateful and proud of its partnership with all of the restaurants and grocers in Michigan that gave the business its start.
"We love the people we've worked with from the distributors to the store managers to amazing stores throughout the state and the Midwest," Branch says.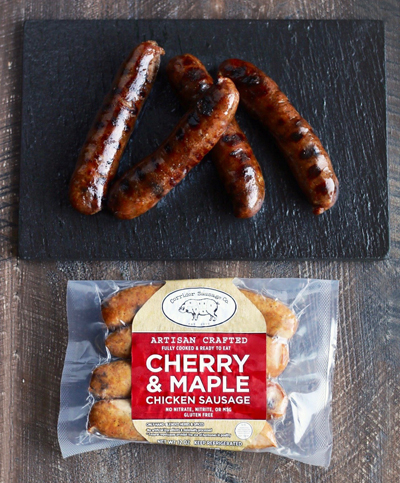 Inspired by Detroit
Corridor Sausage Co. began in 2009 when Founder Will Branch and Zachary Klein took a chance on establishing themselves long before the culinary industry caught fire in and around metro Detroit.
"We were inspired by the German smokehouses in Eastpointe, the Polish butchers of Hamtramck and the Italian delis of Warren," Branch says. "Sadly, many of those places and their recipes no longer exist. We know that we can never replace them and we do not try to. We wanted to pay homage to the flavors of our youth while adding our own unique twists and using only high quality, locally sourced proteins and ingredients."
Based in Detroit's Eastern Market neighborhood, Corridor Sausage Co. grew from a small butcher shop to its current USDA-approved factory where they make all-natural artisan sausages, derived only from farm-raised, hormone-free and antibiotic-free meats and fresh herbs and spices.
Demand continues to grow. In 2016, the owners began to focus more effort on distributing the products to markets across the country. Those efforts resulted in Corridor Sausage Company's current distribution across 14 states. By 2017, Corridor Sausage Co. doubled its staff to meet the increasing demand. In 2018, the owners expanded the popular sausage line to offer raw products – and for the first time ever – a fully cooked line of sausage
The recent addition of more than 120 Kroger locations will call for 3 to 5 more sales staff professionals to manage business needs, which can vary based on the season.
Corridor Sausage Co. can now be found on the menu in more than 300 restaurants. It is stocked in more than 200 markets across 14 states. Outposts have been developed for Corridor Sausage Co. at Ford Field and inside Detroit Metro Airport. And the artisan sausages can be found at other Michigan destinations including The Henry Ford and Little Caesar's Arena.