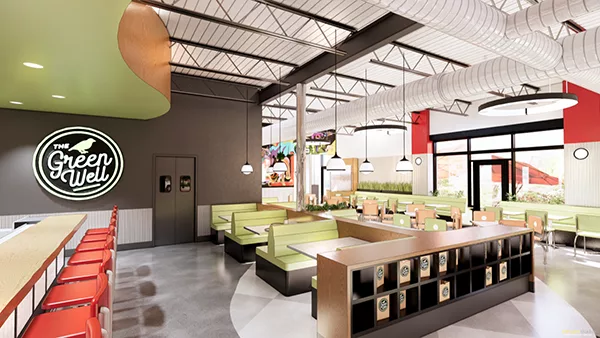 GRAND RAPIDS, Mich. — The Green Well is making a grand splash in 2023 with an extensive interior renovation.
The popular East Hills neighborhood restaurant will close January 29 through early February to complete this transformation with Andy Mey Centurion Construction. The move is part of parent company Essence Restaurant Group's plan to enhance the welcoming, community vibe at the cozy Cherry Street pub to make it even more modern.
Once re-opened, The Green Well will look more inviting with brighter colors, cleaner lines and a more open concept, as they will be removing the partition that divides the bar from the dining room. Additionally, there will be fixed stools at a window bar with outlets that encourage people to settle in with their devices and stay a while, and a dedicated to-go cubby section near the entry where guests can grab their takeout and go.
The desire to freshen up The Green Well is yet another forward-thinking move by Essence Restaurant Group leaders to continue leading the East Hills culinary and socializing scene with an exceptional experience.
"The vibe at The Green Well has always been welcoming and inviting, but after 15 years, we felt it was time to refresh the interior into an even more engaging environment," said Essence Restaurant Group CEO and Partner James Berg. "We are excited to introduce our customers to the new look and hope to engage more people with our reconfigured seating areas."
The entire management team is working together to ensure all new aspects of this new iteration of The Green Well is cohesive. Essence COO Tristan Walczewski is leading the effort to create a new look and feel that is both modern and cool, Executive Chef Jeremy Paquin is collaborating with the chef team to evolve and elevate a few of the menu offerings and Managing Partner Hillary Edwards is working with Green Well's management team to ensure the level of service aligns with Green Well's new look and feel.
"Essence is synonymous with exceptional dining experiences," added Essence Partner Hillary Edwards. "We believe the refreshed interior will continue to hold The Green Well to that standard." Re-opening events and specials will soon be announced on The Green Well website, www.thegreenwell.com