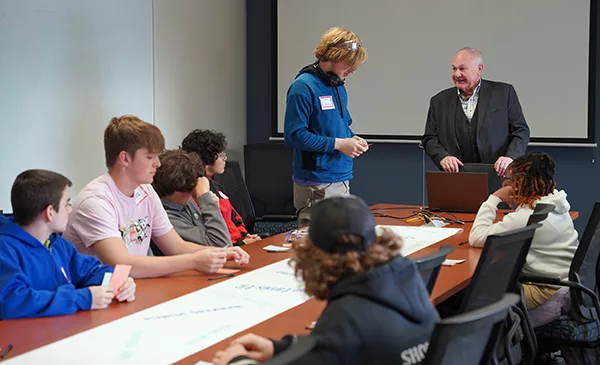 SAGINAW, Mich. — Duperon Corporation, a leading provider of screening and solids handling solutions, hosted students from Saginaw Career Complex at its headquarters Tuesday in celebration of National Skilled Trades Day. As utilities around the nation are faced with tightening regulations, the event introduced students to the critical role water treatment technology plays in daily life and the manufacturing career opportunities available in their own backyard.
"We are truly honored to welcome SCC students back to Duperon Corporation for the second year," said Mark Turpin, president of Duperon Corporation. "We look forward to sharing our passion for innovation, and our commitment to making a difference in water quality within our community and beyond. Since 1985 Duperon has called Saginaw home, and connecting with our community is a foundational tenant of our company culture. We are grateful to SCC for giving us the opportunity to do just that."
Broken into morning and afternoon groups, first-time students took part in three, 25-minute sessions for a peek into the day-to-day operations at Duperon Corporation. A second cohort, composed of returning students who attended Duperon's Skilled Trades Day in 2022, spent the duration designing and constructing their own filtration prototypes.
Ann Marie Batkoski, coordinator of business partnerships at Saginaw Intermediate School District said, "We are so grateful to Duperon for inviting us back to explore their culture, technology, and career opportunities. Not only does this highlight the power of mentorship, but it also makes a huge impact for students to see their curriculum come to life."
Established in 2019 in honor of the American skilled trades workforce, National Skilled Trades Day is observed annually on the first Wednesday in May. SCC is the Career and Technical Education Center for Saginaw County, offering programs that help students prepare for college, technical work or skilled entry-level work while being jointly enrolled in regular high school classes. To learn more about its programs and local impact, visit SPSD.net.