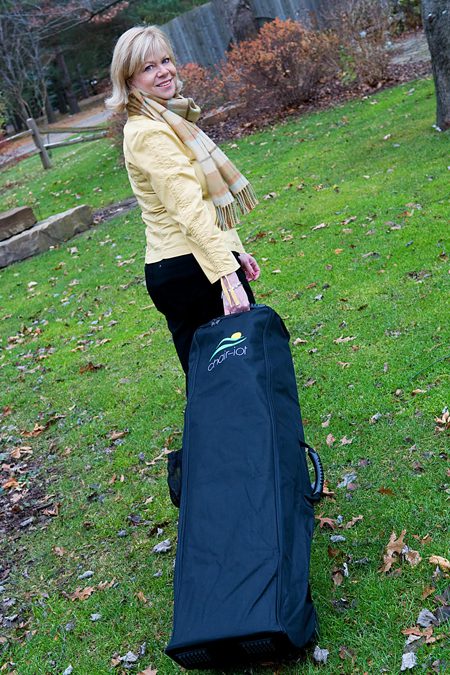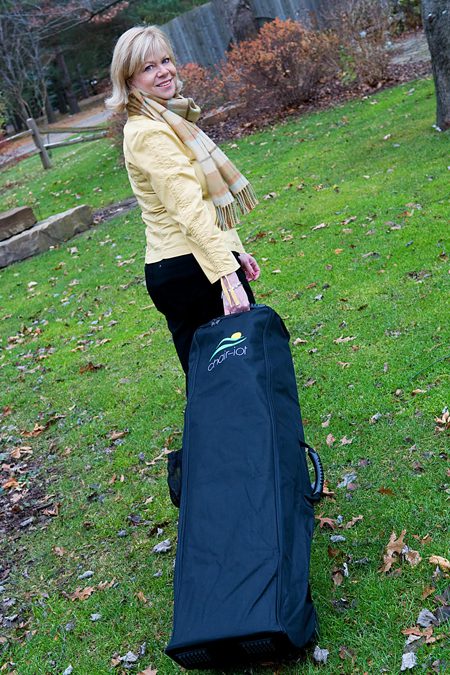 You never know when you'll come up with the "Next Big Thing." And you never know what age you'll discover that idea – which takes you down an entrepreneurial road.
Stephanie Saia, 58, turned an idea she had during an outdoor event and turned into a thriving business. The Plymouth woman is the brains behind the Chair-iot, a problem-solving device that she hopes every family will need and use.
The idea came to Saia while she was attending the Detroit Symphony Orchestra, "Salute to America" concert and fireworks show at Greenfield Village over the 4th of July holiday in Dearborn, Mich. Saia and her family, like so many, look forward to the annual event that pays tribute to America and celebrates our Armed Forces.
There was a considerable walk from the parking lot to the show, about a half mile for some.
"I saw thousands and thousands of people carrying their chairs while pulling their cooler and wagon on wheels and it made me think why there wasn't something to make it easier to take portable chairs to outdoor events," said Saia.
After doing some research, she found there wasn't such a product – so she decided to create one herself. Once she came up with the idea, it then took a full two years to make her idea became a reality. After countless hours were spent on research, 10  prototypes, two trademarks, a patent and launching manufacturing – she affectionately calls her product invention, the "Chair-iot."
Simply put, the Chair-iot is a weather resistant creation of a wheeled carrier for portable bag sport chairs. And as her husband Steve says proudly, "Why carry it, when you can Chair-iot."
The Chair-iot has become popular not only for families attending outdoor concerts but on baseball and soccer fields, and at the beach. There is ample room for sporting equipment, jackets, umbrellas, even toys. Pockets were designed to carry beverages and snacks. The cost is $59.95. For $15 more you can get your bag embroidered with a company logo or family name.
"My goal is to have the Chair-iot sold in retail stores so people can easily purchase one as they would a portable chair. I'd love for it to become a household name, since it really makes life so much easier," Saia said. "My mom, Audrey Ferguson, 83, loves using the Chair-iot and has hers ready to go for this year's Salute to America event."
It is also a source of pride that this St. Clair Shores, Mich. native has developed a fundraising program for the Chair-iot where a team, group or club will receive $10 in return for each Chair-iot sold.
"I want to give back and help organizations and schools," Saia said.