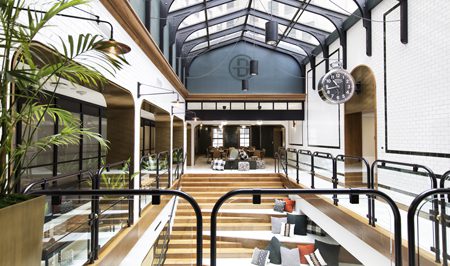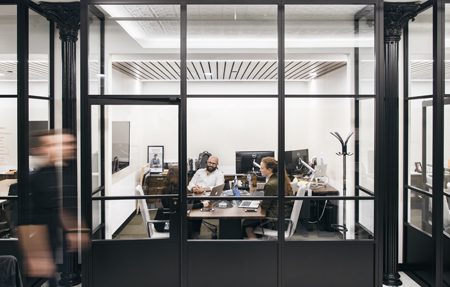 Bedrock Detroit is known for creating some of the most dynamic and dramatic office spaces in Michigan and Ohio. So what else could it do but go for the most inspiring interior office design when it had to create its own space?
Recently, Bedrock unveiled its new location at 630 Woodward Avenue in Detroit's Central Business District. Previously, the company was housed inside One Campus Martius with its partner businesses, including Quicken Loans.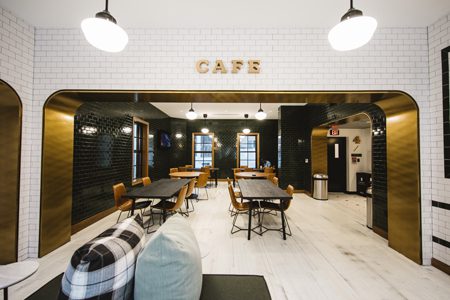 Completed in 1880, 630 Woodward was originally home to the Mabley & Co. Department Store, which was part of a chain of stores across the Midwest owned by Christopher Richards Mabley (also known as The Merchant Prince).
The inspiration behind the interior design (led by Kyle Evans Design) stems from Bedrock's recently updated brand identity, combined with a nod to Detroit's historic lumber industry. "Green gold" was a term commonly used in reference to the lumber commodity, and as such those colors are reflected throughout the headquarters.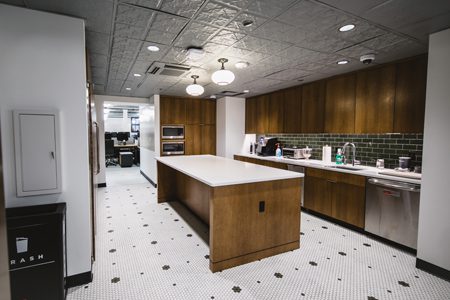 Highlights of the new facility include a greenhouse atrium space, subway brick, railings inspired by Henry Ford's iconic Model T, a grand staircase, original iron columns, Detroit memorabilia and salvaged historical elements and decoration.
Bedrock is a full service commercial real estate firm based in downtown Detroit specializing in the strategic development of urban cores. With a portfolio of more than 90 properties totaling over 15 million square feet, Bedrock is the largest real estate partner in downtown Detroit and also has a strong presence in Cleveland.